Hi everyone! I have a confession: the writers here at The Awesome Project are all big nerds deep down. And when I say big nerds, I really mean like full-on geeks! Hahaha! No kidding! We're just short of dressing up as the characters from movies we love hahhahh! With that secret out, you should know that we spent a lot of time over the last few years discussing themed movie marathons. A Harry Potter marathon was a no-brainer because we all basically grew up watching/reading Harry Potter (or well, some of us did!). Admittedly, I have never been much of a Harry Potter fan. I suppose it's because I never read the books and wasn't that big of a fan of the movies - not to mention I am a die-hard Lord of The Rings (LOTR) fan! However, I was open to the idea of spending many many many hours with my favourite girls and was also open to letting the movies convert me into a fan!
After years and years of saying (repeatedly) "OMG WE SHOULD DO A HARRY POTTER MARATHON" and "OMG WE SOOOO SHOULD!" we FINALLY did it! And honestly it could not have gone any better. It was amazing - all thanks to Aiysha! She put so much effort into preparing for the marathon and it really showed! Seriously everyone, just brace yourselves to be blown away by the photos (unfortunately I have to apologise for the quality of the photos - had nothing but my phone with me). I mean I was completely shell-shocked because I thought we were just going to go over to her place and watch the movies.
I couldn't have been more wrong. She had decorated her room with everything Harry Potter - newspaper clippings featured in the movie, Quidditch posters and so on. She even had bird cages with owls in them all around her room!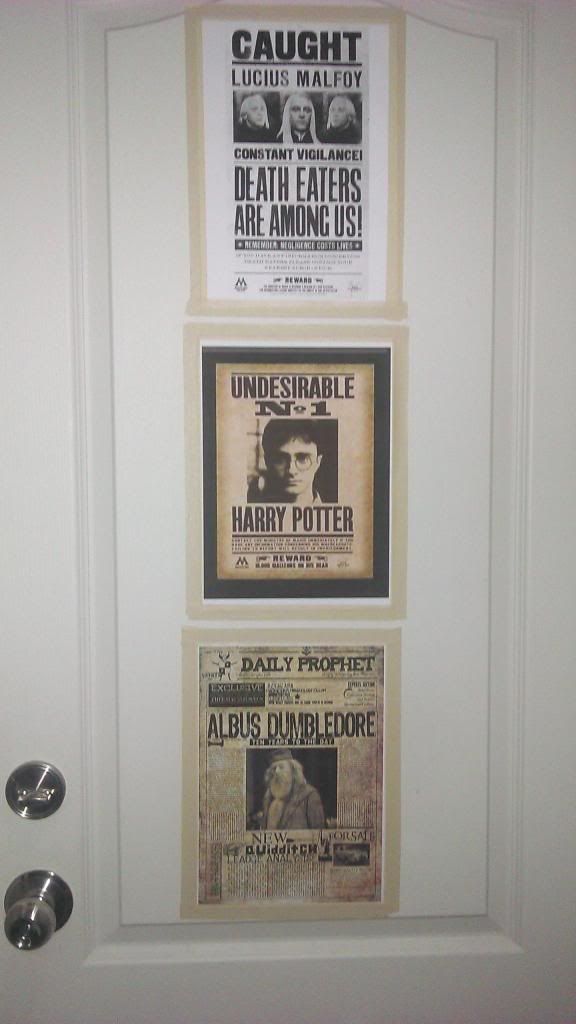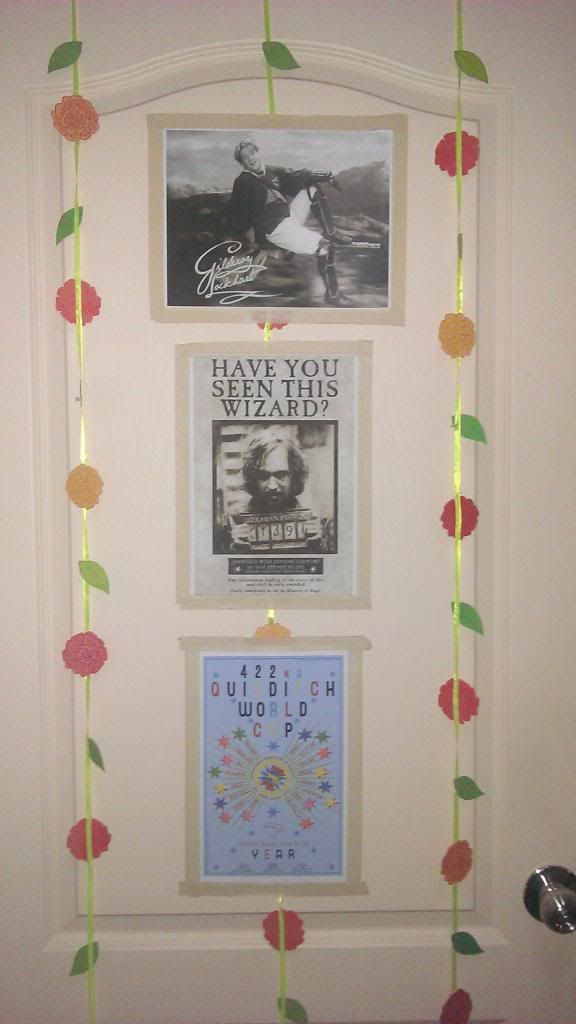 The best part was the candy bar she had set up in her room! It was blooming awesome! She had Harry Potter themed candy and placards that describe the candy too! She had chocolate frogs that she bought from the Harry Potter in Singapore (if I'm not mistaken) and she had Bertie Bott's Every Flavour Beans, too! The rest of the yummy candy were carefully selected to match the Harry Potter theme! I mean everything was just so well thought out - it was so cool! Very pretty to look at! The best part was the Snitch Pops that Aiysha baked! She actually made Quidditch-themed cake pops. Not only did they look super cute, they tasted SO GOOD too! Ok ok I know you're dying to see the photos so here they are!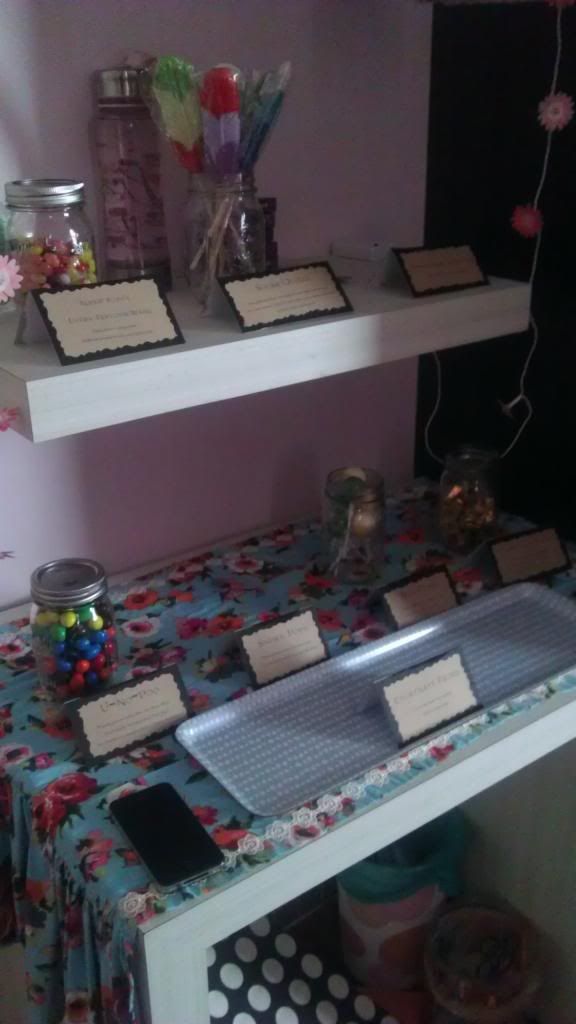 The candy bar before it was completely set up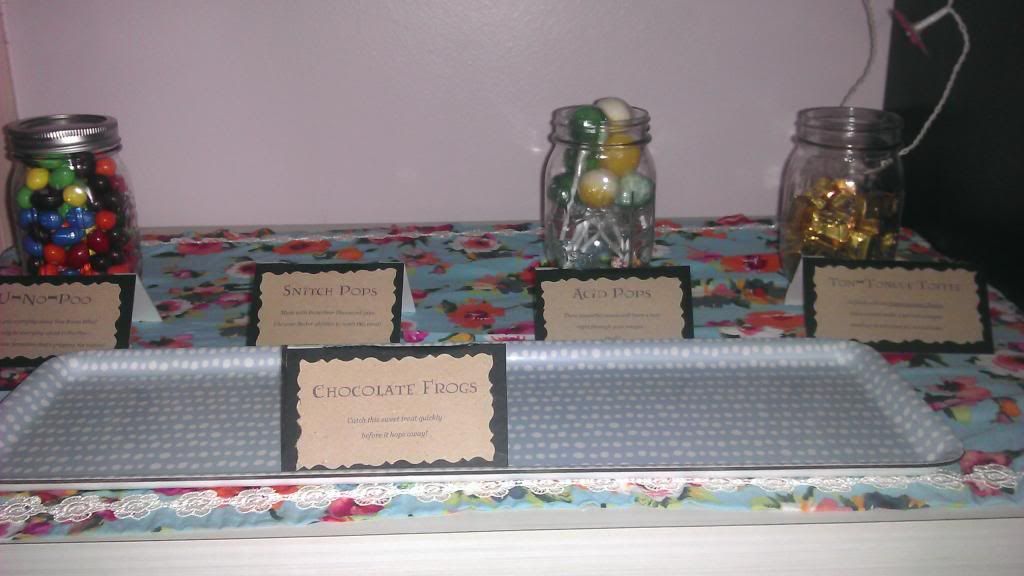 Aren't the placards just so cute and smart?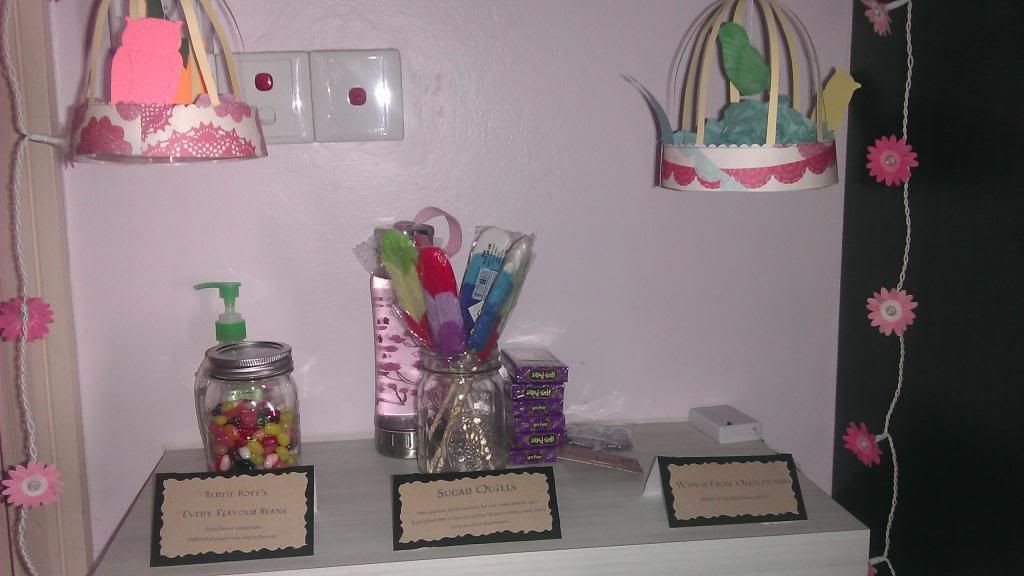 Look at the sugar quills and jelly beans and adorable bird cages!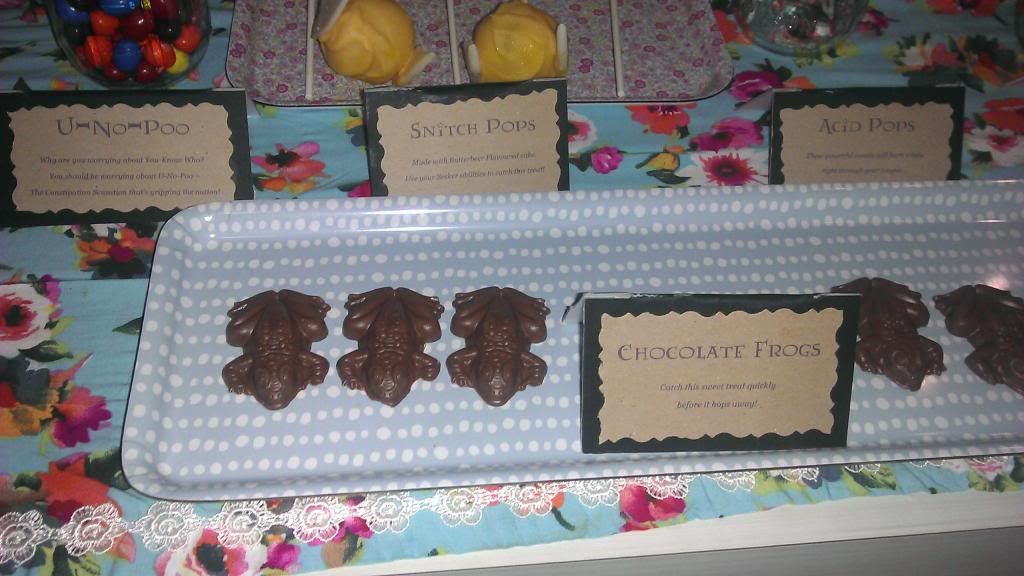 The chocolate frogs!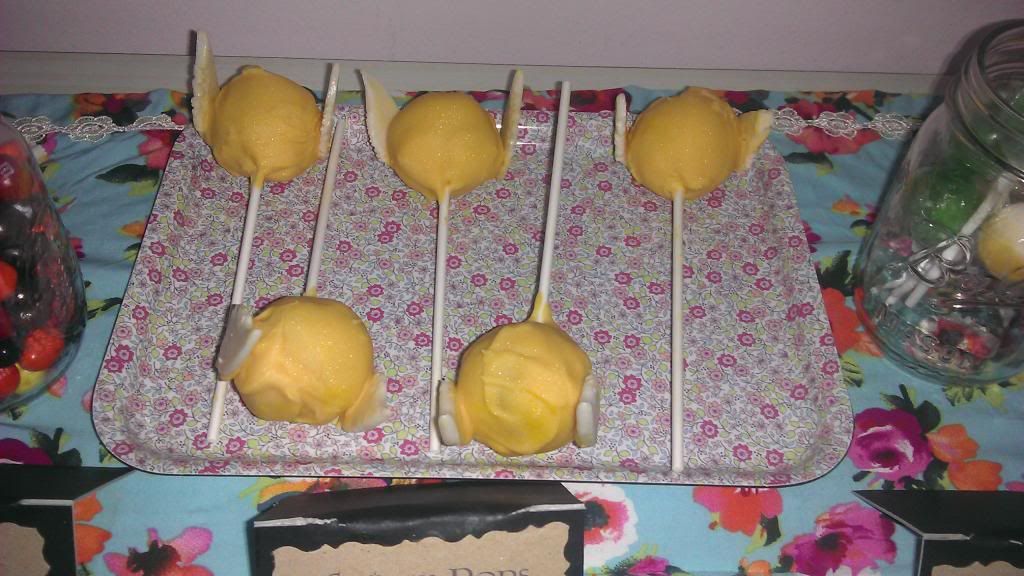 The delish snitch pops!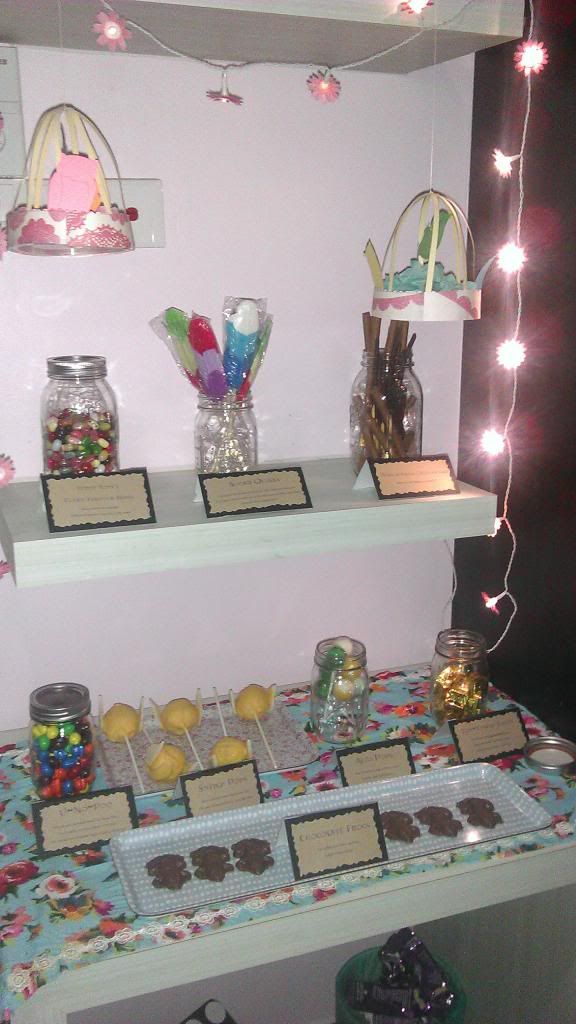 The completed candy bar! Heavenly!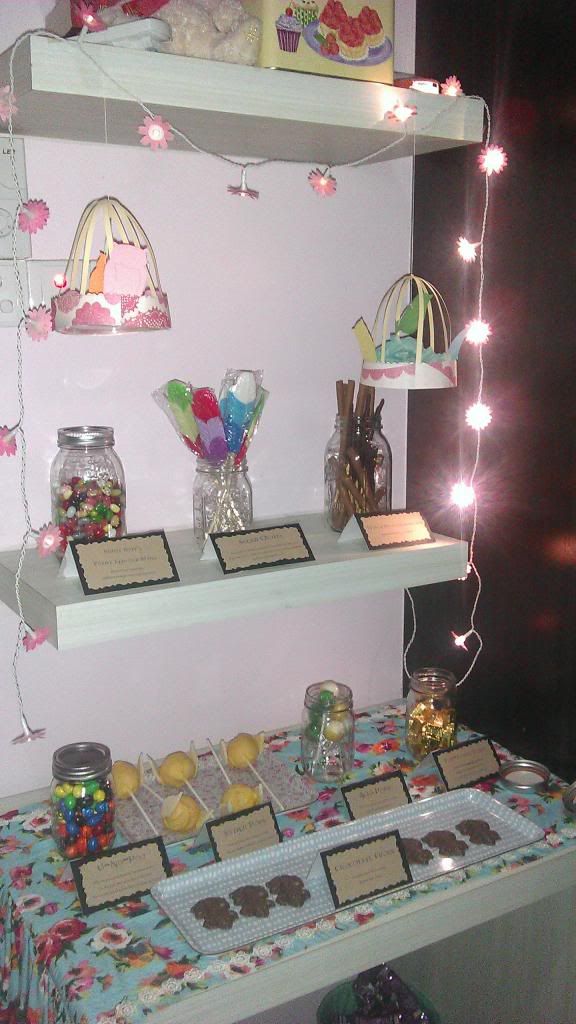 So are you all loving the photos? Seriously these photos that I took did no justice to how amazing it looked in reality. I wish I brought my DSLR but oh well, maybe at the next themed marathon? Anyway, we also had a British-themed meal! We had fish & chips courtesy of Far and shepherd's pie courtesy of Aiysha! Everything was really yummy! As for drinks, what better drink to go with our meal than butter beer just like in Harry Potter? Nothing tops that! Aiysha actually googled for recipes and made butter beer! To be honest, at first I had no idea what it was (lol, sorry, still new to this Harry Potter stuff!), but I really liked it! It tasted like caramel and I LOVE caramel. I brought maggi goreng with (chicken) meatball haha! I know - definitely not British and so typically Malaysian! Woops! Unfortunately we were so hungry that we didn't take any photos of our food (awww). I did manage to snap a photo of the butter beer though! Yay!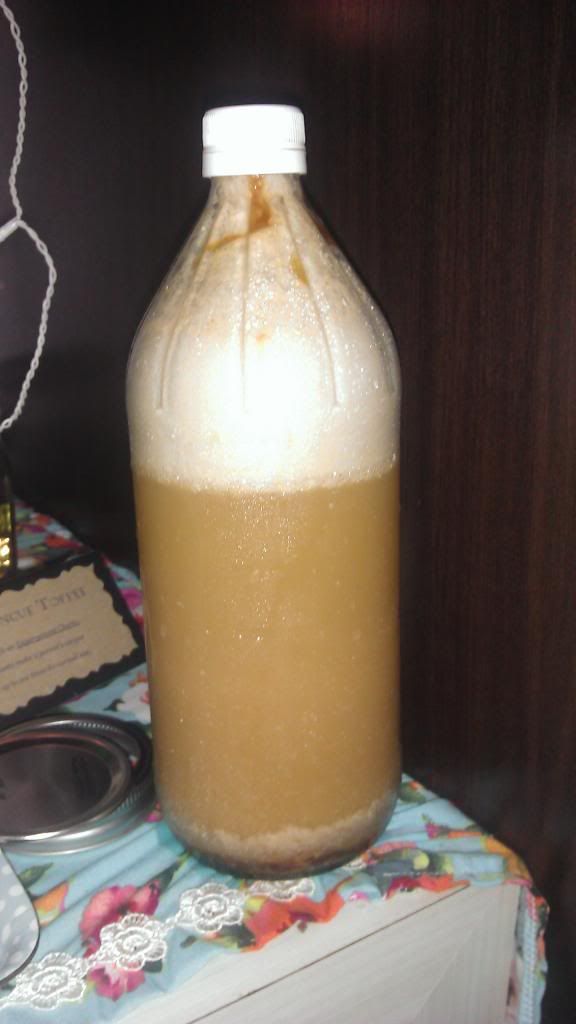 Absolutely delicious and addictive butter beer!
We had so much fun watching the movies! I unfortunately fell asleep halfway through the 3rd movie. The next morning we continued watching the 4th movie and I stayed until only the 5th (boo!) :( because I had to go home. The rest managed to watch til the end though so yayyyyy! I'm happy to say that after the marathon and even though I didn't finish watching all the movies, I am now a budding Harry Potter fan! I'm not a complete geek yet, but I'm a fan all the same ;)
I'm afraid I have to start winding down this post though - I've pretty much summed up the events of the night. We spent hours talking and laughing (somehow) while watching the movie. Seriously enjoyed every bit of the marathon/sleepover and I cannot wait for the next marathon (definitely LOTR!!!). I have to thank Aiysha again for working so very hard to make the sleepover so special. She is a true Harry Potter geek and proud of it! Not forgetting the fact that she is ridiculously talented - I hope one day she'll be rewarded for all her party planning magic!
Did you all enjoy this post? Have any of you ever done something like this? Do share your experiences in themed events in the comments section! Til next time, ta!
Peace, love and snitch pops,