Hello hello! Hope everyone is having a great day so far. I know I haven't done a food experiment post in a while now, so I'm coming back with (hopefully) a bang! Lasagna cups are basically mini lasagnas that are baked in
cupcake/muffin trays
so they turn out sort of like cupcakes. I first came across lasagna cups on Stumbleupon (it's an app that generates random pages that you might like based on your interests) and when I saw them I got super excited because they were SO cute and super easy to make! So I 'liked' the page and saved it for later. A couple of months ago, I finally found the time to try them out! I posted the photos on instagram/twitter and some of you seemed to LOVE them, so I hope you'll like this post!
I used the recipe from
this website
for my lasagna cups. Ok I didn't use the exact recipe because a) I didn't have minced meat b) Cheese is very expensive here c) I had a good feeling it would still turn out fine
Ok so below is the original recipe from the website I linked above with my own tweaks in brackets. This recipe is for a serving of 12 lasagna cups:
1/3 pound ground beef (I substituted it with sausages, chopped into very small pieces)
Salt and pepper
24 wonton wrappers
1 3/4 cups grated parmesan cheese
1 3/4 cup shredded mozzarella cheese
3/4 cup ricotta cheese (for all the cheeses, I bought pizza topping instead which had cheddar, mozzarella & another type of cheese that I can't seem to remember)
1 cup pasta sauce (I may have used more that 1 cup. I used Leggo's Bolognese sauce)
I didn't follow the steps given on the website to a tee either. Just used it as a guide but basically did it my way. Ok so first, take a pot, add some oil (any type you like, I used corn oil) and put it on the stove, on medium heat. Add the meat to the pot, add a pinch of salt and pepper and stir occasionally. When it's cooked three-quarters through, add the pasta sauce to the pot. It's done when bubbles form on the surface of the sauce. Taste the sauce to see if it has enough salt and pepper and is to your liking. Turn off the stove.
Once that is done, the fun part begins: you can start assembling your lasagna cups! Oh and before I forget, please only use wonton wrappers. You are not advised to use spring roll sheets because they are very thin (I learned that the hard way). Also, the taste and texture won't be the same. I've heard that you can also use gyoza wrappers because they are similar to wonton wrappers but thicker; however, I've never tried using them before.
Before you start assembling your lasagna cups, please remember to preheat your oven for about 10-15 minutes at 190 degrees C.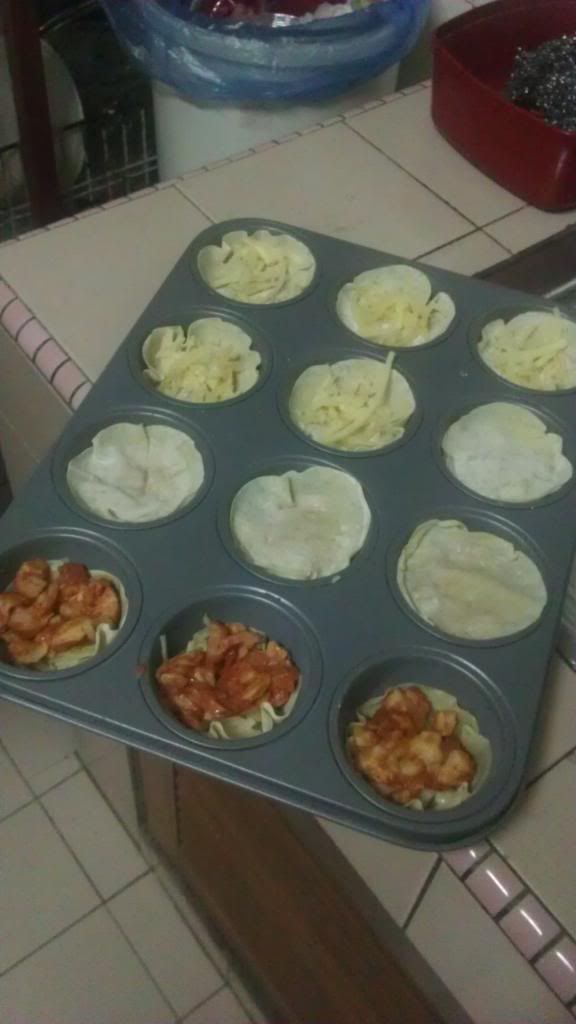 Take one sheet of wonton wrapper and put it into the holes in the muffin tray. By the way, if your muffin tray is non-stick, DO NOT grease the bottom of the tray before you layer it with the wonton wrappers. Make sure you push down the sheets so that they touch the bottom and sides of the muffin tray.
Next, top the wonton wrappers with a little cheese.
Then, scoop a little of the meat and pasta sauce onto each tin. One layer will look like the first three tins in the photo above.
After that, do another layer (wonton wrapper, cheese, meat sauce). Then top with cheese! That's it! Can you believe it? Isn't is SUPER EASY? Honestly I have no culinary skills whatsoever, so if I can pull it off, so can you!
This is what they'll look like before they go into the oven!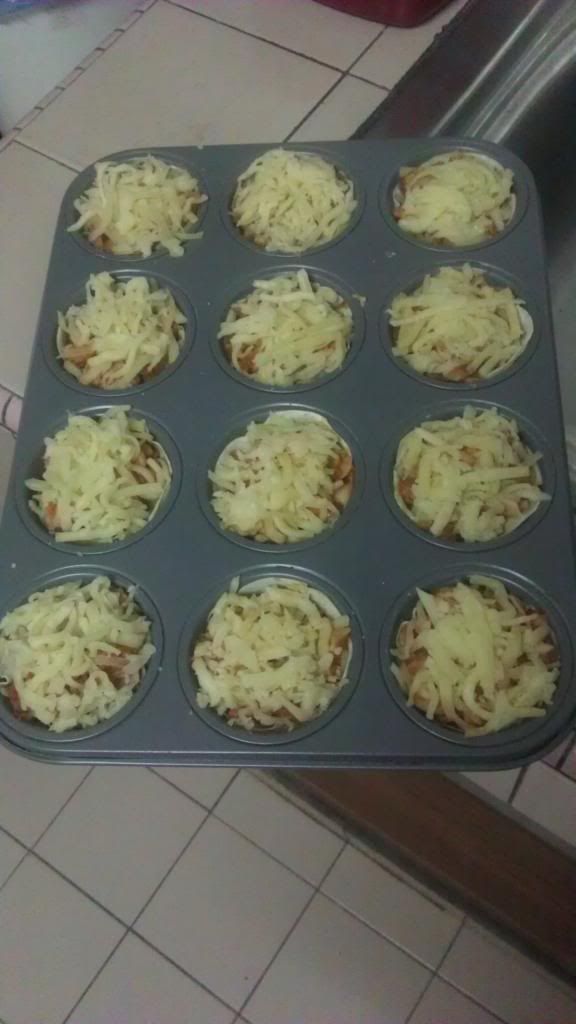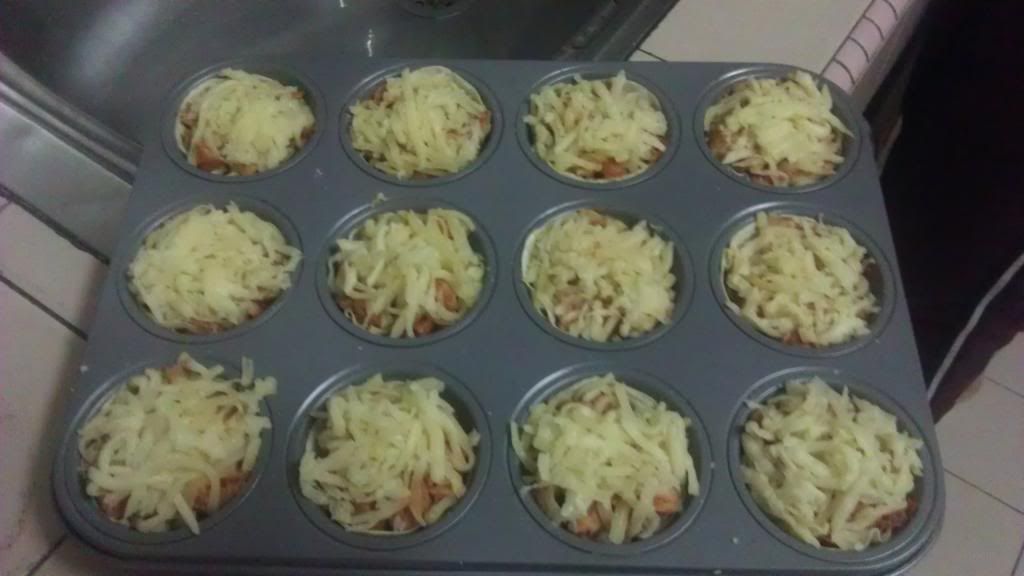 Put the lasagna cups in the oven and bake for about 18-20 minutes! Here are a couple of photos of the lasagna cups baking in the oven!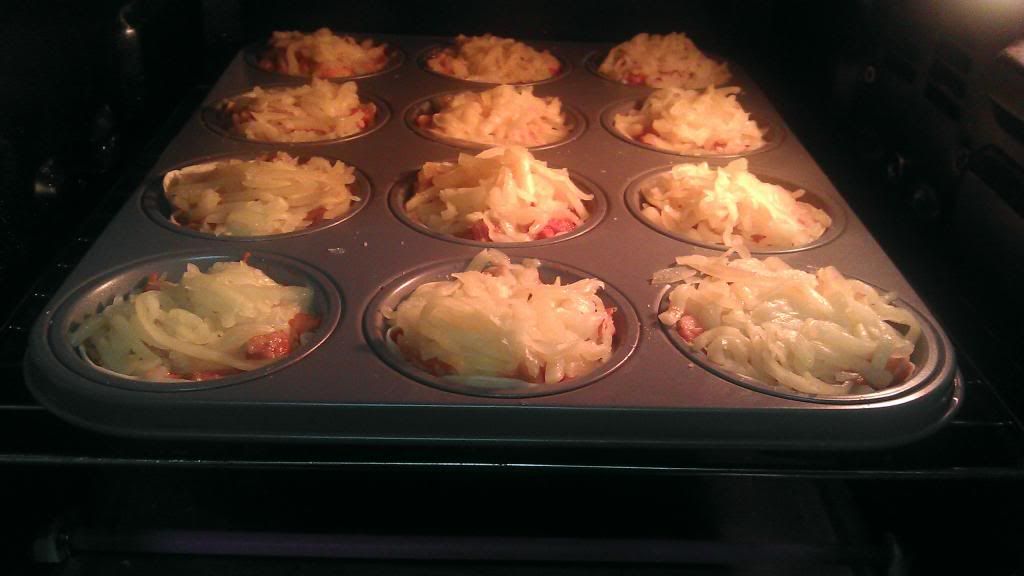 Aren't they beautiful?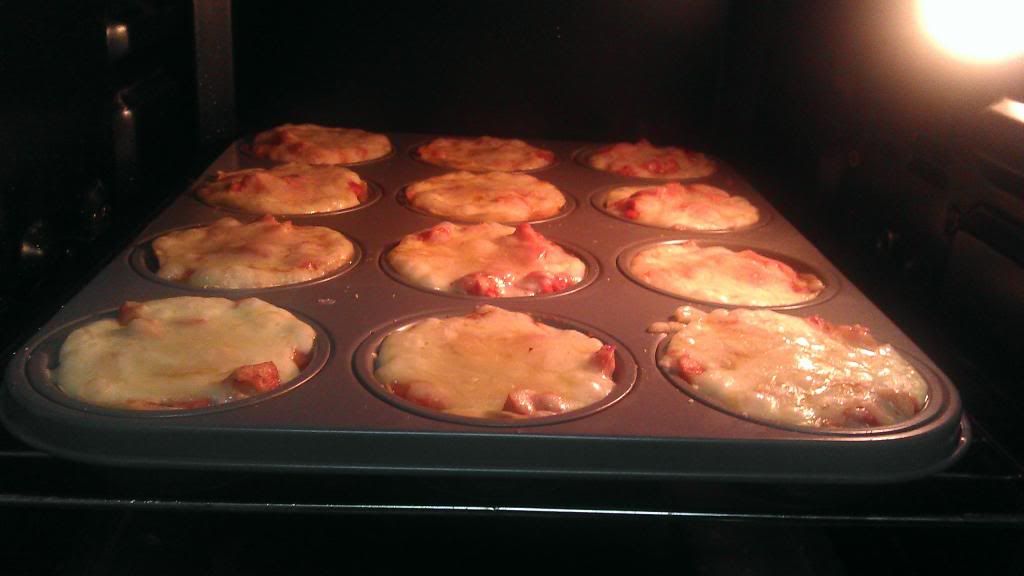 Look at the yummy melted cheese!
Once they're done, take them out of the oven and let them cool for a few minutes. If you remove them immediately, they'll lose the 'cupcake' shape. After a few minutes, take a knife and loosen the lasagna cups from the edges of the tray. They should come out easily!
Want to see the finished product? Well wait no more! Tada!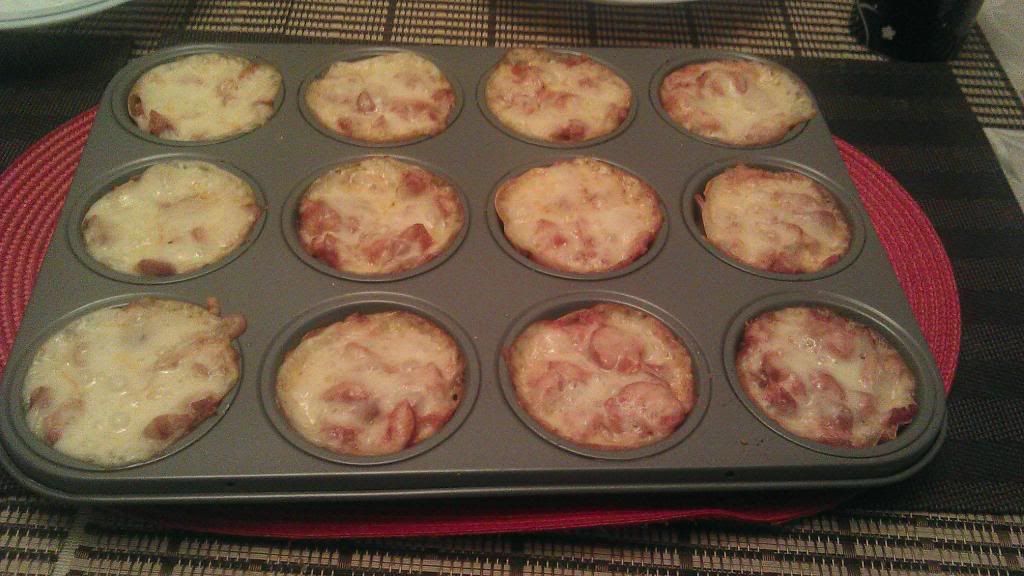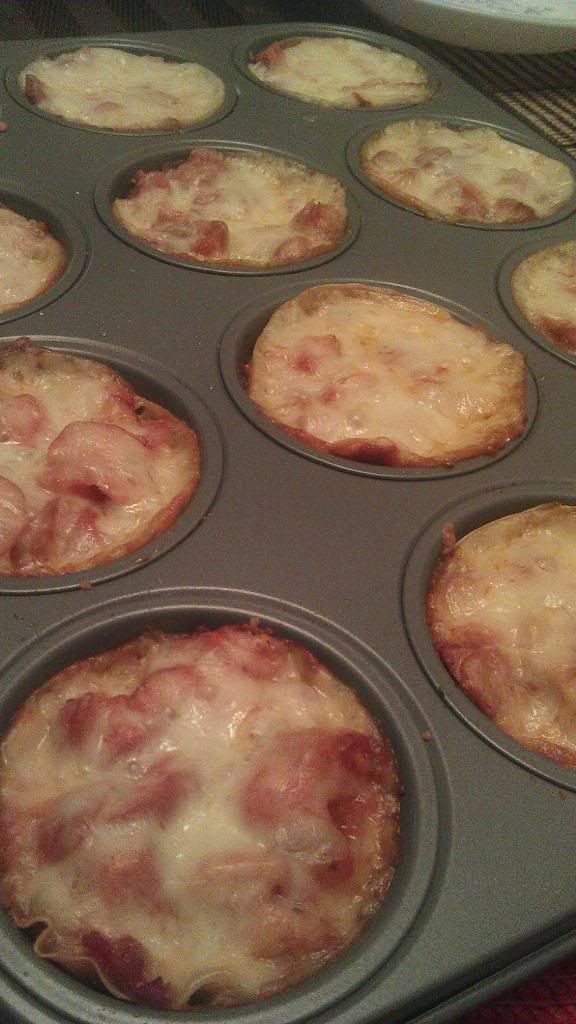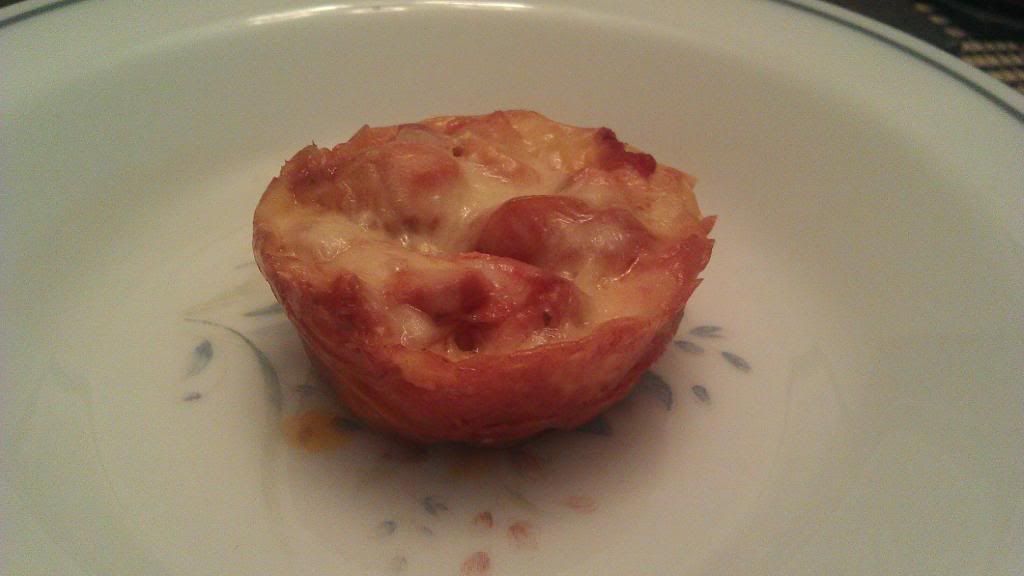 Aren't they just so cute?? Perfect for parties, and fun to make with friends/family/children. It's safe to say that this food experiment was a
SUCCESS
! Woohooo! I'm super happy :D I hope you readers will try these for yourself and share your results with me in the comments :)
Oh and remember I said that I learnt the hard way of not using spring roll sheets for this recipe? Well I'll show you the results of that experiment.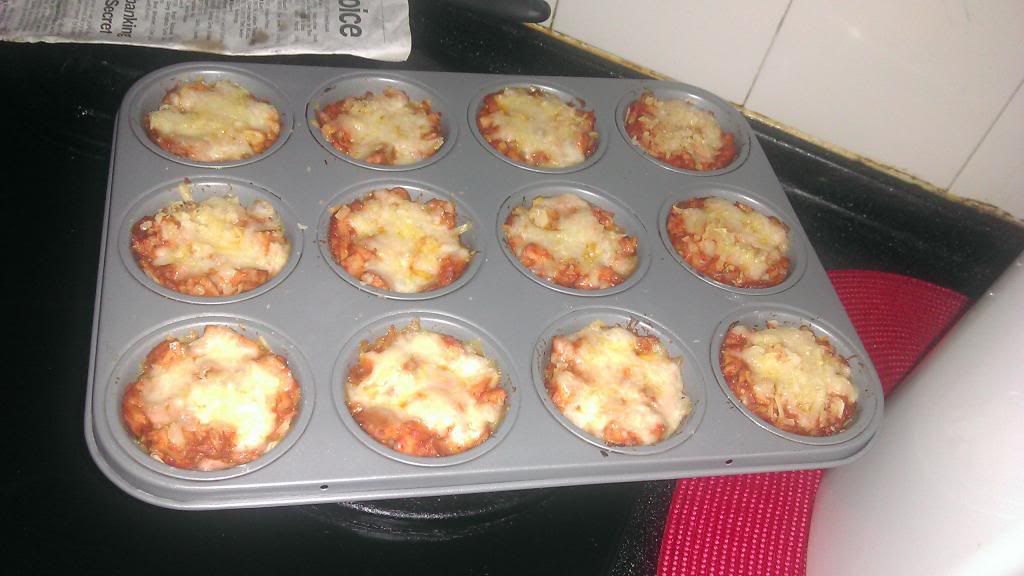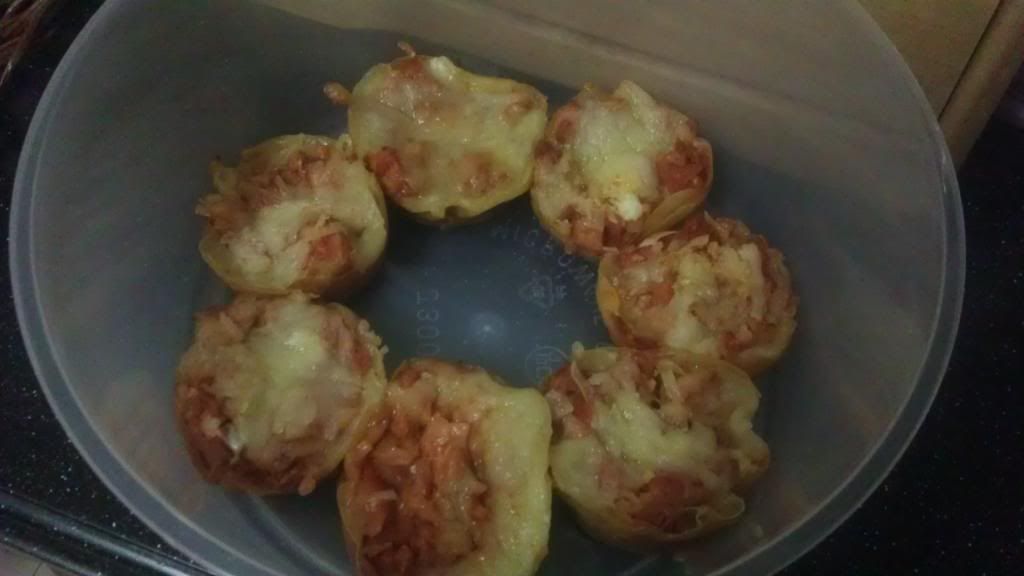 The lasagna cups simply wouldn't take form! They ended up looking squished and not so yummy :( Most of them turned out crooked or flat. None retained their shape. They still tasted good, but it just wasn't the same. You couldn't even left the cups without it falling apart. Very sad. So remember, DO NOT USE SPRING ROLL SHEETS!
I was a little sad, because my sister wanted to bring them for her college friends. Fortunately, they still loved it! They even asked for more! Haha :D And hey, at least I tried it out so you won't make the same mistake that I did :)
On that note, have fun experimenting and don't forget to share your experiences in the comments section! See you!
Love,
Ad