Hey everyone! How is everyone doing? Hope you're all good. I'm back with a food review on one of the most essential food items in the world - the
burger
. Yes everyone, the burger IS a necessity. As you all may know, the
'burger bakar'
or grilled burger has gained a lot of popularity recently. Just like how everyone was crazy about cupcakes and macarons and of course, the durian crepe, burger bakar is the cupcake of the now.
Malaysians have always loved burgers; the 'Ramli burger' is the obvious choice when you're too lazy or tired to prepare dinner or just when you want something really, really satisfying. But of course you can't compare a burger bakar to your typical ramli burger. The burger bakar is all about using good quality meat and ingredients. So how well does Burger Junkyard do on the burger scale? Read on to find out.
Burger Junkyard is located at The Strand, Kota Damansara. I was here at night, so there was plenty of parking (woohoo!) but I'm not too sure about what it's like during the day. The exterior is simple - the black and orange signboard is at the front of the shop and instead of a wall, the front side of the place is made of see-through glass. The interior on the other hand is just plain awesome. It's bright, unique and totally hipster! The walls are covered in super cool graffiti art and stuff that you would expect at a junkyard. There are wooden boxes which act as stools, chains and metal scraps cleverly used as wall ornaments. Absolutely loved the decor!
Photo from Burger Junkyard Facebook Page
Photo taken from Burger Junkyard Facebook Page
Now, on to the most important bit - the burgers. I was here with my family so we all had different burgers (we were all equally thrilled about that). We decided to have two beef burgers and two chicken burgers. They have quite a selection of burgers on the menu (and with cute names too!) - steamin cheeseburger, brooklyn burger, vampire slayer, beef in blanket and so on. They even have burgers for vegetarians, which is a nice surprise. How many burger joints out there cater to vegetarians? Kudos to the founders for that! Burger Junkyard uses high quality meat to make their burger patties. They make the burger patties themselves (a must for true burger-enthusiasts) and chicken thighs for their chicken burgers.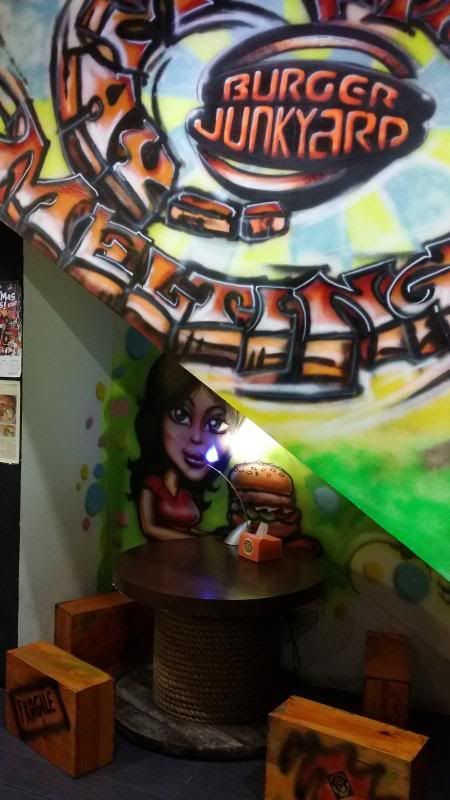 Cool grafitti!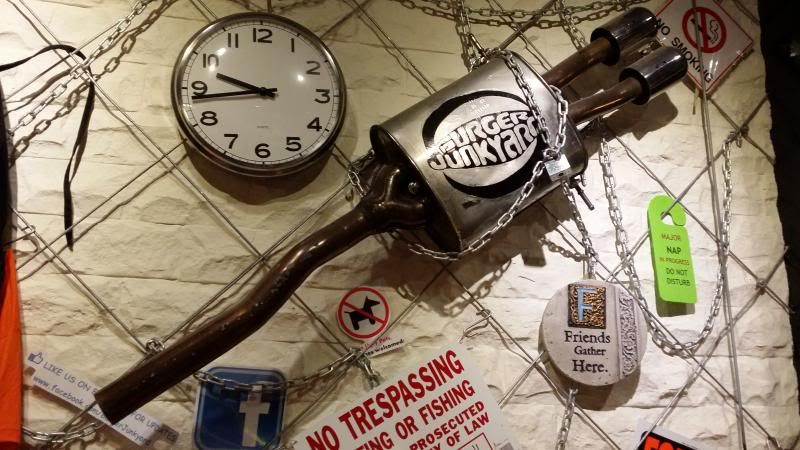 Love that they stuck to their Junkyard theme. Awesome decor on the wall.
We couldn't decide on what to get so we got the founder/chef/grilling master to help us decide. We got the vampire slayer, buffalo soldier, fromage et fungi and balsamic beefin' onions. The vampire slayer is the chicken burger that is slathered with garlic butter sauce. Let me repeat that: Garlic. Butter. The buffalo soldier got its name from the the buffalo hot sauce the chicken thigh is grilled with. The name says it all for fromage et fungi; if you don't know French, that just means cheese and mushroom. Four different types of mushrooms are used to make this burger so mushroom lovers are sure to love this. The balsamic beefin' onions burger is made with some balsamic sauce to give it a tangy taste.
The counter and the menu on chalkboards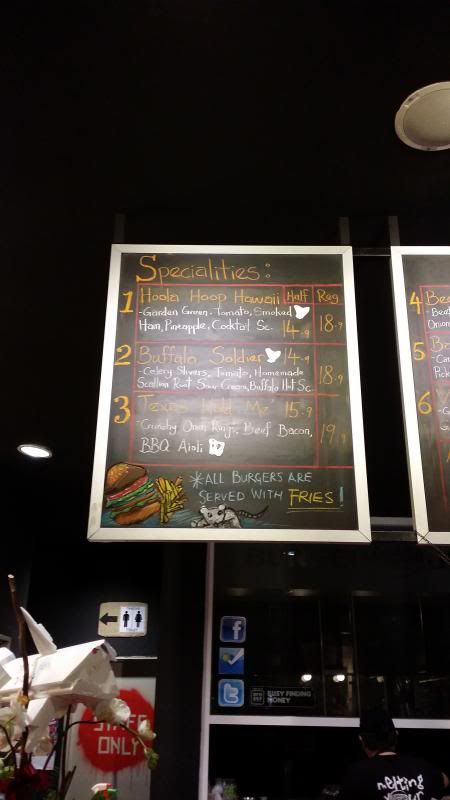 The Menu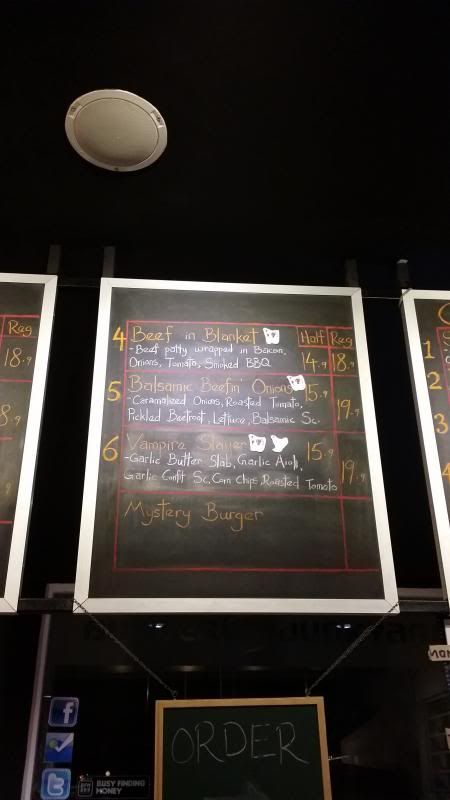 More stuff on the menu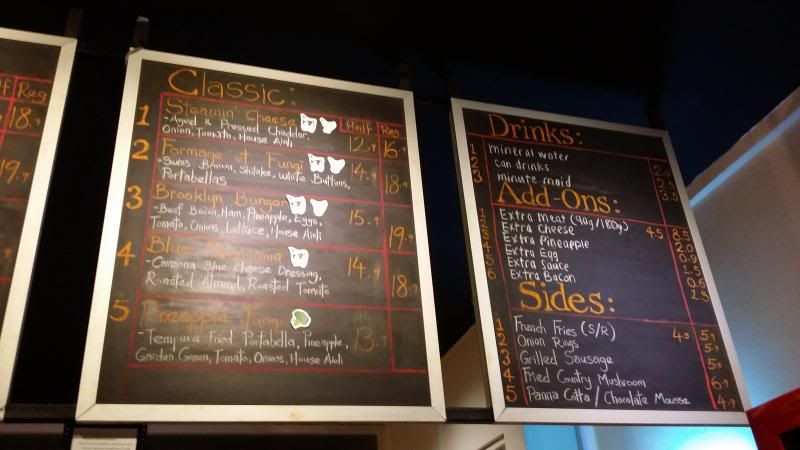 Even more burger goodness
After we ordered, we paid and were given a table number. The table number isn't some boring single-coloured triangular plastic place card with a number on it; instead, we were it was in a form of something are likely to come by at a junkyard which was, a cute soft rat plush toy wearing an earring with a number on it. Think it's gross? Take a look at the photo. It's just so darn cute!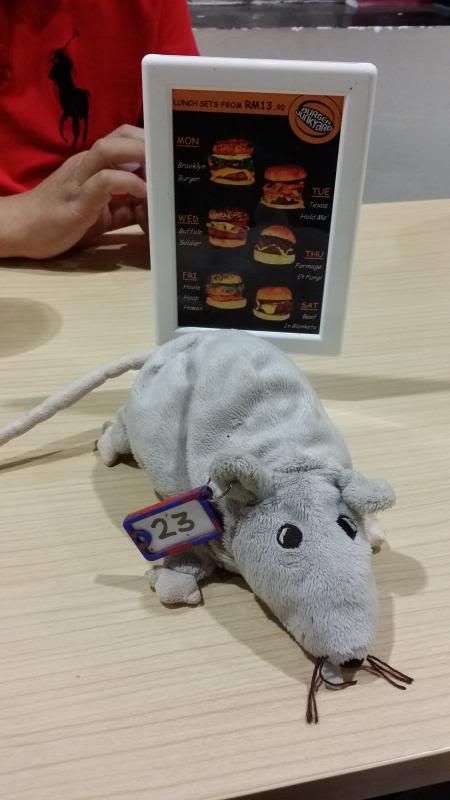 Our table number. Isn't he cute?
Just by reading the menu our mouths were starting to water so imagine our delight when the burgers were served. Oh and I forgot to mention this earlier, but the moment you walk through the front door, you will immediately be greeted by this amazing aroma of grilled meat. Meat heaven I tell you, and what a way to awaken your senses! The burgers looked so good when they came, that - unfortunately, I didn't put much effort into taking good photos. Sorry! I was reaaaallly hungry and dying to take a bite out of my burger - and everyone else's, lol!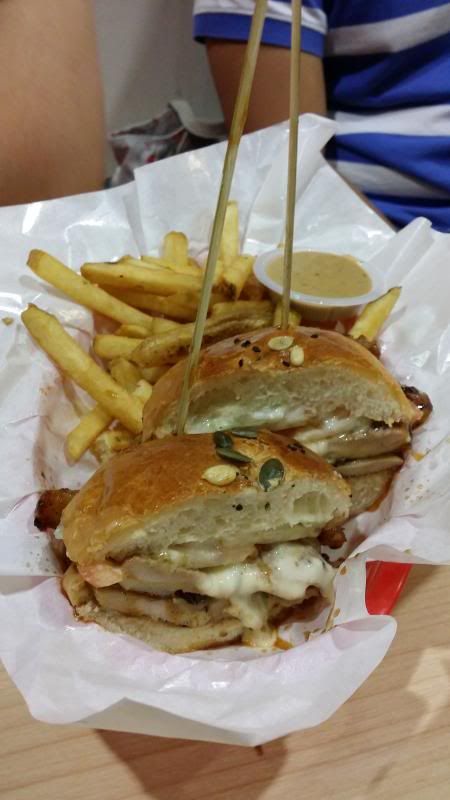 Presenting the Vampire Slayer
The burgers come with a side of fries. The buns were fluffy and had some kind of seeds on them - not too sure what they are but I guess that just means I have to go there again and ask them. I loved the buns. Have you ever had stale buns? This was the complete opposite - fresh, light and fluffy, and it doesn't distract you from the flavours of the burger. I have to note that they only start preparing your burger when you order, so when you get your food, they've literally just come off the grill. And oh the burger. They were all just so full of flavour. The moment you take your first bite, your taste buds are greeted with this whole burst of flavours. Mind blowing, really. Each and every one of those burgers tasted different but they had one thing in common: they tasted so good. The beef burgers were grilled to perfection - not too rare, not overcooked. I hate that some burgers are cooked to the point where they are no longer juicy. A burger without its natural juices just isn't the same. As for the chicken thighs, they were so succulent and smooth. The garlic butter went so well with the chicken. If you don't like garlic, don't be afraid, the vampire slayer may just change your mind. I loved the buffalo soldier too. This too was one of the chicken-thigh burgers. The sauce had just the right amount of heat. Loved the homemade sauce - so full of flavour and it leaves you craving for more. The fromage et fungi was another winner. I personally have always loved the combination of mushrooms and beef so I had high expectations of this burger, and it did not disappoint. If you've ever had a burger at a steakhouse of some sort, well this burger was on par in terms of taste and quality. The balsamic beefin' onions had a nice tang to it and goes surprisingly well with the grilled beef patties. There was also a slice of beetroot under the meat patty which just made the burger look even more appetising because of its striking colour. I say it looks appetising because I don't really know the taste of beetroot. Every time I try it, I feel it has no taste, but that's a good thing, because you don't want anything else to distract you from the star which is the beef patty. Ok, as I mentioned earlier, the burgers come with a side a fries and they were nice and crispy and well-seasoned. Love! Did I mention the sauce that came with the fries and burgers? The sauce was goooood. I'm not too sure what it was, but it was a little creamy and we all loved it. When we asked for extra sauce, they had run out of the original sauce but they gave us their homemade barbecue sauce and it was THE best bbq sauce I've had. I guess everything is just better when you make it yourself huh? I said it at the shop and I'll say it again here: I could drink this sauce!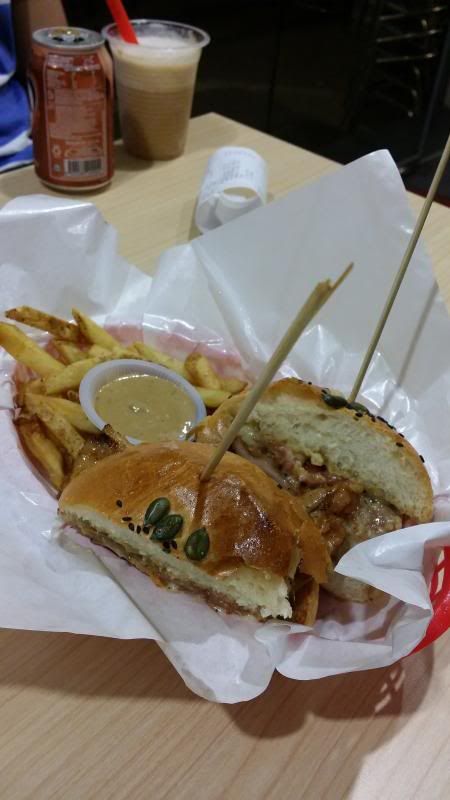 The Buffalo Soldier. The burgers were cut in half so that we could all share. No photos of the beef burgers because we were too busy eating :(
What about the drinks you ask? They have the usual soft drinks like coke, A&W rootbeer (and float), mineral water, etc but I did not expect them to have good quality cafe-standard drinks. We tried the iced latte and the iced mocha and were pleasantly blown away by how good they tasted. I mean I would come back for JUST the coffee if the food wasn't great. Great quality coffee coupled with even better burgers just lead to happy tummies and smiling faces.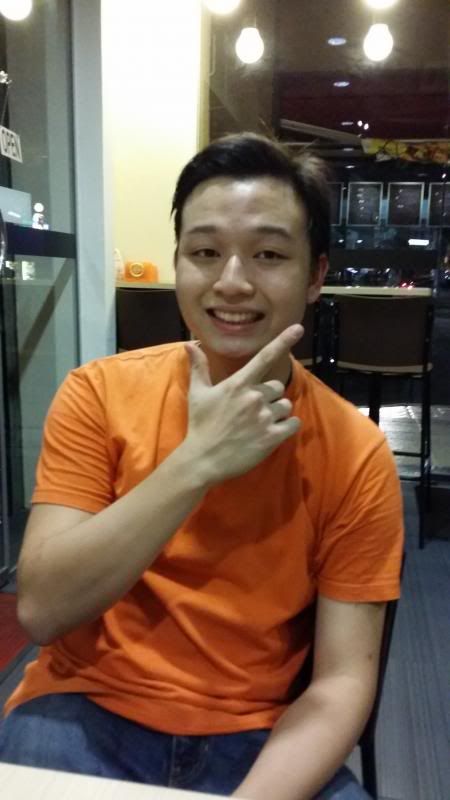 The genius who started it all. Meet Nicholas! Didn't expect him to be this young right? We had a fun chat with him.
Let's talk about service and price. The service was good. All the staff were friendly even when we got there right before they were about to close. Fuss free service :D As for the price, it's basically about the same price as any other burger bakar - even the ones being sold by the road side, so considering the fact that this is an actual shop with comfortable seats and all, their price is reasonable. Their burgers' price range is from RM11.90 to RM19.90 or so. They also have set meals that pried from RM13.90 (if I remember correctly) which come with fries and a drink so you know what you should have for lunch next time. As for the portion, it may not be as huge as the ones at chili's or tony romas BUT it is enough to keep you full and considering that it's much cheaper, it really is a steal. One thing you don't have to worry about is the quality of the food. I'm proud to call them gourmet burgers.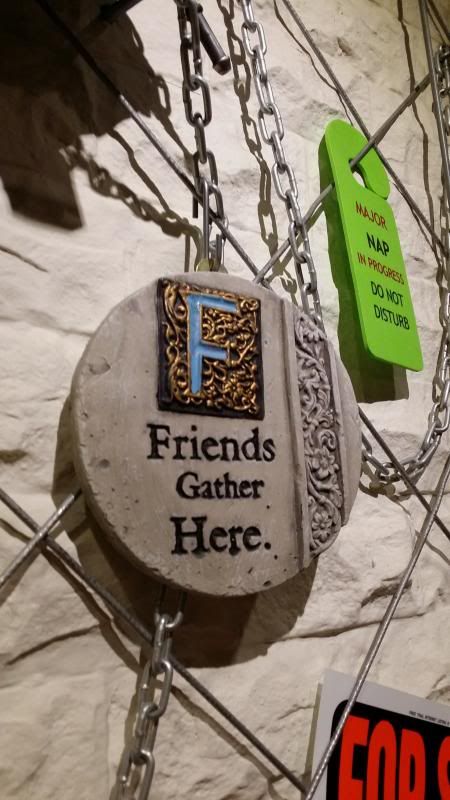 Absolutely LOVE this piece.
To sum up, is the food good? YES. Is the service good? YES. Is the price reasonable? YES. Will I come back? YES YES YES. The only thing that I wish I could change is the business hours. They open Monday-Saturday and close on Sundays. Their business hours are 12pm-2.30pm and 6pm-9.30pm. I think it's too short but it'll do for now! So spread the word, tell all your friends! I can't wait to come back here again. Psst, they're planning to open another branch at Damansara Perdana. Watch out for that!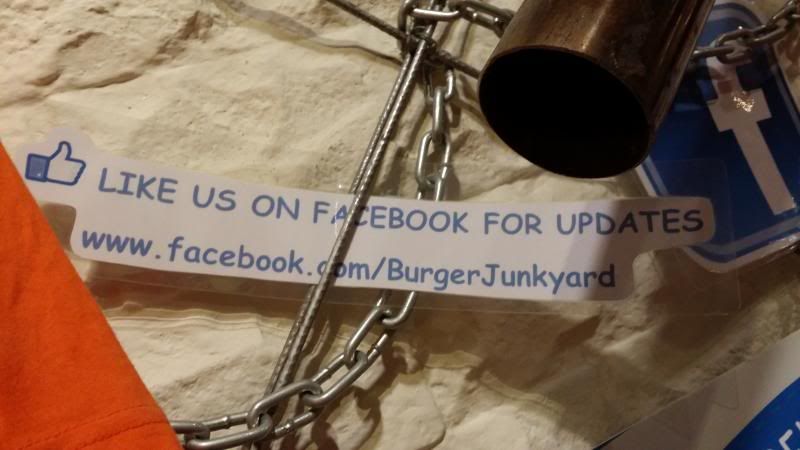 You can check out their Facebook page for updates!
For more food adventures, do keep checking this blog for updates. See you next time!
Love,
Ad aka Adlina aka Miss I-Need-To-Write-More
Verdict: 5 out of 5!!
Note: This restaurant serves certified
HALAL
meat. The sign says pork-free because they are still working on getting Halal certification from JAKIM.
Burger Junkyard
Address: 16 Jalan PJU 5/20d, The Strand, Kota Damansara, 47810 Petaling Jaya, Malaysia
Business Hours: 12:00 pm - 2:30pm, 6pm-9.30pm
Phone: 03-6143 4305
Instagram: @burger_junkyard