hello! because I have been feeling uber lazy to think up of hijab styles and also I dressing up because I am a whale, I am going to make it up to you by sharing this simple benefit makeup tutorial and review!
We shall start of with my lovely (not) bare face!
Next, I applied Benefit's Hello Flawless Oxygen WOW. This is a sample I got, but am loving it! it really covers naturally, doesnt cake and is hydrating and already has SPF! SCORES! will buy this when the sample runs out. I am using Champagne color.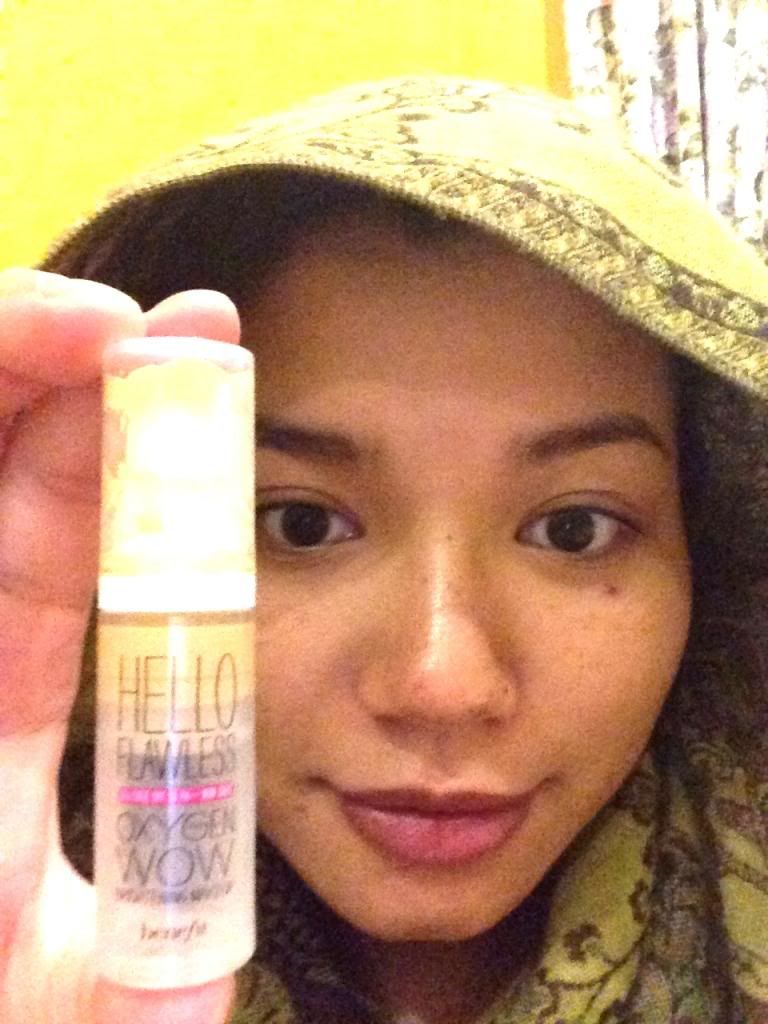 before Hello Flawless
after Hello Flawless, and looking better already!
Next, I am using Benefit's Fake Up concealer. It doesnt really cover like their Boing, but its super moisturizing and doesn't settle in the creases under my eyes. Yes I have major lines now and my baby isn't even out yet.
Just glide under eyes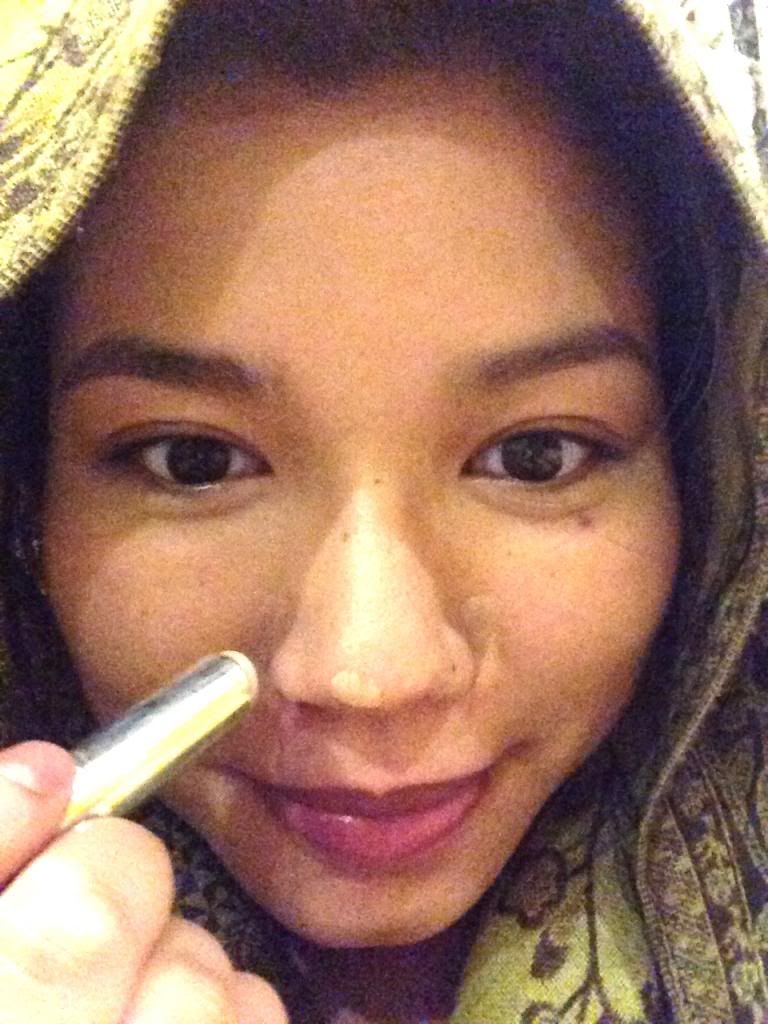 and dot on your various blemishes and pat in and blend!
Like I said natural but not industrial concealing, hehe
I got this Benefit Kit from my brother and sis in law for my birthday called Do The Bright Thing, and for this simple everyday look I will be using the Dandelion all over face powder, the eye liner and mascara.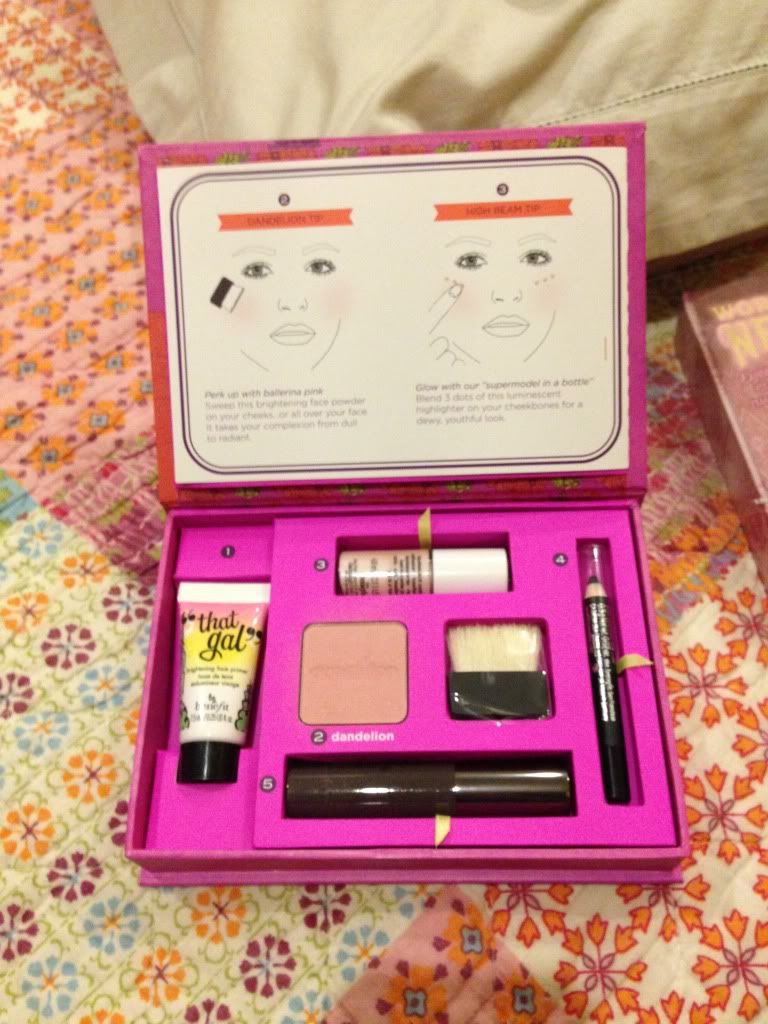 how it looks on the inside.. I love benefit things because they are so pretty! and fun to use:)
This is dandelion face powder, it looks a little dull, but it goes on really sweet and light. You can apply this to the whole face or just the apple of your cheeks. Like I did:
Apply a few time on the cheeks as it can be quite faint, any excess you can sweep on your forhead, nose, and chin for extra subtle glow. See how my cheeks are flushed but not overly pink? i like it like that, you can always sweep on more :)
This is the mini BadGal waterproof eyeliner. It packs a mean punch and doesn't drag on your skin! win!
Apply on bottom lashes all the way in if possible and on top! I usually thicken my lines on the outer corner of my eyes.
Next I apply Benefit's creme eye shadow in 'no pressure!' over my lids while smudging a little of the eyeliner in, I prefer to do it this way that eyeshadow first then eyeliner because I feel it gives me a better smudge. You can skip this if you feel that the eyeliner is just enough.
Last but not least, my number one favourite Benefit item ever!!!! "They're Real' mascara in black.
So here's the trick, there are tiny brush spikes on the top of the wand, which you are suppose to push your eyelashes up like so..
Then apply mascara like normal, I do about two coats.
Just look at how crazy thick my eye lashes are!! and this is taken by my crappy camera phone!
so tadah! thats my everyday look! well, when I feel like it, hehe.
ps: look at my lashes!! please go and buy the mascara, trust me you will never regret paying Rm 90 for it!
also i just put lip balm on my lips:)
love, far!
pss: my baby is due this week! please pray for us!