Hey food lovers! How is everyone doing? I know I've been meaning to write a review on Fat Spoon for quite some time now, but I'm not sure what kept me from writing it but what's important is I'm writing it now right? haha
Fat Spoon is a very unique place to eat. It offers food that is meant to remind you of your grandma's cooking. Why grandma? Well, grandmas are generally perceived as amazing cooks, and come on, this perception is certainly not wrong, as least for my case. Both my grandma's are excellent cooks and whenever I'm visiting them, they go out of their way to make sure my stomach is full - AT ALL TIMES! hahahha
Let's start with the location. It's relatively easy to find. If you know where Pappa Rich and Wondermilk are, then you definitely won't have a problem spotting Fat Spoon. It's located on the same row as Wondermilk but a little farther up the road. When I went there with my family, it was during the weekend so parking wasn't a problem. However, I suppose if you're adventurous and optimistic, you can
try
and head there on a weekday. Don't say I didn't warn you though! If you are unfamiliar with Damansara Utama, or Uptown as people call it, then let me fill you in on the parking horrors of the place. It's IMPOSSIBLE to get parking. hahah ok ok, not impossible, but
almost
. I remember heading there on a weekday way before lunch hour and Syu and I wasted more than half an hour looking for parking. I mean we even went inside the paid multi-storey car park and it was all full. Uptown is full of offices so it's really no wonder that parking is always an issue here. My advice is simple: unless you work at Uptown, only go to the restaurants and cafes there after office hours or during the weekends :)
I really fancy the unique decor of Fat Spoon. It's one of those hipster places that reuse old or worn out furniture and materials to give a more welcoming and homely feel to it. There were polaroid photos on the wall, old wooden furniture here and there, and wide tinted glass frame substituting the front wall of the restaurant and a worn out, ancient-looking wooden door that separates the outdoor and indoor dining areas. There was a chalkboard with part of the menu written on it - most probably the most popular items on the menu were featured on it. I love fancy restaurants with their chic interior and exterior, but I also appreciate these places that utilise used materials to give off a more comfortable and rustic ambiance.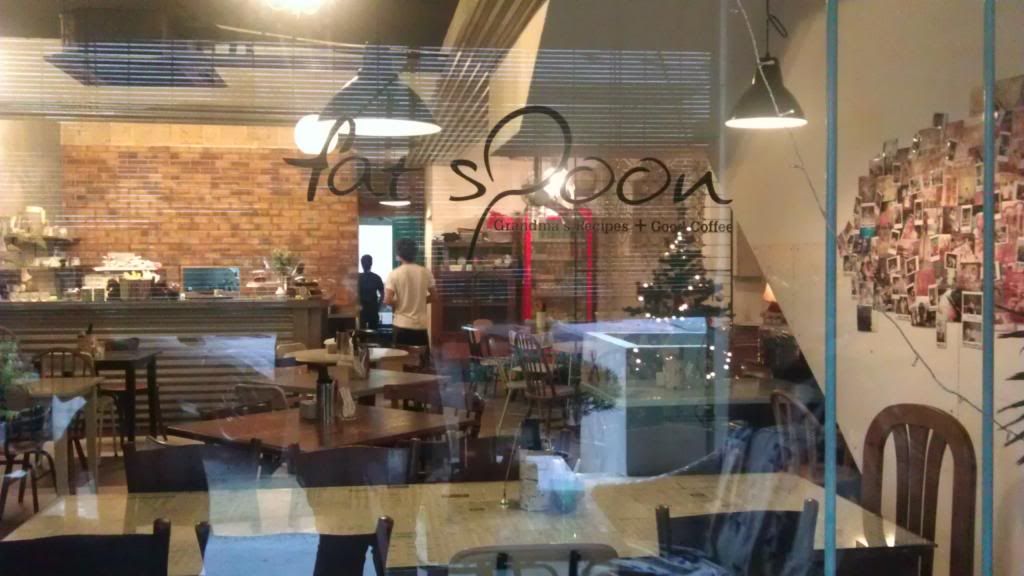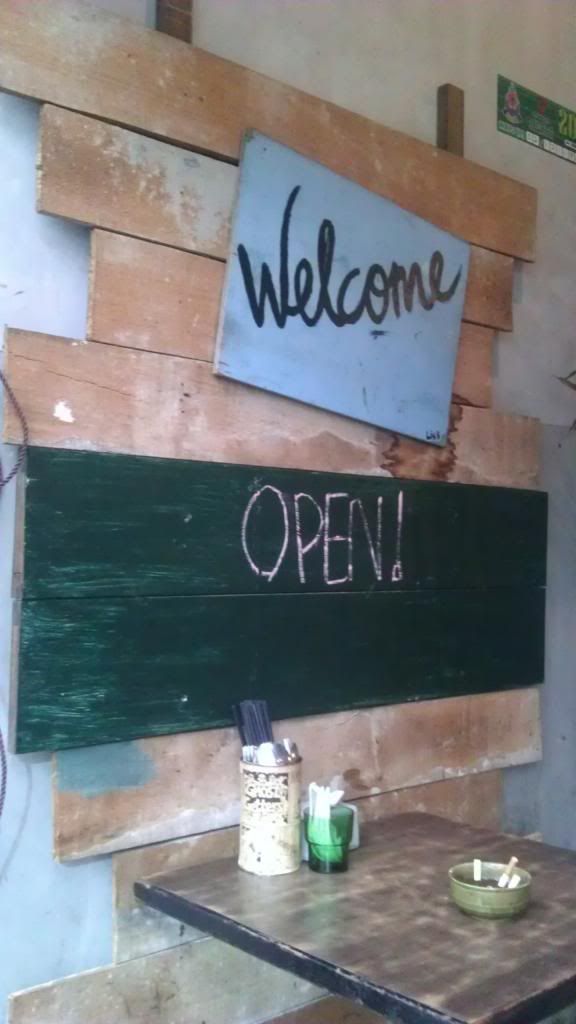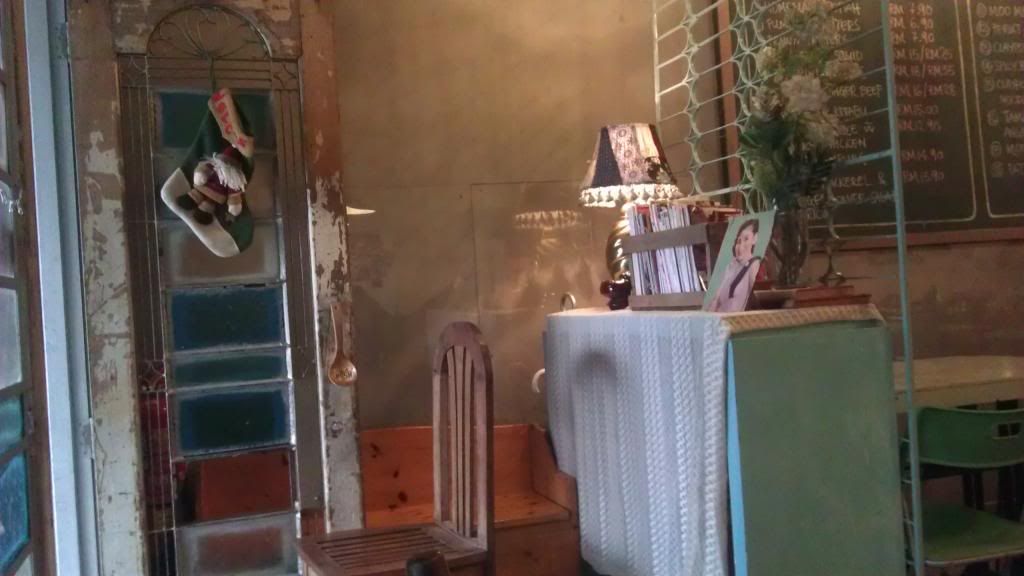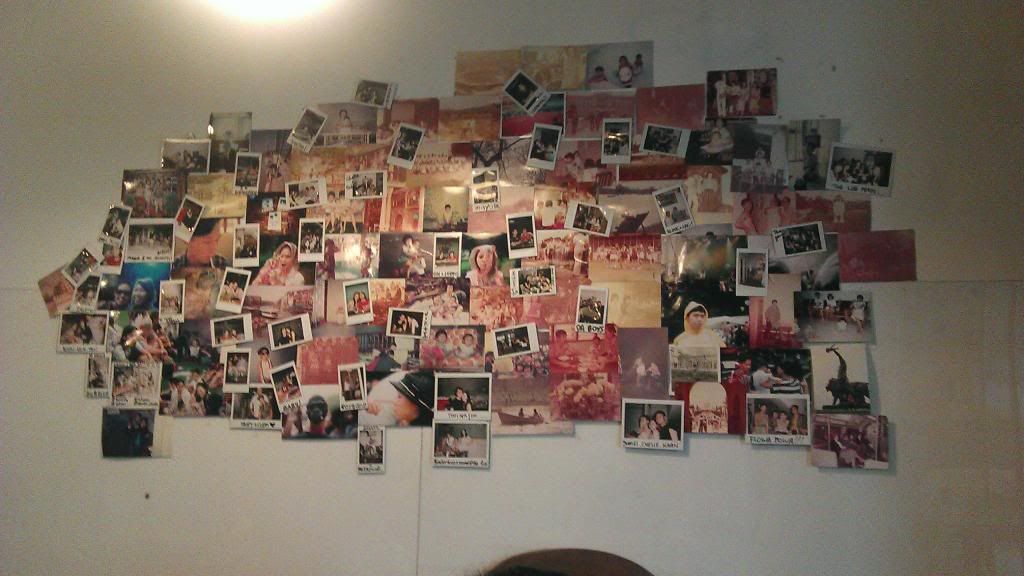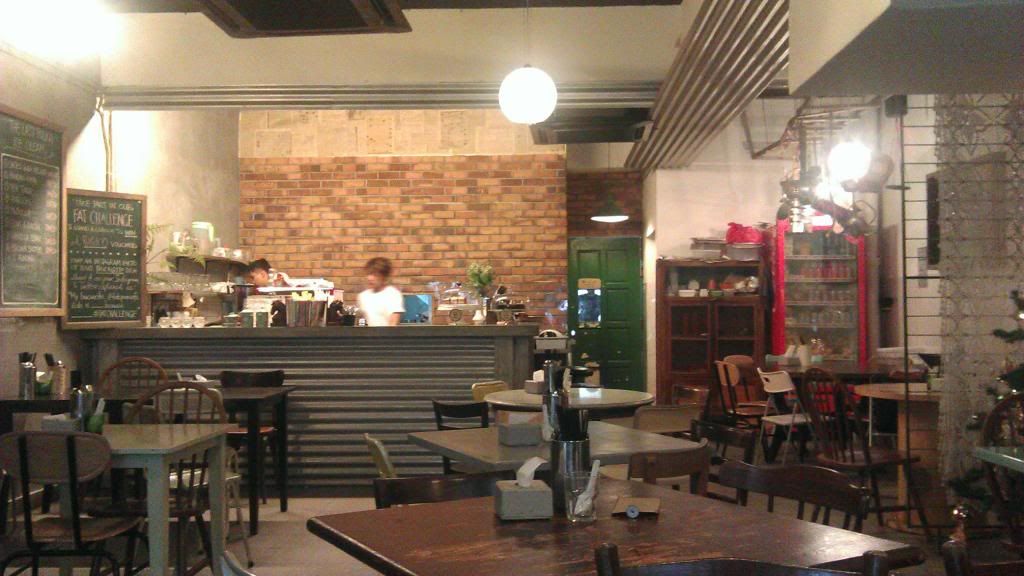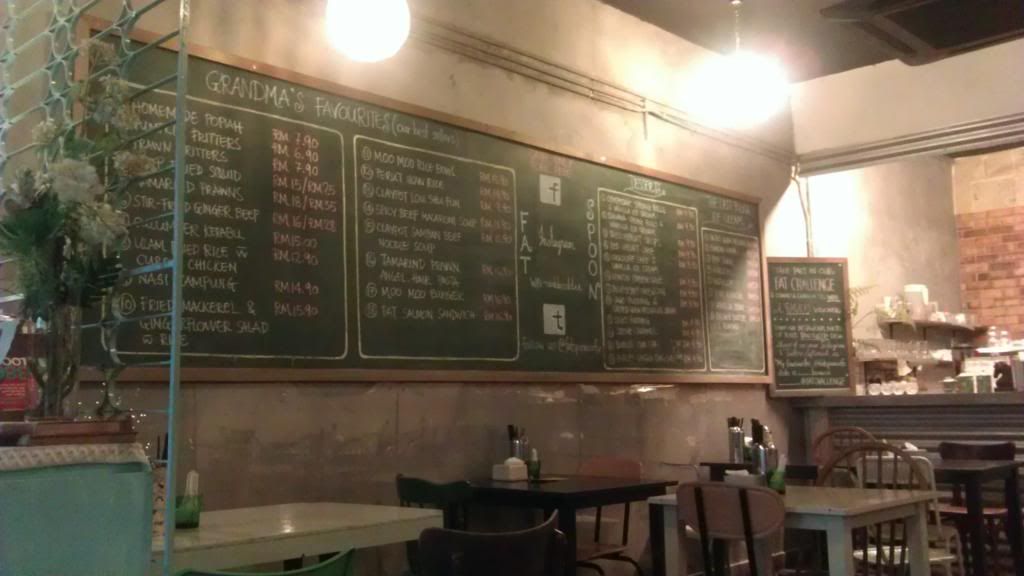 Moving on, the menu here is quite interesting. They have the usual Malaysian favourites, but some are offered with a twist. Some of the food here definitely cannot be found anywhere else. The ulam fried rice is an example. How many of you have ever tried ulam fried rice? I know prior to my visit here, I hadn't. I mean I have had nasi ulam, and I have had fried rice, but never ulam fried rice. They have cute names for their dishes too! Moo moo burgers instead of just calling them regular beef burgers, and there's a sandwich called fat salmon sandwich. Definitely something I like. I've always loved giving fun names to dishes. To me it's a way of making those dishes uniquely yours, especially if it's something that is served in just about every other restaurant. I love the presentation of the menu booklet too. Fat Spoon took those thin, hard-covered children's book and pasted brown paper with the menu items printed on them. Super smart and saves cost too!
After gawking at the menu, we decided to order claypot loh see fun, ulam fried rice with curry chicken, the regular ulam fried rice and also nasi goreng kampung. The loh see fun was pretty good. I don't usually order it because I've had experiences in other restaurants where the loh see fun just tasted like burnt fried noodles. As long as I couldn't get that overwhelming burnt taste, it was fine already by my standard. But putting that aside, it was cooked together with a generous amount of minced meat (can't remember if it was chicken or beef though), and it had that awesome runny egg yolk on top. Its taste was different from what I was used to (or maybe I was used to burnt loh see fun?) but in a good way. It had a subtle smokey taste and a the runny sauce that the noodles were partially submerged in was full of flavour. It wasn't spicy, but it tasted good. Oh and to those of you who don't know what's loh see fun, it's basically a Chinese noodle dish that uses this special noodle that is (according to my friend) quite popularly known as rat's tail noodles. The name does not sound appertising at all, I know. The Chinese liked to name their food based on how they look like. For example, chee cheong fun's literal translation is pig intestines rice noodle roll or somewhere along those lines. Anyway, thumbs up for the claypot loh see fun! Oh right, I almost forgot, it was served with this chili paste that I tried only a little. I think I prefer it without the chili paste.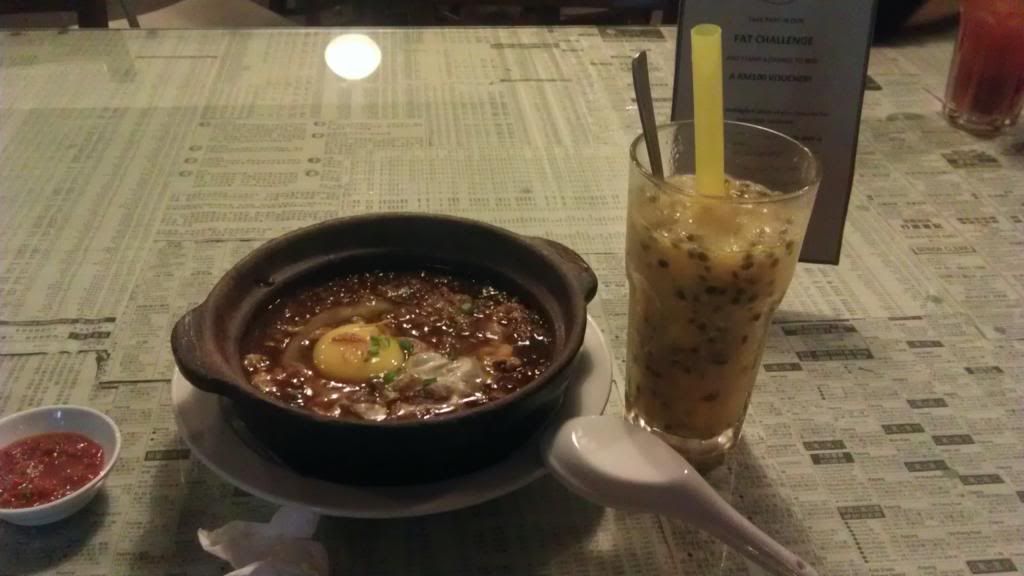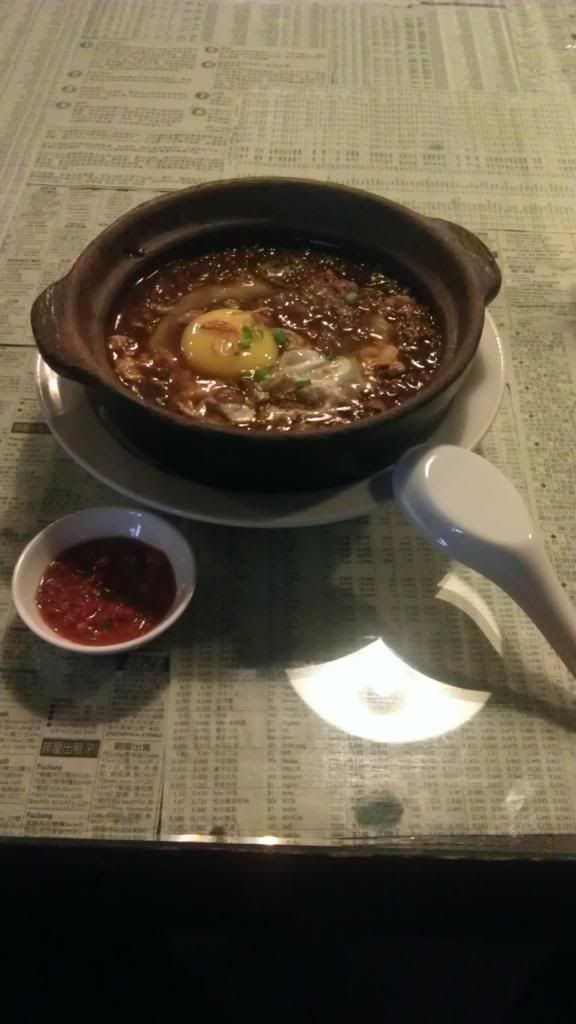 The nasi goreng kampung was Yummy with a capital Y! It definitely had a lot of flavour and had that kick that all fried rice should have. It did remind me of my kampung and of my grandma (both of them!). The fried chicken went well with it of course. I don't remember the chicken being extra special, but I remembered it was good, so no complaints here. It was also a relatively large piece of chicken, which is always a plus. I've been to several places which state on their menu that the dish comes with a piece of chicken, and was disappointed when the dish came because the chicken was actually a tiny piece of drummet. So yes, as I mentioned, big chicken = good. The portion was just right and I liked the presentation. It was served with fried long beans and a piece of poppadom too.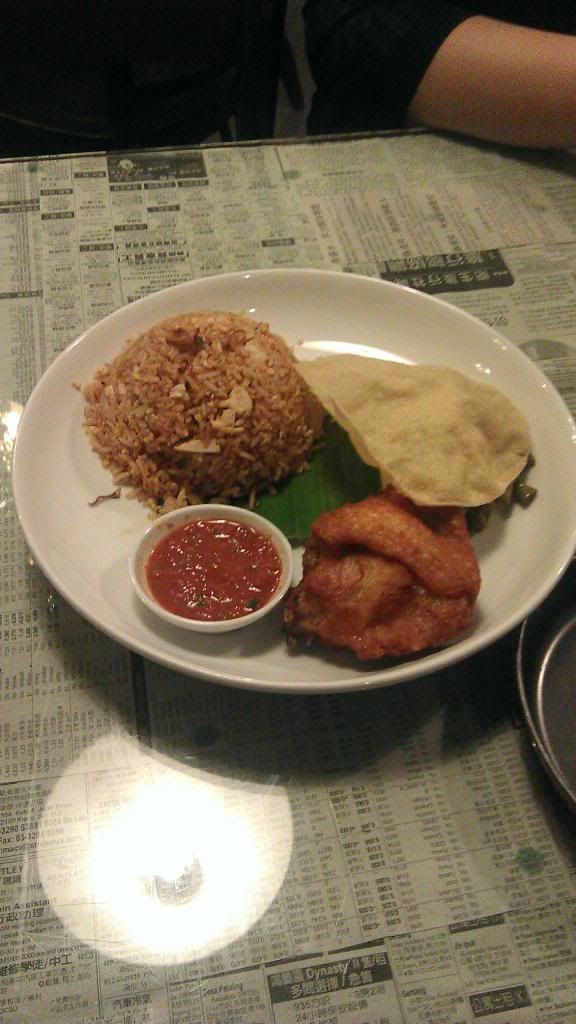 Next is the very unique and intriguing ulam fried rice. It was ordered with an additional side of fried egg. I found it so cute that the egg was served in a small frying pan haha. The rice itself was full of flavour courtesy of all the ulams (herbs). It definitely did not taste like the usual fried rice, but it was a refreshing change. It's something that I would definitely order again. It, too, came with poppadom and sauteed long beans. The chicken curry that came with it hit the right spot. It had the ideal thickness that I look for in curries. I don't really enjoy diluted curry that is super runny because it usually just becomes tasteless at that point. The chicken was cooked well and went extremely well with the fried rice. I find that certain places make very dry fried rice, which I do not enjoy, unless it is served with some sort of gravy to make it less dry. Fortunately in this case, the rice wasn't dry and the curry was good, which means that whether or not you choose to have the ulam fried rice on its own or with curry chicken, they both will keep your tastebuds satisfied.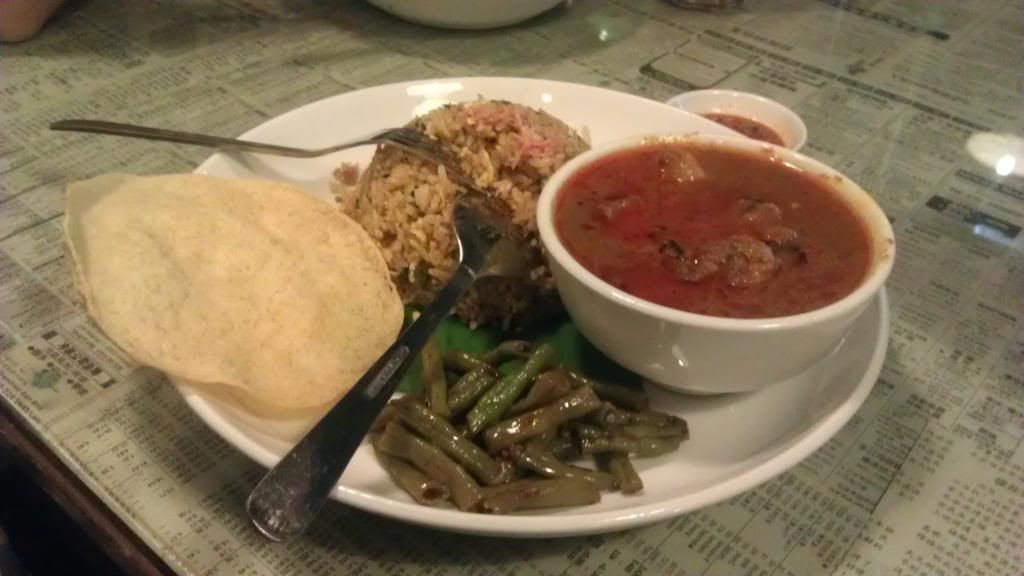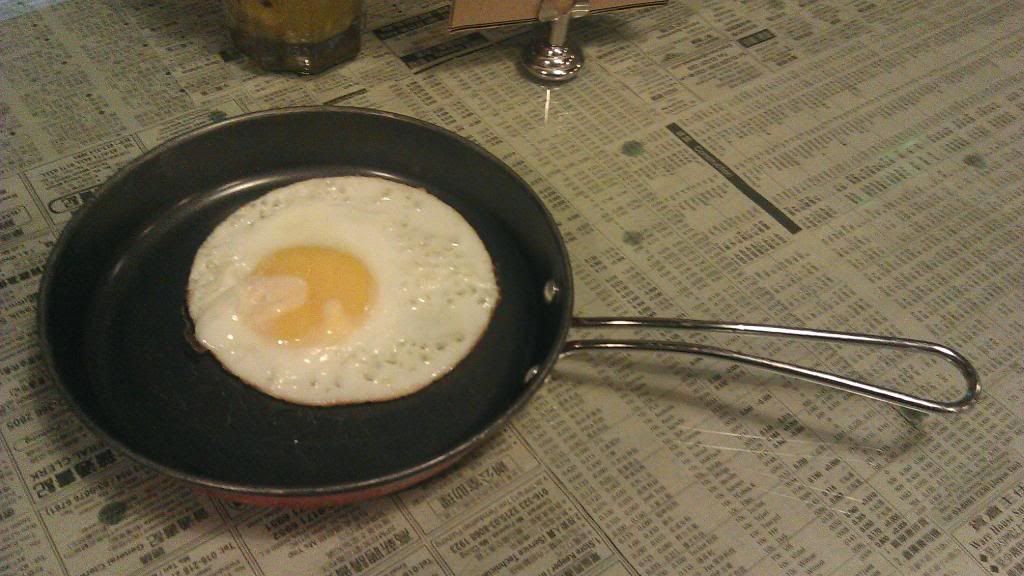 And now we've come to my favourite part: Desserts! I enjoyed my meals but I was absolutely head over heels in love with the desserts. They were so good that I would go to Fat Spoon just to have some sweet treats. This place offers some very interesting desserts. We ordered two desserts. The first is the Sago Gula Melaka with Salted Gula Melaka ice cream on top, and the second is cempedak (jackfruit in English) spring rolls, served with a scoop of vanilla ice cream. I'm sure most of you have tried (and fallen in love) with spring rolls, but I know most of you have never tried cempedak spring rolls before - because this was something completely new to me, and something out of the norm for most Malaysians.
The sago gula melaka with the salted sago gula melaka ice cream on top was simply uh-mazing! Sago gula melaka is a very simple dessert that uses this special type of sugar called gula melaka and of course, sago. The ice cream made a huge difference because it just made the dessert even better than it already was! The ice cream even on its own would've been a winner. Pair it with the sago gula melaka and it almost reaches divine levels of goodness. Seriously, you readers have to try this someday. I'm having a hard time concentrating on writing this because I keep dreaming about having it.
The cempedak spring rolls, at first, did not sound very appealing to me. If my brother had not been there to convince me to try them, I probably would not have ordered them and I probably would've missed out on something completely mind-blowing. A sweet honey jackfruit mixture that is a tad creamy is what lies hidden in the crispy and hot outer layer. Just take a bite and you immediately excite your senses with its texture. Add a spoonful of ice cream to that bite and you may just start weeping because it is so good. I was completely taken by surprise by how wonderful it tasted. It made me wonder why I had never thought of stuffing it, and other fruits, into spring rolls before. Heck, why didn't anyone else think of it? I guess it's one of life's greatest mysteries but whatever it is, promise me that if you are ever looking for a fun place to have desserts, or if you just happen to be in Uptown, that you will try the desserts here at Fat Spoon. I'm sure you will not regret it!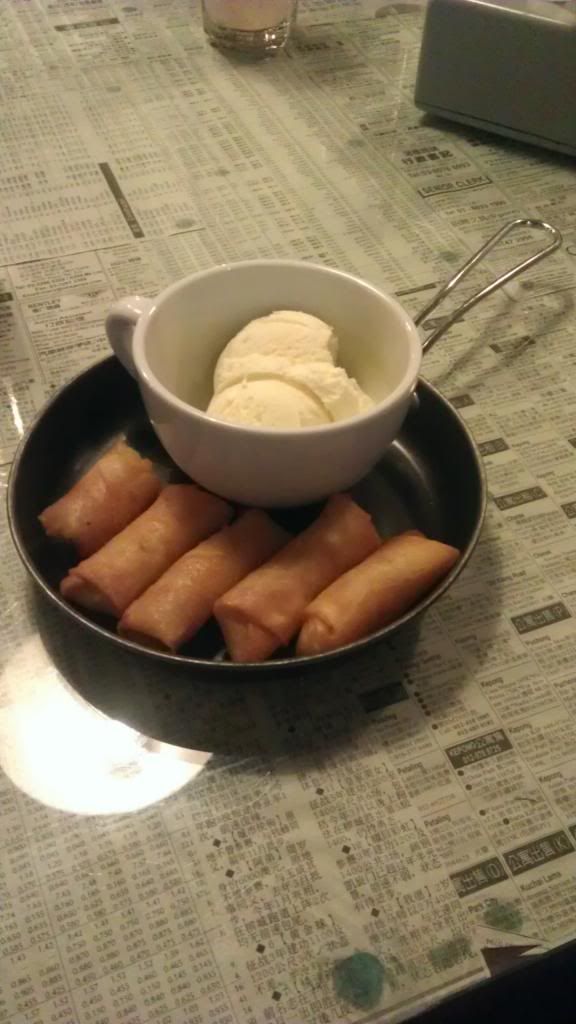 The service here is satisfying. None of us had to use sirens to get the attention of the waiters, and we didn't have to wait long for our orders either. The coolest thing is that there are very few staff, two if I'm not mistaken. One who serves, and the other a bartender who also doubles as a waiter. Yet somehow they still manage to run the place smoothly. Overall, it was yet another enjoyable dining experience. I'm sure I'll make my way there again. Yummy and unique food combined with good service makes dining here a pleasure. Go ahead and give this place a try - don't forget to leave your thoughts in the comments section!
Cheers,
Ad
Verdict: 4 out of 5
Fat Spoon Cafe
73, Jalan SS21/1A Damansara Utama, 47400 Petaling Jaya, Malaysia
Business hours:
Tuesday - Thursday: 11.30am-3.00pm, 5.00pm-10.00pm
Friday - Sunday: 11.30am-10.00pm
Call them at: 03-7728 3323
Visit their facebook
here