Hey everyone! How are ya'll doing? Guess who's back with a food review? haha me, of course! The subject of today's review is Wondermama, a relatively new restaurant (they opened less than a year ago if I'm not mistaken). Wondermama is a fusion restaurant; it takes Western favourites and gives them an Asian twist, and adds Western flavours to typical Asian dishes. Not everyone is a fan of fusion food but hey, I think everyone should have an open mind and give it a shot. You may find yourself pleasantly surprised by the one-of-a-kind taste.
For this post, I'm going to be reviewing my two dining experiences here so that I can comment on more food and hopefully provide you readers with a better idea of what it's like to dine here. Are you ready? Let's kick start this review with the location. It's strategically located at Bangsar Village and is literally the first restaurant you'll see as you turn into Jalan Telawi 1. Whether or not you are familiar with the Bangsar area, finding this restaurant should not be a problem. It's opposite HSBC and Chawan restaurant, and next to Plan B. It used to be where Outback Steakhouse was located. If you aren't used to coming to Bangsar, let me just warn you the traffic here can be quite frustrating because there are always so many cars driving in and out of the area. Don't even get me started on the parking. It's almost impossible to get a parking spot on the streets (unless you're lucky) but you should be able to find a place to park at Bangsar Village's carpark. It comes with a price though, RM3 per hour. It's steep but if you're just going there to eat, I think it's worth avoiding the hassle. There's also an indoor car park located opposite the mosque and under the Bangsar Medan Selera. I think it should also be under the Bangsar Village management because if it's full, you can cross over to Bangsar Village's car park without exiting. This car park charges RM1 per hour, but sometimes can be full.
Moving on, let's talk about the exterior of Wondermama. I love it. It's unique but simple. It's colourful but not overwhelming as it is toned down by a lot of wood, which gives it a welcoming and homely feel. There are a few chalkboards at the entrance with cute drawings and writings on them - I totally dig them. The restaurant takes up two levels but I have yet to explore the upstairs. There are a lot of clear glass panes so you can see the interior from outside. I like it because it attracts your attention a lot of attention without trying too hard. There's also an outdoor dining area which looks appealing.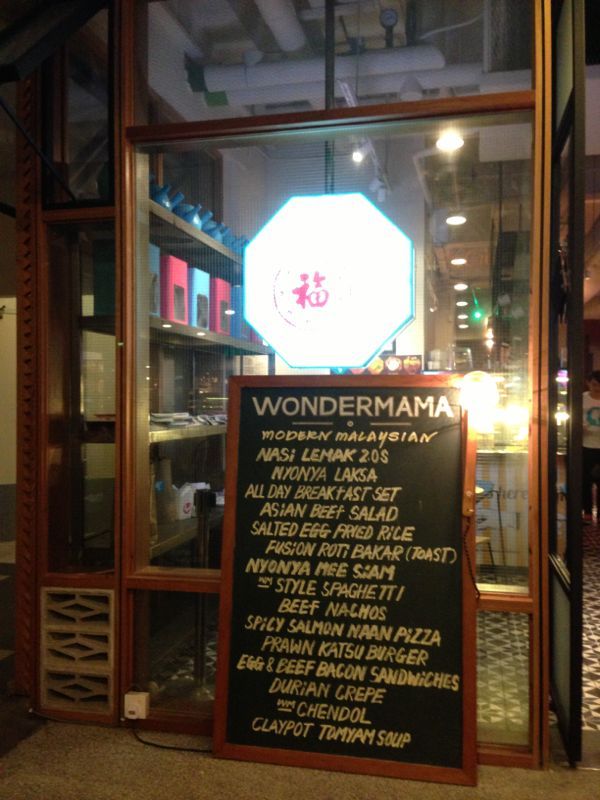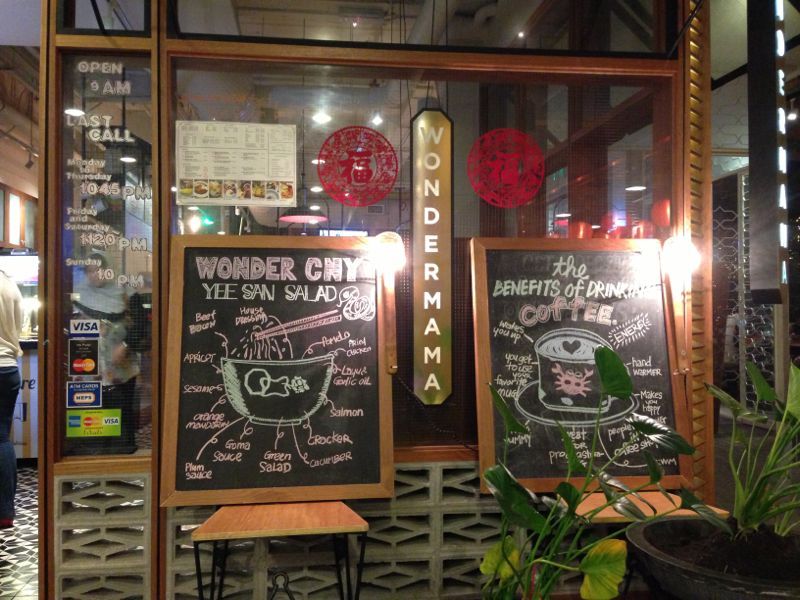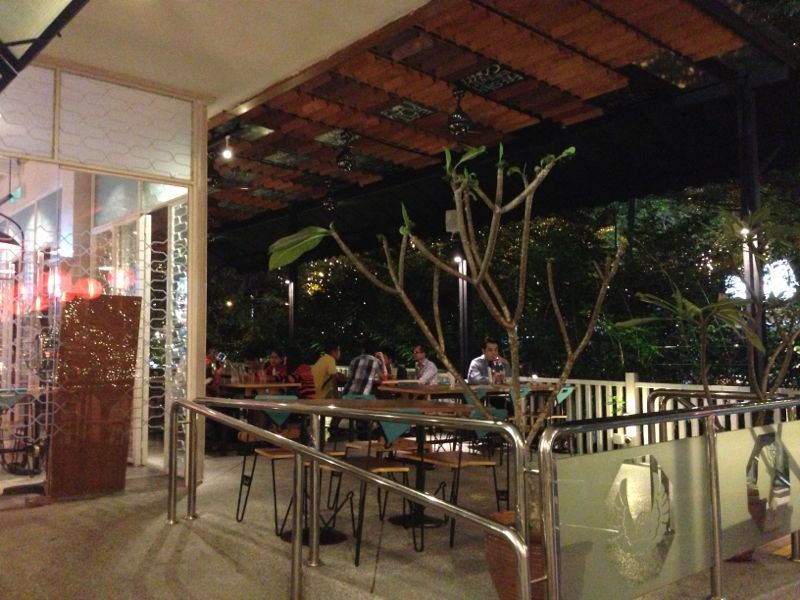 As for the interior - I absolutely love it too. They simply know how to play with colours. There are a lot of wooden materials on the inside too. The furniture are made of wood with bits of metals. They make use of old furniture and modify them a little to give them a modern twist. I think it's so clever how they mix and match the old and the new. The only thing that I think they can improve on interior-wise, is the chairs. They're not bad, just not very comfortable. The restaurant is rather dim, but in a good way. It gives off a more warm and homely ambiance.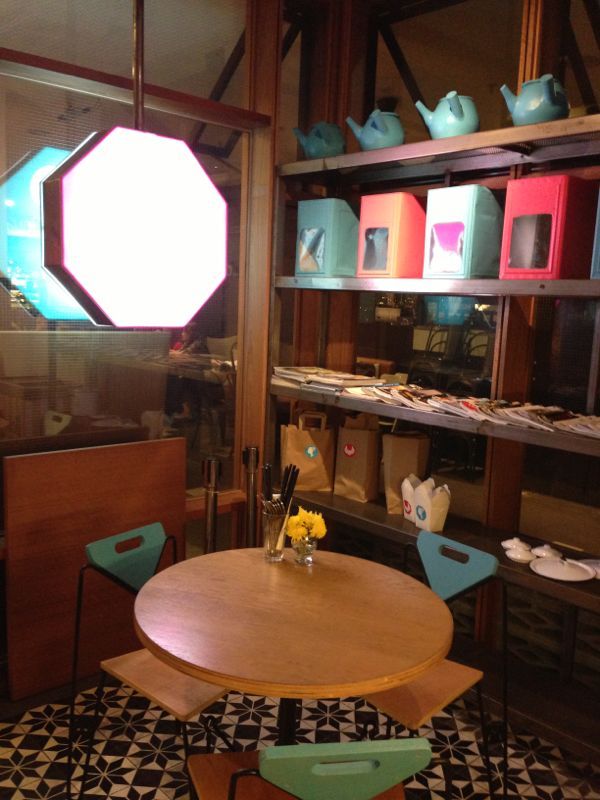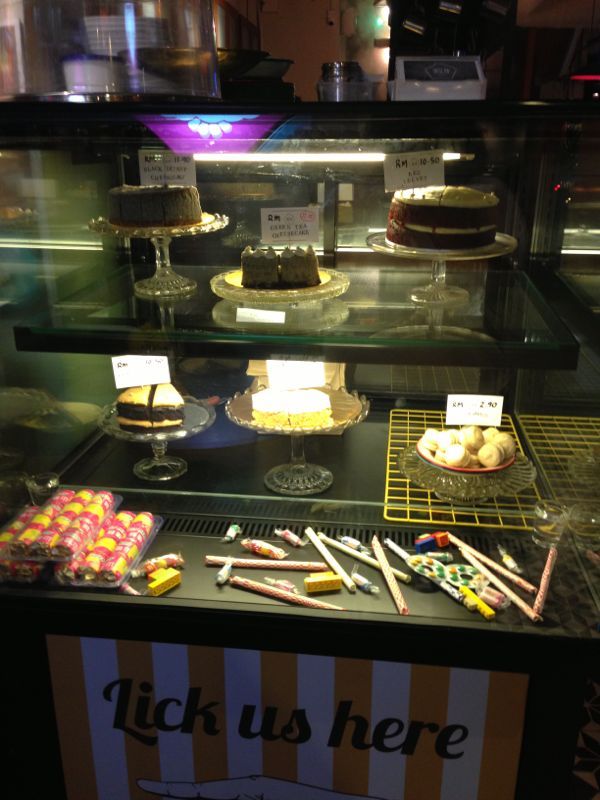 The selection of desserts you see when you first walk in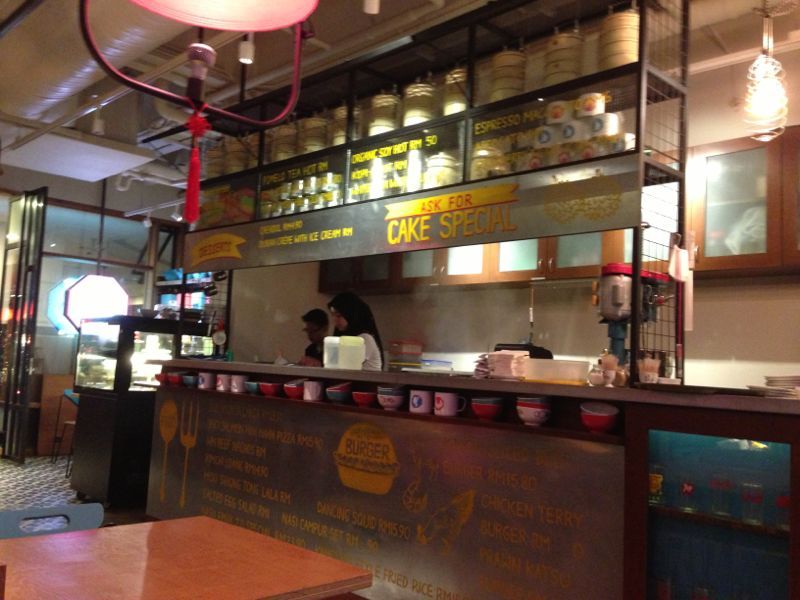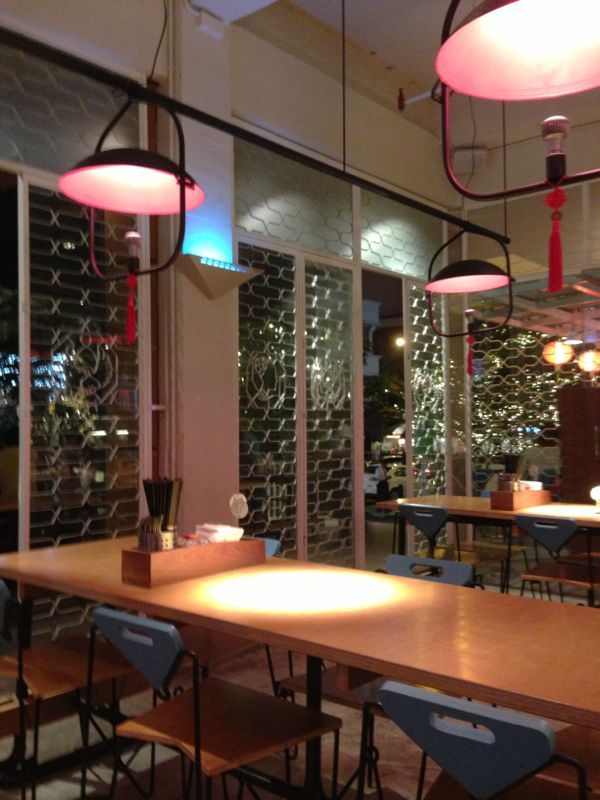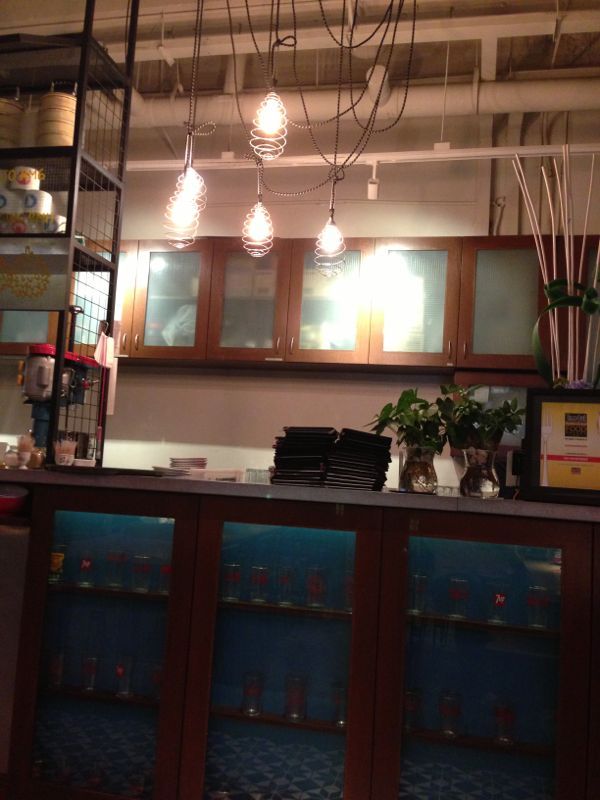 Wondermama has quite an extensive menu. They offer burgers, sandwiches, noodles, rice and pasta, among others. Take a look at them yourself! The prices for the food are quite reasonable. On average, a main dish costs around RM15-RM25. Usually the more expensive ones use expensive ingredients, like the fried rice with soft-shelled crabs for example. To name some unique dishes, Wondermama offers creamy butter chicken burger, salted egg salad, black spider fried rice (the one with soft-shelled crabs) and style spaghetti, which comes with otak-otak, squid and crispy beef bacon. There are fun drinks on the menu, too but the drinks here are rather pricey. Drinks are priced, on average, at around RM8.
After spending some time staring at the menu and drooling over all the cool stuff they offer (which happened on both visits by the way lol), we finally ordered. On our first visit, we had the D&L nyonya laksa, style spaghetti, kampung style fried rice and D&L nyonya mee siam. The laksa was delicious. The broth was flavourful and had a kick. It wasn't too spicy, but wasn't exactly mild either - it was just right. The portion was generous too. The kampung style fried rice was completely drool-worthy. I am usually afraid to order fried rice because a lot of places serve bland fried rice and leave me disappointed; however, this was the complete opposite. It was one of the best fried rice I've ever tasted. The style spaghetti was OK. I guess I was expecting to be completely mind-blowned because of the description. As I mentioned, it was served with otak-otak, crispy beef bacon and squid. It was definitely not bad, it just did not have enough flavour. The sauce was what let me down. The mee siam was superb. Everything in it just went so well together. It was a little spicy but sweet at the same time. I loved it, especially the crispy chicken that came with it - fantastic! The only fun drink that we ordered was the three-layer bandung. It was to die for, but not something you should have on a regular basis because there's so much sugar in it. It wasn't too sweet though somehow.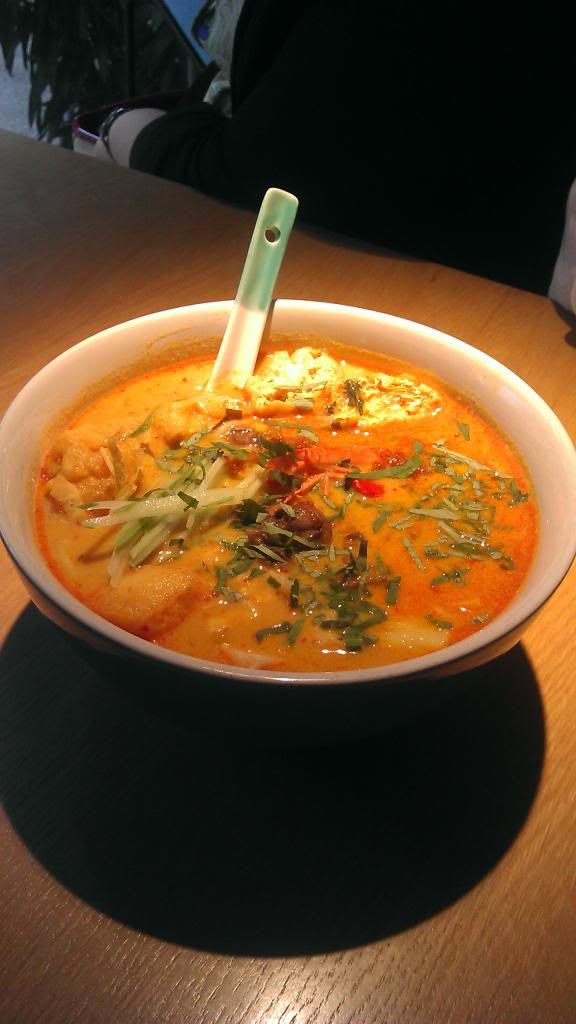 D&L Nyonya Laksa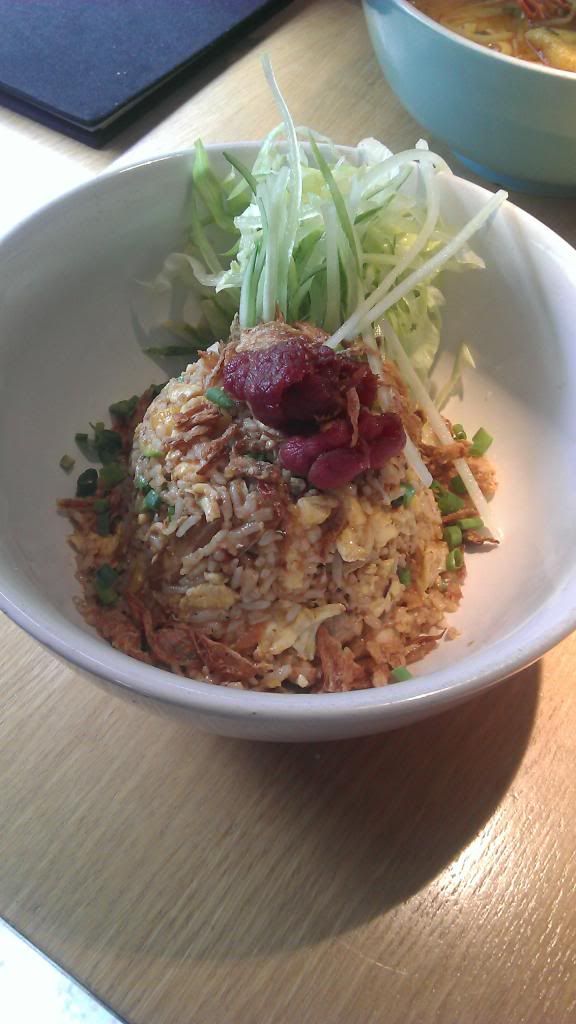 Kampung Style Fried Rice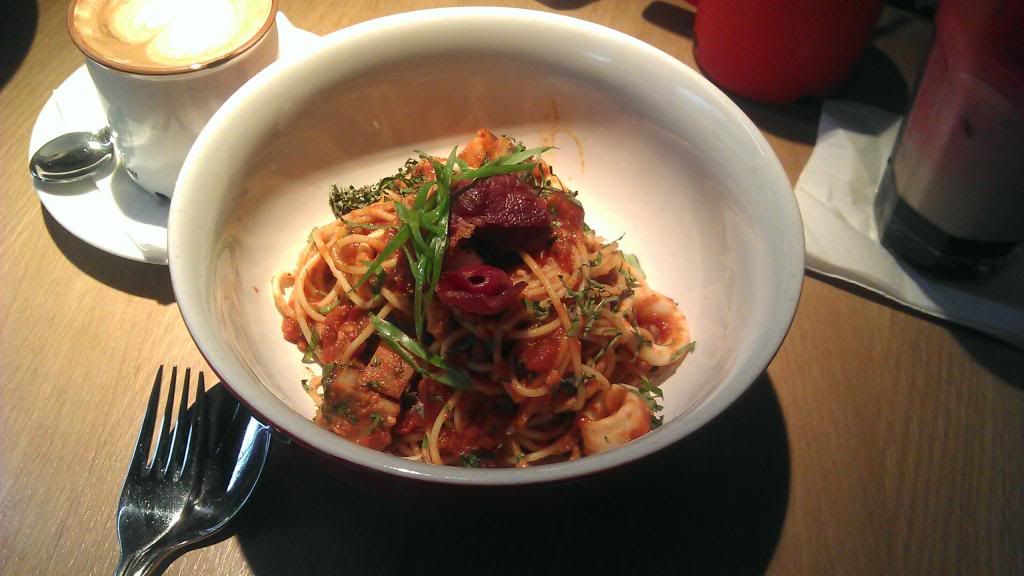 Style Spaghetti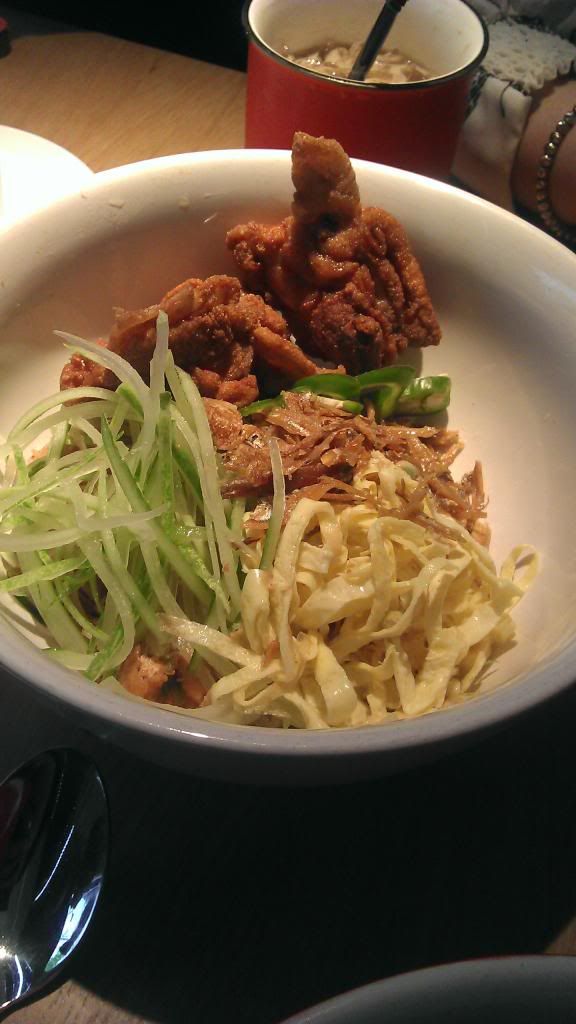 Mee Siam - before the sauce/broth was poured in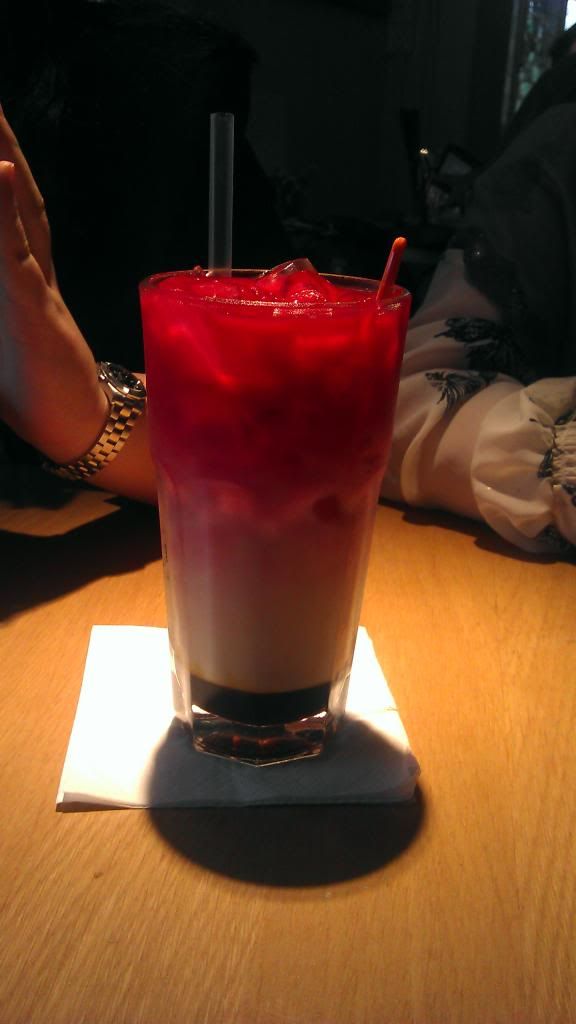 3 Layer Bandung
For dessert, we were spoilt for choice. There were local and western desserts - and we love both haha. We went with the durian crepe and the cendol. The durian crepe was amazing. It was served in a container typically used in Malaysia as a container to put cooking oil in. It came with a scoop of vanilla ice cream and topped with crispy cereal, more specifically cornflakes. The cornflakes added a wonderful touch to the dessert and the durian taste was strong, but in a good way. Not sure if real durian was used, but it sure tasted authentic. The cendol was just alright. Nothing special but still tasty.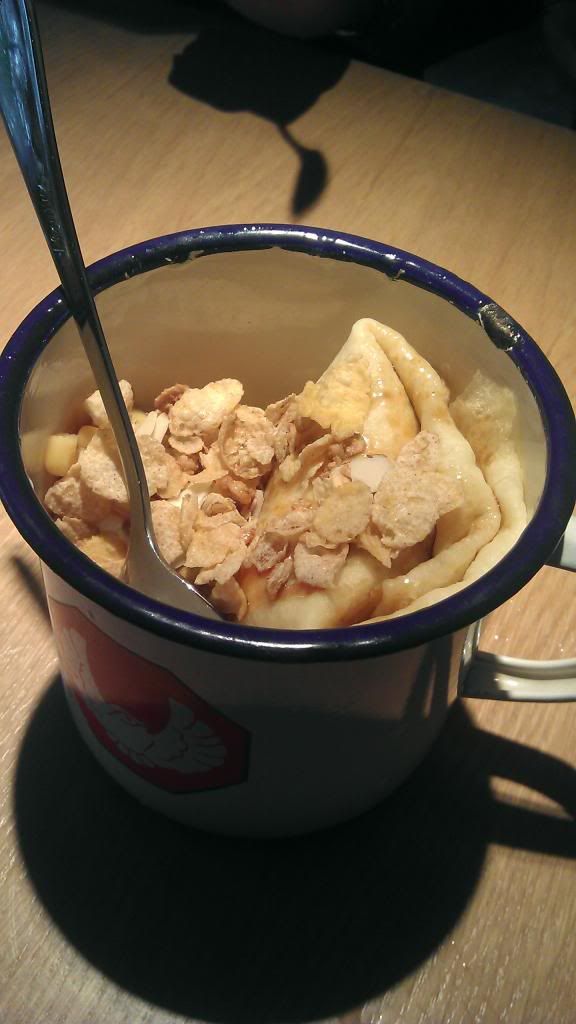 Durian Crepe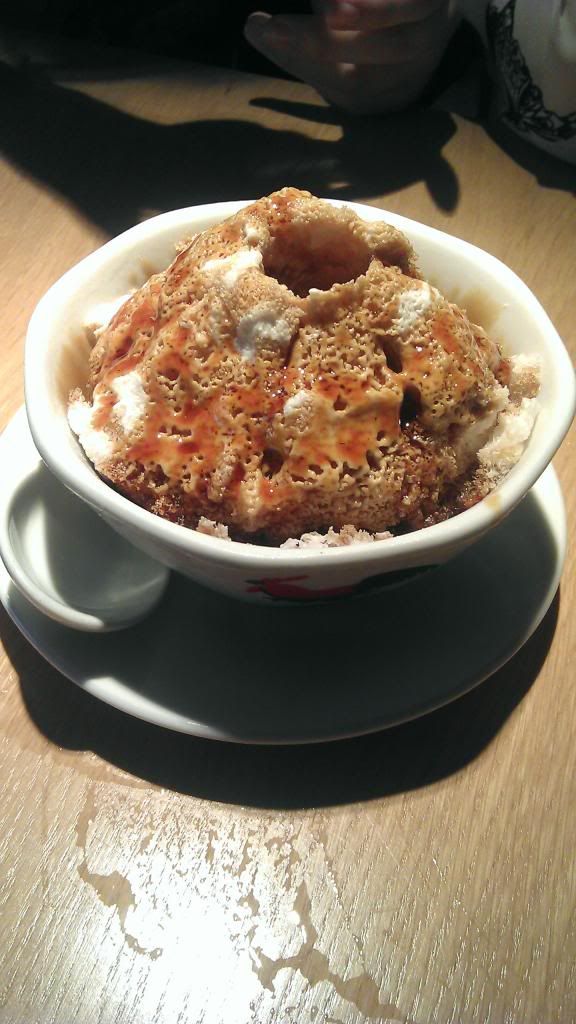 Cendol
The staff were friendly and the service was relatively fast. They didn't keep us waiting for long. Overall, we had a very pleasant first dining experience. It definitely made us feel satisfied and made us crave for more, which brings us to our second visit.
The second time around, we sat at one of their long tables. There weren't too many people by then because when we arrived it was close to 9.30pm. We ordered the creamy butter chicken burger, beef burger with additional beef bacon and mustard mayo toppings, style spaghetti, beef nachos and nasi lemak 2.0. After we placed our orders, we were surprised with a plate of nyonya kuih, on the house. We were really happy haha.
Before long, our orders started to arrive. The creamy butter chicken burger was awesome! Everything about it just screamed yummy! The meat was cooked perfectly so it was juicy and moist instead of dry. The creamy butter sauce was so good but oh so sinful. The beef burger had a smokey flavour to it. In my opinion it wasn't as good as the creamy chicken burger but it could still hold its own. The beef was tender but I felt perhaps it could use a little more seasoning. The mustard and bacon complemented the burger really well. We were also given choices of sauce to go with the burger, which were served in four separate containers that were connected to one another. I just love the hipster vibe of this place. The burgers were served with a side of yee sang salad because when we were dining, it was during the Chinese New Year celebrations. If you don't know, customarily the Lunar new year celebrations lasts 15 days. The yee sang salad was quite delicious. I liked the dressing, but some of the leaves of the salad were a little bitter for my taste. I loved the presentation, but it made eating a little bit more challenging haha. I don't mind, but just so you know, things can get messy!
The beef nachos were so scrumptious. The nachos were incredibly crispy (very important! no one likes stale nachos), the minced beef was seasoned well and tasted yummy on its own - it was also a little bit spicy, and as for the sauce, let's just say that it's the star of this dish. The sauce just enhanced the flavours of the entire dish and took this dish to a whole new level. We were impressed by the nasi lemak, too. We could subtly taste the coconut milk when eating the rice and the sambal, which to me is the most important element, was really good. It was sambal petai cooked with squid. Definitely approved by the entire family. It came with the same crispy fried chicken that was served with the mee siam, crispy ikan bilis (anchovies), an whole boiled egg and cucumber slices. The typical nasi lemak affair but with amazing bonuses. The portion was huge so if you are not hungry, make sure you either share it with someone, or be prepared to take some home with you.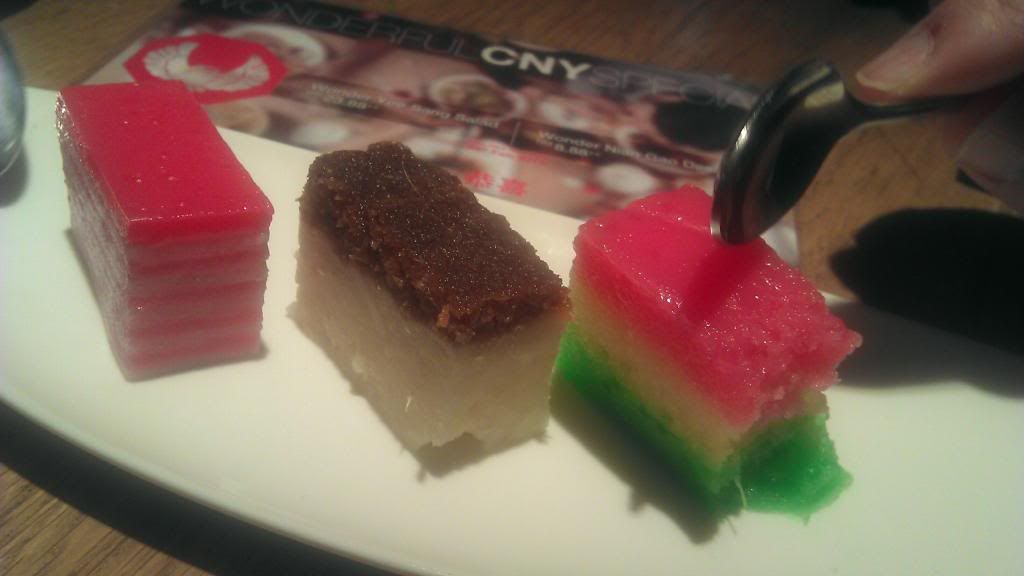 Nyonya kuih. We just couldn't wait to dig in. They were super yummy
Creamy Chicken Burger. Look at its greatness.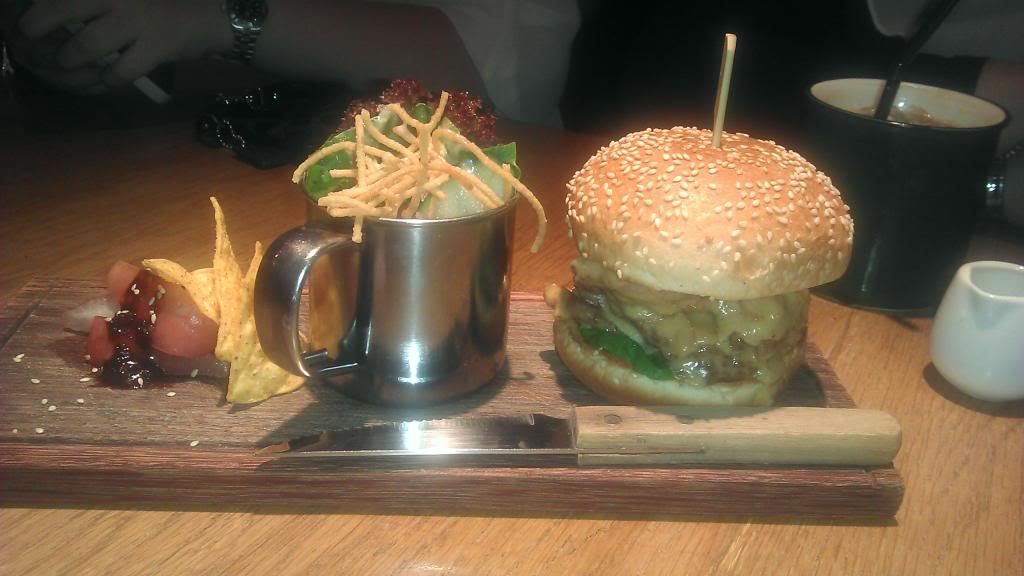 A photo with flash on so you can actually see what's between the buns haha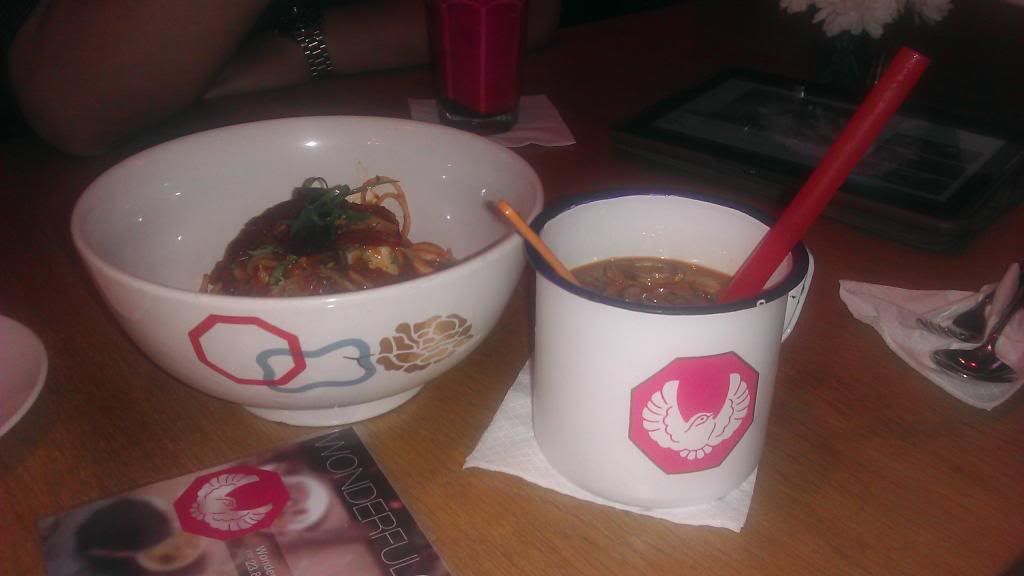 Style spaghetti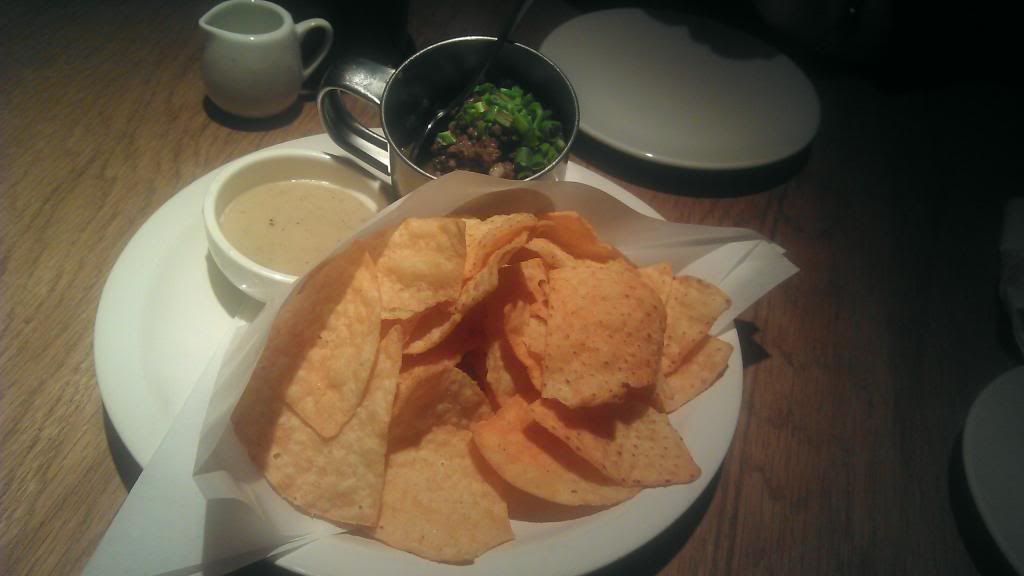 Beef Nachos. I wish I could buy the sauce in a bottle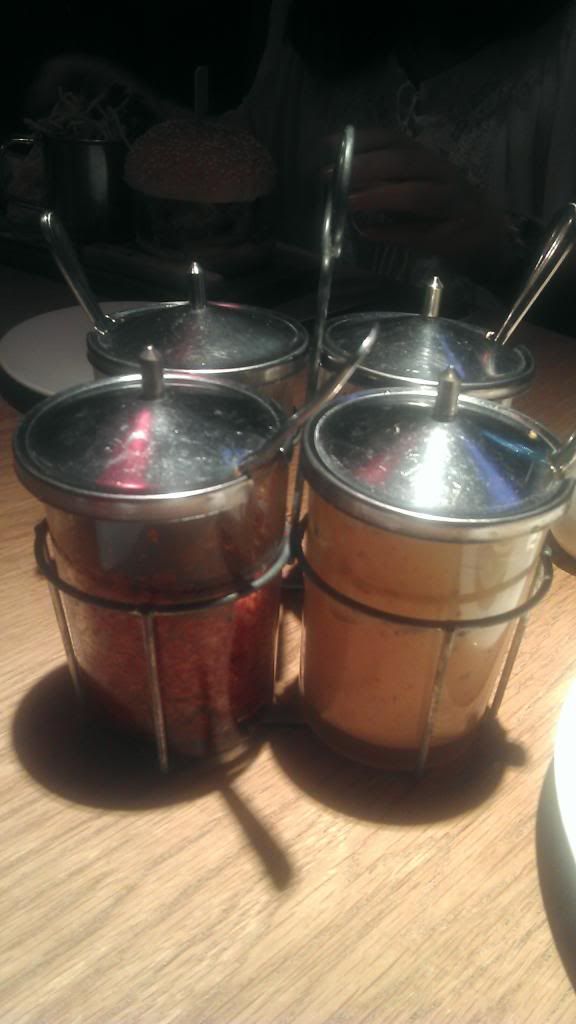 The containers for the condiments (for the burgers)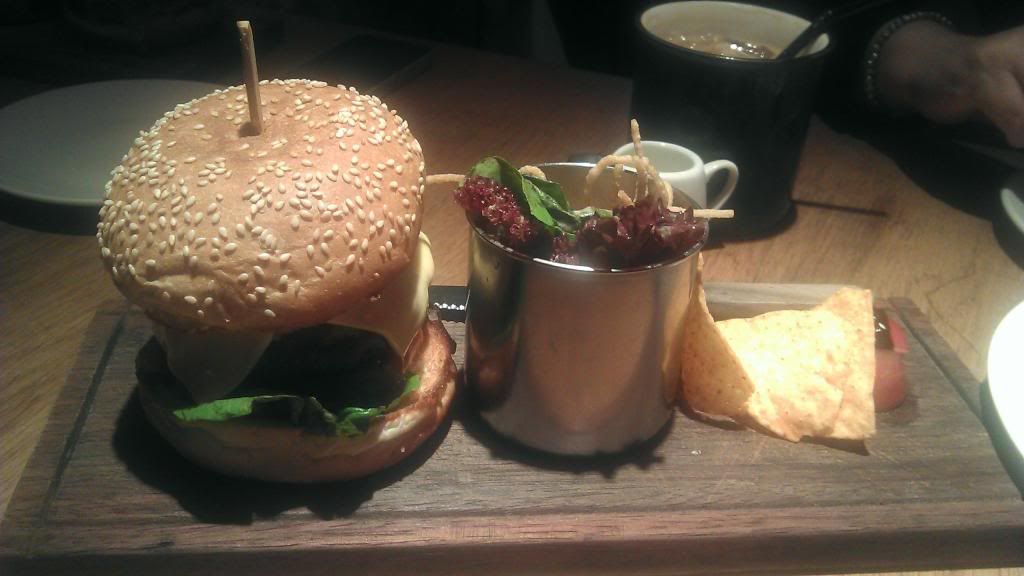 Beef burger with bacon and mustard on top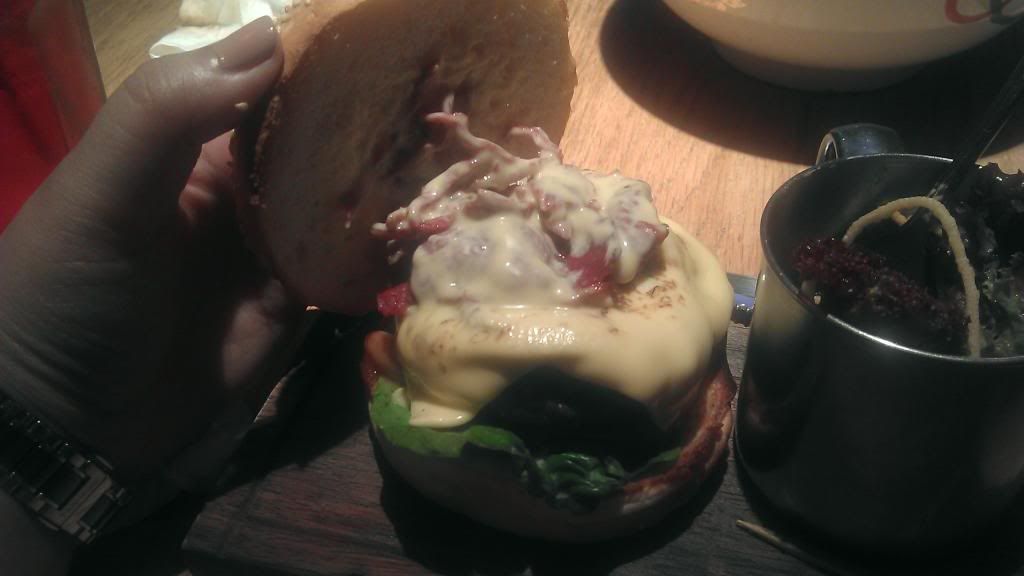 Just look at that!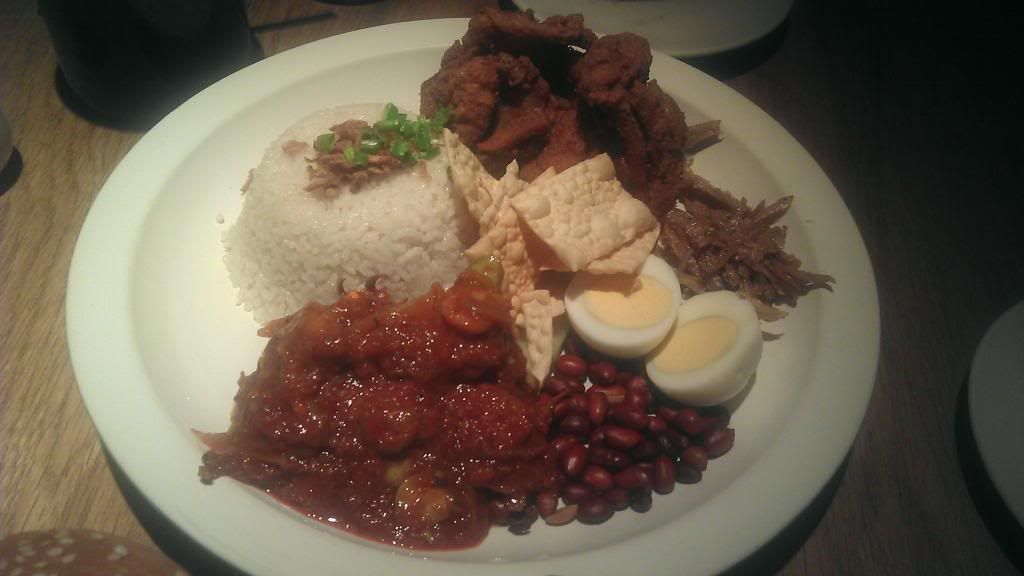 Nasi Lemak 2.0. Go on, shed a tear for its beauty. I won't judge. hahah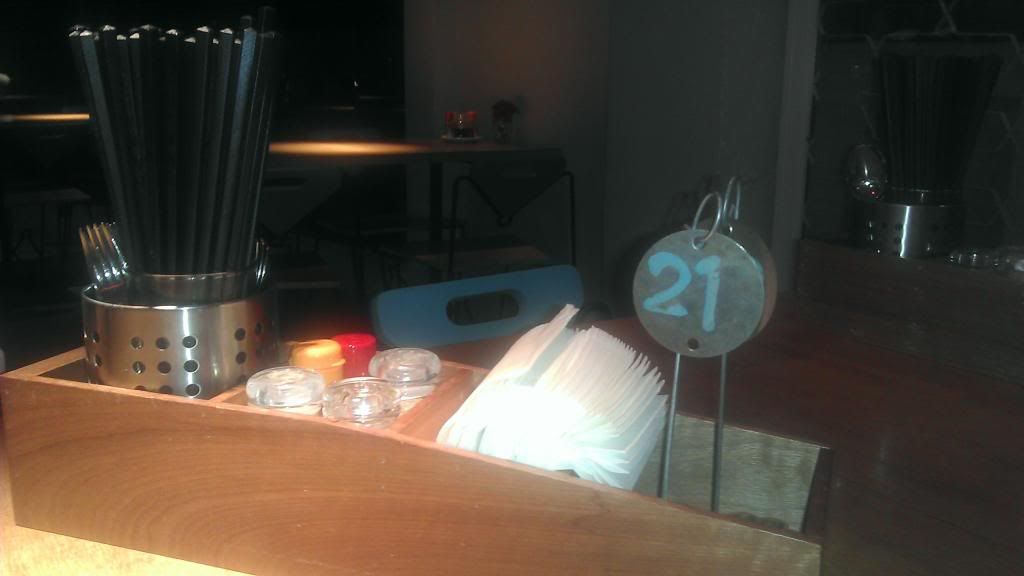 The super useful box for cutlery, salt&pepper, tissue papers and the table number
We had the durian crepe again for dessert because my brother hadn't tried it yet. It was as yummy as I remembered (and believe me, I'm not always a big fan of durian). I love this place. Definitely a cool place to hang out with friends and family. Good food, great company, wonderful ambiance and quick service. A place that makes me smile. I liked that the staff came to check on us while we were eating, and also after, to see if the food was ok. They were also quick at clearing your table when you've finished your meal. All in all, my whole family and I love dining here. Wondermama will definitely see more of us in the near future. What do you think of the food, the place and the pictures? Do share your thoughts in the comments section and don't forget to follow our blog! I apologise if this review has made you drool uncontrollably haha. Til next time!
Love,
Ad
Verdict: 4.5/5
Check out their facebook
here
.
Business hours: Monday - Sunday, 8.30am - 10.30pm