Hey all! How is everyone doing? I've been meaning to do this food review for a while now, but I kept putting it off because I don't seem to have decent photos! However, I think that keeping this place to myself (or at least not writing about it here) is criminal! Yes, it's THAT good! Mention Raju's to anyone who knows it and the first thing that comes to mind is their roti canai. Raju's is like any other typical
mamak
store. It is the end lot of a row of shops off Jalan Gasing. It's right next to SMK La Salle (La Salle High School). Because it's the last shop of that row of shops, it has an outdoor dining area where you can have your meal under the trees. You may think that it isn't a very good idea in a hot country like Malaysia, but surprisingly it's always rather cooling and never too hot where it got uncomfortable. I simply loved the idea of dining in nature.
Anyway, I mentioned earlier about Raju's infamous roti canai. It's so good that it's the only thing I order every time I go there. I mean Raju's is also known for their amazing banana leaf food, and even if I am completely head-over-heels in love with banana leaf cuisine, I simply cannot even begin to fathom the idea of going to Raju's and not having their roti canai. By the way, to any international readers out there, roti canai is a type of Indian flatbread that I assume was originally paratha, but modified to suit local preferences.
Ok so the moment you walk into the restaurant and take a seat, one of the waiters will go over to you and get your order. Unlike a lot of other mamaks nowadays, Raju's makes their roti canai only after you place your order to ensure that you will get to enjoy the ultimate roti canai experience. Roti canai tastes its best when it's hot, of course! The thing about roti canai is that you can definitely tell whether or not it's been freshly prepared. Having it hot and fresh is the only way to have roti canai - and Raju's knows and honours that.
The service here is quick and efficient. Sometimes they're a little slow, but only when the place is packed with people. Oh, there's also usually one waiter who goes around bringing plates of uncooked marinated meat with him who goes table to table to ask if anyone wants to order their anything from their special deep fried menu. They usually have fish, chicken, squid and onions, like any other place that serves banana leaf cuisine. Sometimes, the waiter will ask you to go over to their frying station so that you can choose the portion of the fried food yourself. The thing that never fails to impress me is that they have customers going to the frying station all the time - so they don't actually know which table you're seated at, but somehow they always know where to deliver your order and they never get it wrong. Amazing!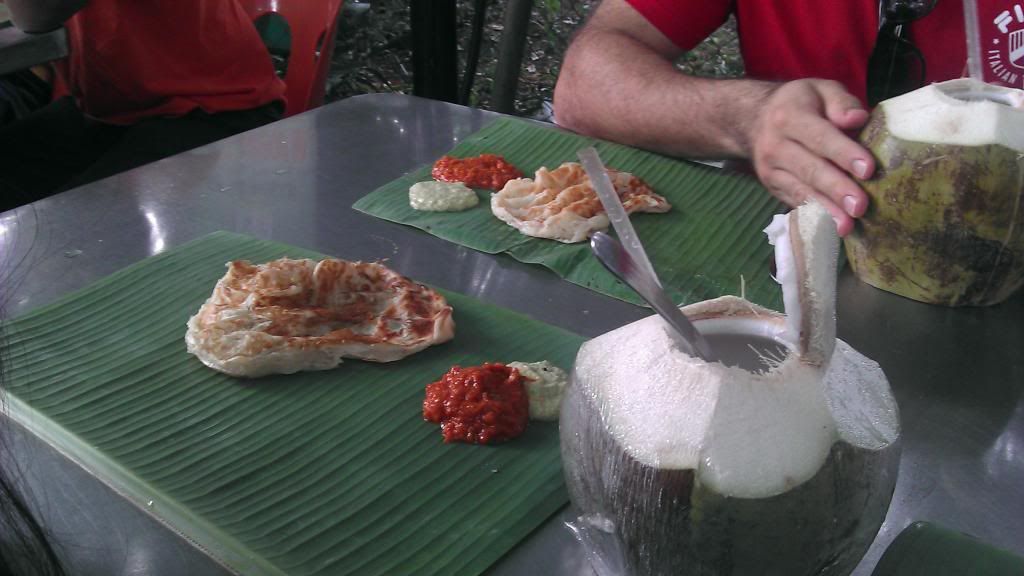 Yes, roti canai is served on banana leaf. Yum!
When your roti canai is ready, a waiter will place banana leafs on your table (one for each person) and serve your hot and freshly-made roti canai on it. They will then leave three steel containers that are attached to one another on your table. Those containers have different condiments in them, typically curry, dhal and some sort of coconut chutney. The roti canai by itself is just so ridiculously good. It's soft and fluffy and
isn't
oily! Roti canai is typically rather greasy, but somehow Raju's isn't! I don't know how they do it but it's simply heavenly! The curry, dhal and chutney just complements the roti canai so well. The condiments were so full of flavour and isn't too spicy or too bland. Perhaps some of you think that I'm making too big a deal out of this simple meal, but that's exactly why it should be a big deal! Everything on our plate (or well banana leaf) is so simple, yet the meal is so delicious and satisfying.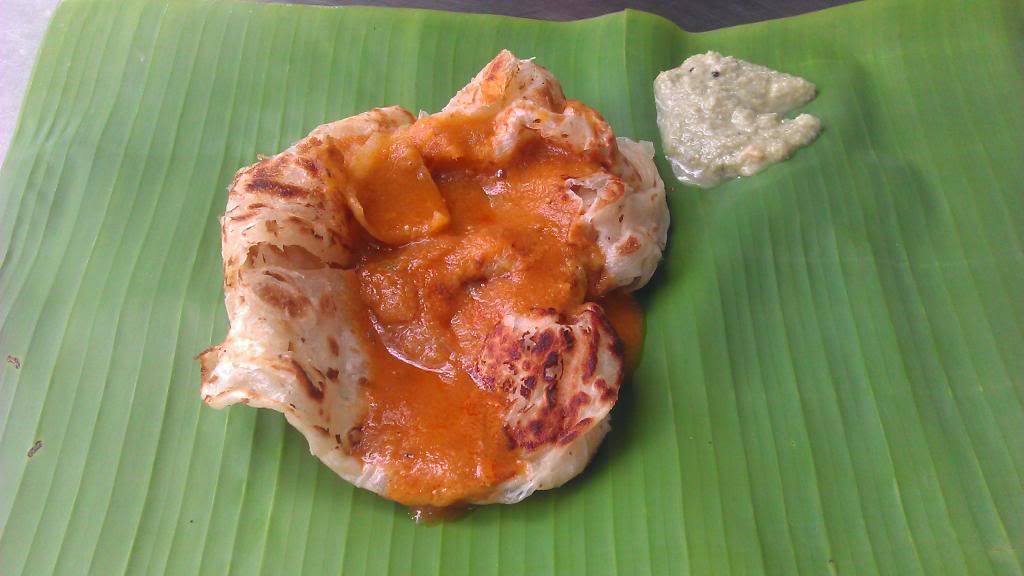 Look at it! It's so beautiful. Roti canai drizzled with curry. I'm salivating as I'm typing this!
The deep fried stuff goes extremely well with the roti canai. So far, I've tried the chicken, squid and onions. Oh they are just so good! The deep fried food has just been marinated so beautifully. Come on, if they can make onions taste good, you know they've got something special.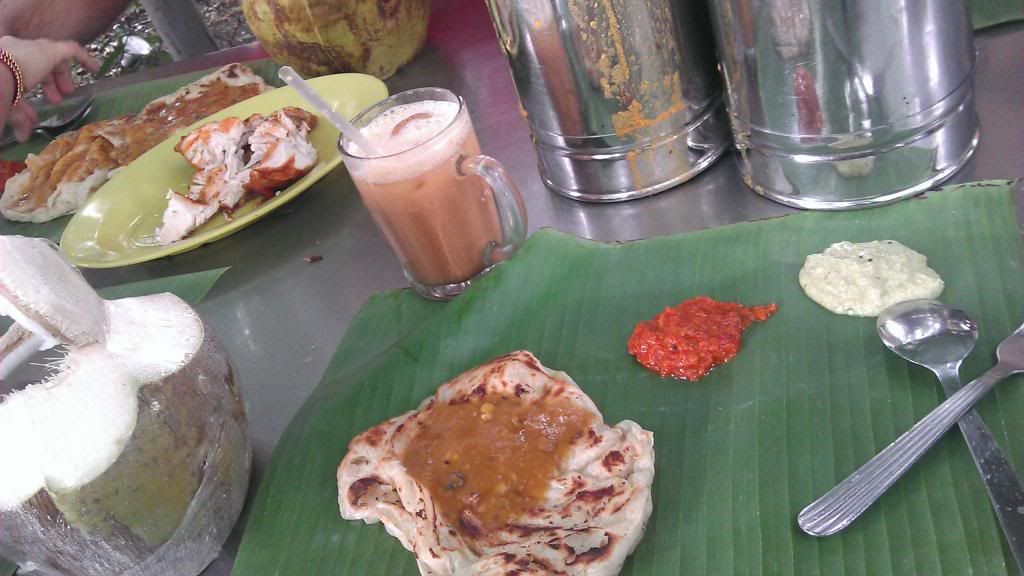 Roti canai accompanied by deep fried chicken - to die for!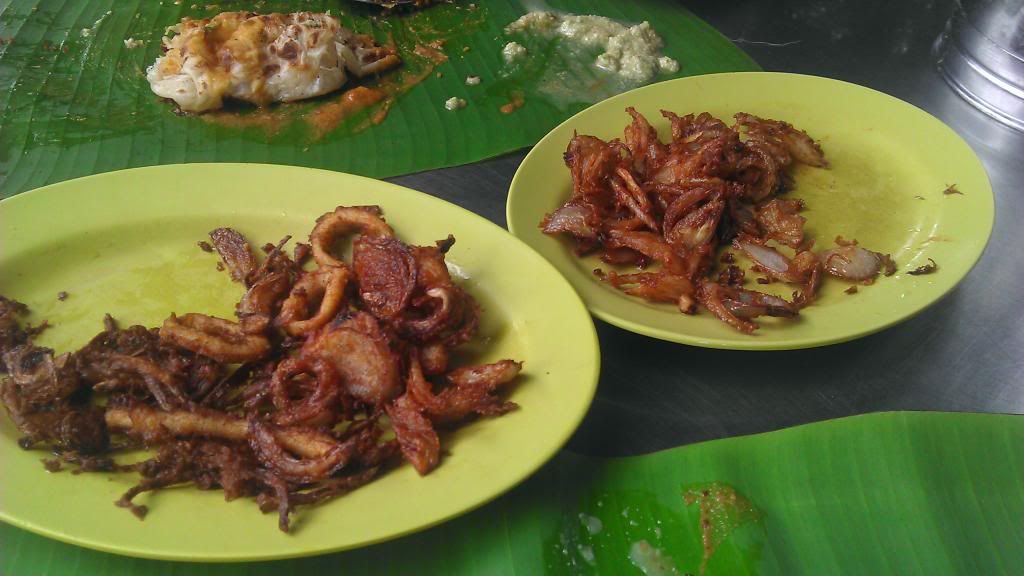 Deep fried sotong (squid) and onions! Sooo good!
Dining at Raju's as always been a wonderful experience. I have to thank my friends Syu and Nabihah for introducing the place to me! The service is good - fast and efficient waiters. However, parking may be a problem on weekends or public holidays. There are plenty of illegal parking spots but I've seen the MPPJ officers with their tow trucks on weekends (yikes!). On weekdays, they're relatively easy to come by though. However, Raju's has a PA system so if any authority figures are about to fine (saman) you or tow your car, they'll let you know haha. I appreciate that, I really do. The seats and tables are comfortable enough. I've never dined indoors because I just love the ambiance of their outdoor dining area. The cleanliness is OK too, just like any other mamak but perhaps slightly cleaner? I just know it's clean enough :) I don't think I have to remind you how great the food is right? After all, I've only been repeating it again and again in the post. As for the price, Raju's is a little pricey compared to other mamaks. RM1.50 for the roti canai, whereas other mamaks price them at around RM1 to RM1.20. The deep fried squid was RM8, not too sure about the chicken, but it's probably around the same price. Honestly though, I'm definitely willing to pay a little extra because the food is just that good! And come on, they have a PA system lol! But yeah, that extra 50sen for their roti canai is totally worth it!
The next time you're free, do not hesitate to head on down to Raju's. I know I feel like it's been too long since the last time I was there - definitely going to head over there again soon. Til next time, cheers!
Love and non-greasy roti canai,
Adlina
Verdict: 4.5/5
You can find Raju's at:
Jalan Chantek 5/13
off Jalan Gasing
Petaling Jaya.
Call them at: 03-79561361