Hi all! Sorry I've been quiet. I don't really have a good reason or excuse so I'm not even going to try lol! Thankfully Far has been keeping you readers busy with her super fun posts! Do try them out because they seriously work!
Anyway, today's post is about the claypot briyani at Legend's Claypot Briyani House (Brickfields branch). There are 3 branches; one in Brickfields, one in PJ and one in Serdang. Apparently they also have delivery services, but not at all branches and limited to certain areas (just found this out like seconds ago! woohoo!). Ok this review is going to be a short one because Tanvir and I only tried one thing on the menu, which is the notorious claypot briyani! Hey, if it's on the name of the restaurant, it had to be good, right? Read on to find out!
We actually found out about this restaurant through Groupon. They offered a good deal, so we bought it. Twice. Before I dive into the good stuff, let's talk about the location. I don't usually go to Brickfields. I don't know the area well, and the only times that I ever needed to go there were to head to KL Central and to the post office (apparently if I'm not at home to receive my PosLaju parcel, I've to go to this particular branch to claim my parcel). That said, the restaurant was astoundingly easy to find! And you know what's the best part? I didn't have any problems looking for parking (this restaurant gets major brownie points for this!). The restaurant is a standalone building near both the Vivekananda primary and secondary schools. Therefore, it has its own parking space, albeit quite limited. Still, we hadn't had breakfast when we were going to try this place out for the first time and we were thrilled that we could just park right in front of the restaurant.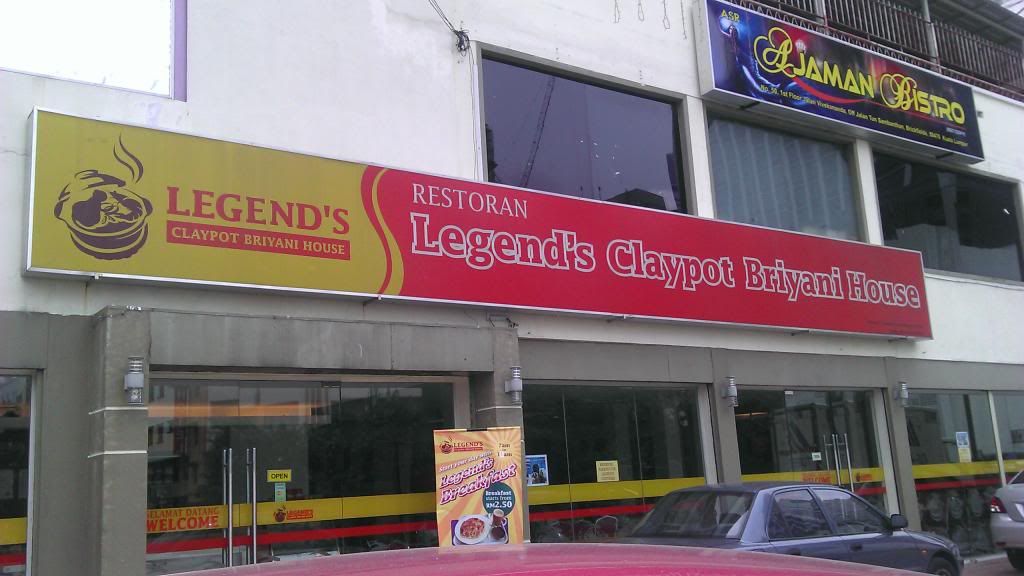 The exterior of the building looked very simple. It had a big signboard with the restaurant name on it, and the entire front part of the restaurant exterior comprised of see-through, thick glass. The interior resembled any type of mamak, but much cleaner. It was simple but welcoming. We sat ourselves at a cozy spot at the edge of the restaurant. A waiter immediately came up to us, gave us the menu and we ordered. They had several types of briyani. We decided on the chicken and mutton, as usual. Before long, our food was served, yay!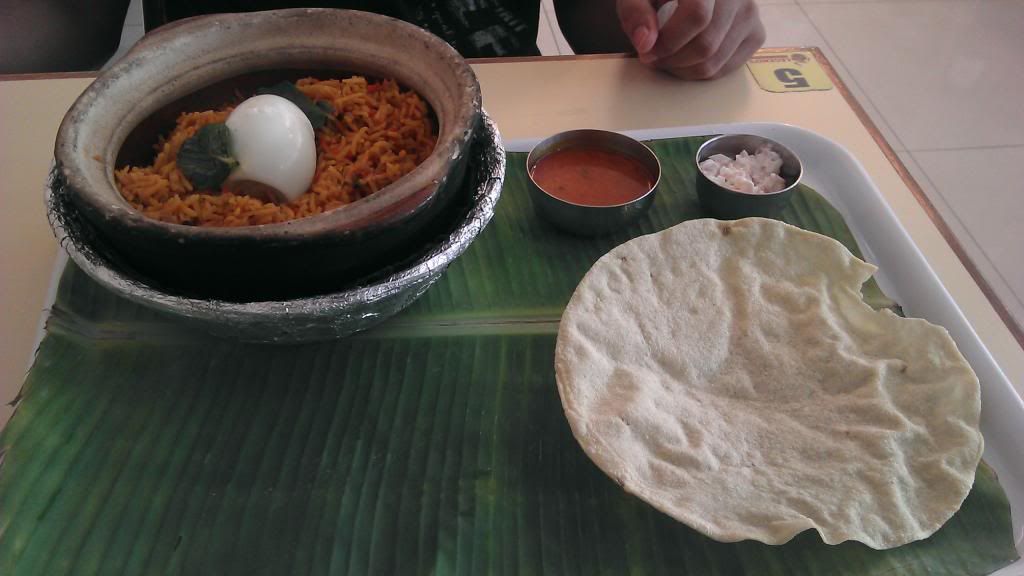 Claypot Chicken Briyani
Tanvir eager to have his meal!
Tanvir had the chicken and I went with the mutton, but us being us, we shared so it really didn't matter who ordered what. The claypot briyani was served on a tray layered with banana leaf. It was accompanied by a poppadom, some curry and this yogurt veggie called 'raita' if I'm not mistaken. We literally spent some moments staring at the dish in awe, admiring its beauty, taking it all in. But yeah that didn't last long because we were starving and couldn't wait to dig in! The reason it was served on a banana leaf is so that we scoop out some of the rice, put them on the banana leaf and eat from there. The banana leaf enhances all the flavours.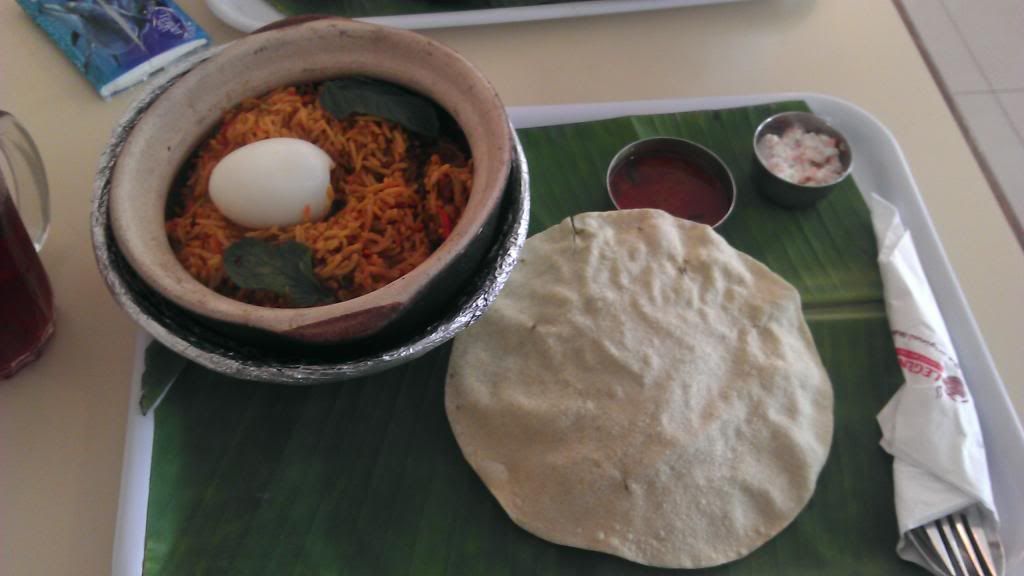 Claypot Mutton Briyani
The rice itself was so flavourful. It was cooked together with the meat so the flavours of the meat were soaked into the rice. It was bliss.Even though the rice and meat were so hot, we couldn't really slow down because it was just that good! Thank God we didn't burn our tongues lol! The mutton itself was soft, juicy and succulent. It was very well marinated and bursting with the flavours of the different spices. The dish itself was quite spicy, so a lot of water was needed to cool down. The curry that accompanied the dish was mutton curry, and it was nice and thick, and tasted perfect! The crispy poppadom added a delightful crunch when eaten together with the rice and meat; a wonderful blend of textures. The raita just went perfectly with the dish. Since it was a little spicy, the raita soothed the tongue and gave the dish a nice tangy twist. I absolutely loved everything about the dish! The chicken too was amazing. It was cooked perfectly; definitely not hard and chewy. It was simply juicy and delicious. The chicken curry was lighter than the mutton curry, but it was just as flavourful. Just thinking about the food is making me salivate. I HAVE to go back there again soon!
The portion was huge. If we weren't hungry, we may have had to struggle to finish our dishes. On that day we wiped everything clean, of course. The groupon came with drinks. I think I had the
sirap limau ais
and Tanvir probably went for the
limau ais
. They tasted just the same like at any other mamak - which means that they were too sweet for my preference, but I think Tanvir was ok with his. We were so excited that we bought two of these groupons! Totally worth it! I mean we were definitely coming back after our amazing experience, with or without those groupons.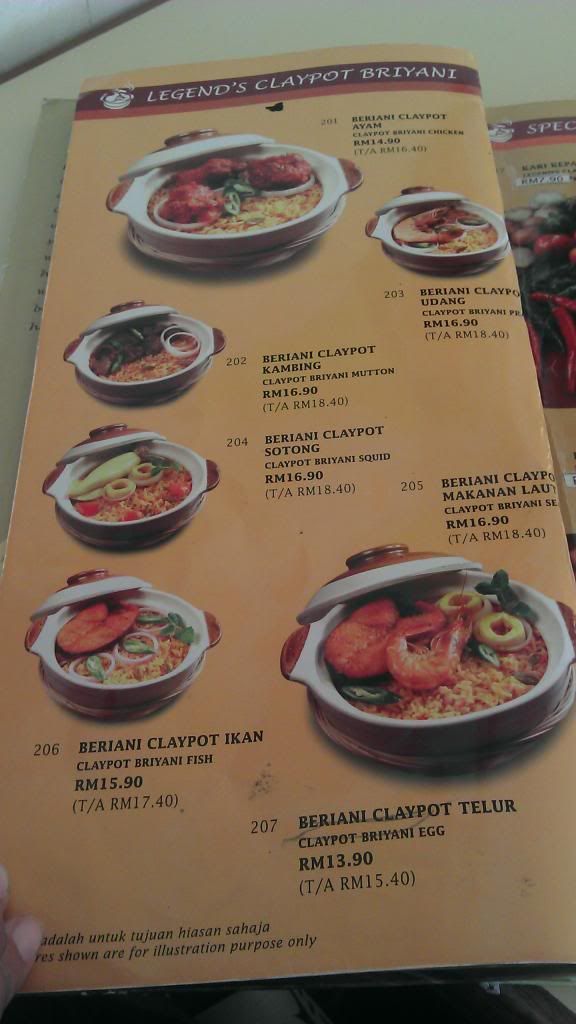 The different types of Claypot Briyani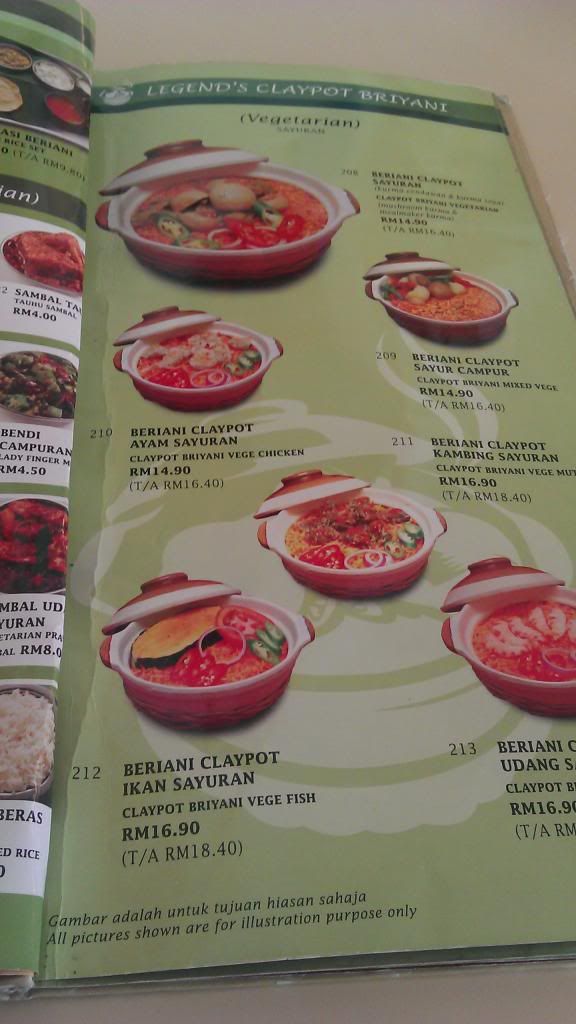 They have a lot of other stuff on the menu, too. The usual roti canai (paratha), naan, thosai and chapati were available. They also had the fried rice and noodles, and normal briyani (non-claypot ones) and much, much more. It was a little pricey compared to other mamaks, but considering the whole place was covered in marble tiles and was air-conditioned (and not to mention spiffy clean), I think it's their prices are reasonable. The portions are huge too so I really can't complain. I'm so happy that we gave this restaurant a shot. I feel like we've discovered a hidden gem! Since our first visit, we've been back a few more times and they've never disappointed us. If you want to let your taste buds experience a whole new level of awesome, you
must
give Legend's Claypot Briyani House a try.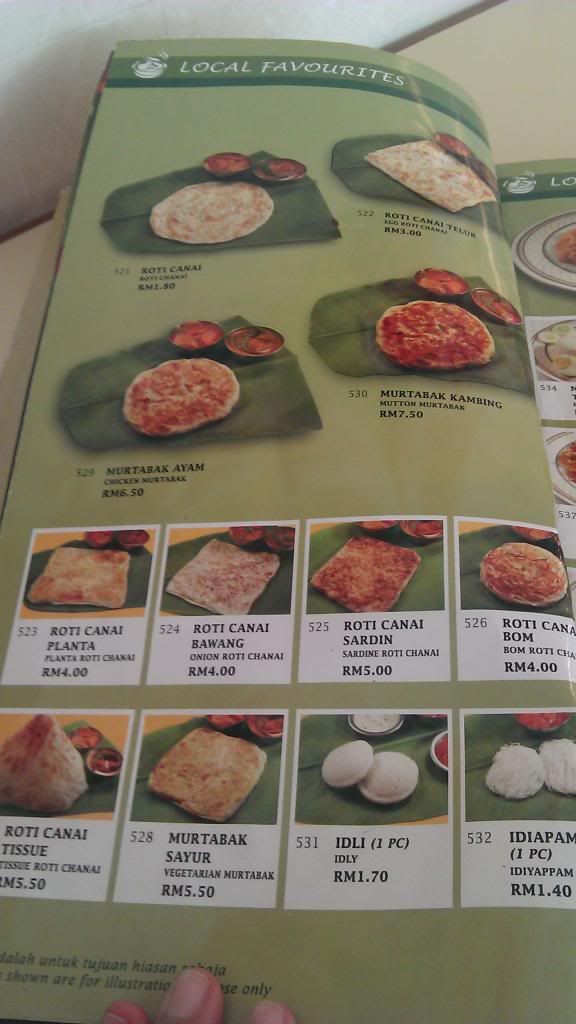 If you're drooling, I'm sorry. But if it makes you feel any better, so am I. Haha! For more info about the restaurant, click
here
!Till next time, take care and don't forget to comment!
Love,
Ad
Verdict: 5/5