Hi all! This will be a short post! Just reminding all of you that the
Lung Foundation of Malaysia
charity bazaar is this Sunday, 4th November! How many of you are coming? Please please come and bring everyone along!
By the way, here's some great news! Our former prime minister, Tun Abdullah Badawi, better known as Pak Lah, will be gracing the bazaar with his wife, Tun Jeanne! They supported the last charity bazaar too, and several other LFM activities! They will be there at around 10.30am, so come on over to get a chance to meet them!!
Besides that, celebrity chef, Chef Dato' Ismail Ahmad will also be there for a cooking demo and he will be selling some food with his aunt! The cooking demo is about healthy cooking so don't miss out! Oh and if you wanna catch a glimpse of what the bazaar may be like, check out Lina's blogpost about the bazaar in 2010
here
! Tons of photos there!
Remember, we have a booth there and we'll be selling some stuff! Wraps, cupcakes, and of course Far's special home made drinks! I'm pretty sure you all know of Aiysha's baking prowess and Far's new spin on drinks that are delicious AND healthy! And if you follow our posts, I'm sure you know about my food experiments! The creamy chicken ball wrap is a result of one of my experiments - I hope everyone will like it as much as I do! The chicken wrap and the mushroom wrap (our vegetarian option!) are a courtesy of Tanvir's amazing culinary skills :) Speaking of Tanvir, check out our new clothing business
Wearability
! So c'mon support us, support the foundation!
If you're unfamiliar with Sungai Penchala/TTDI/Damansara area, try and find your way to Sungai Penchala (it's near the Sprint highway that's connected to Sri Hartamas, Mont Kiara, leads to the Curve, etc also known as the Penchala Link), and when you reach the traffic light near the mosque, turn right and go straight on (it's a long road, so keep going!). The bazaar will be on your right. Don't worry, you won't miss it! You'll see the gazebos and hear the music!
Also! LFM has recently set up a facebook page. Go there and 'like' their page to get updates on the foundation's activities, including this bazaar! To check out their facebook page, click
here
!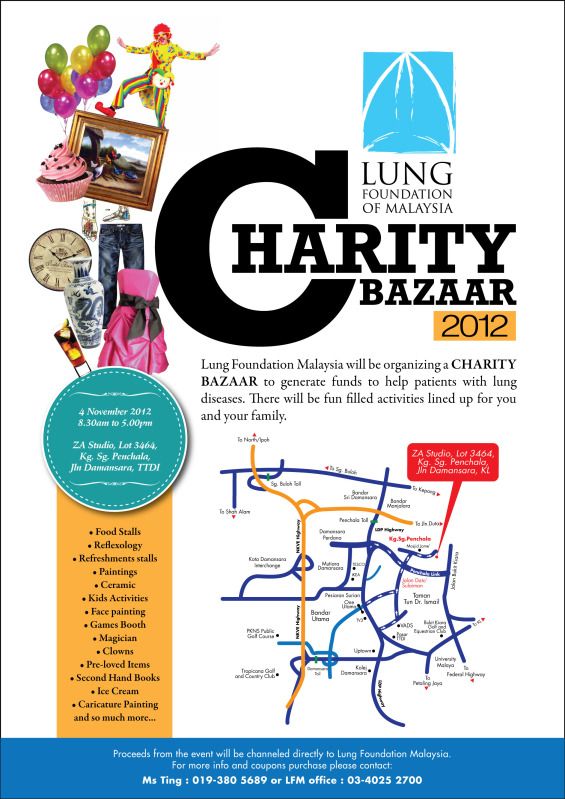 Hope to see you at the bazaar!! There'll be tons of food and other fun activities! Check out the facebook page for what you can expect at the bazaar!
Love,
Ad