Hey hey everyone :) On the 4th of November 2012 (Sunday), there will be a charity bazaar organised by the Lung Foundation of Malaysia. Please come and show your support! The bazaar will be from 8.30am to 5.00pm and there will be a lot of fun stuff lined up for each and every one of you! Come with your mom, dad, uncles, aunties, cousins, friends, teachers, colleagues - everyone!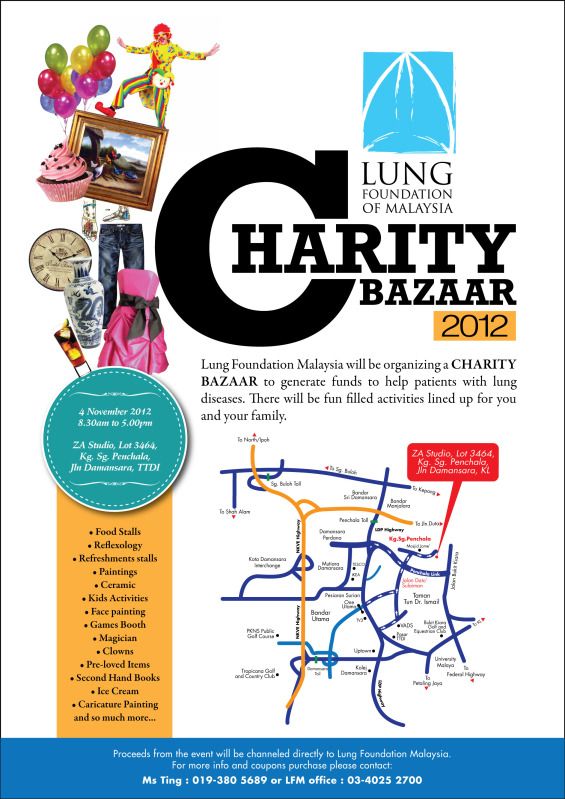 As you can see from the poster above, a lot of fun stuff are going to be happening! Food, drinks, clothes, games - you name it! In fact, some of us at The Awesome Project are sharing a booth at the bazaar! Far will be selling her special home made drinks; Aiysha will be selling cupcakes and another type of dessert (it's a surprise!) and yours truly and Tanvir will be selling wraps! Lina and Haneesa will be there to help out, and may want to sell stuff too ;)
Wearability
will also be setting up a booth! Check it out, Wearability sells awesome tops and traditional clothes! We are all extremely excited for this bazaar! We're happy to support the Lung Foundation of Malaysia! Ok I know not many of you are familiar with the Lung Foundation of Malaysia (LFM), so let me just give you an overview of the foundation.
LFM was established by a group of doctors and corporate citizens several years ago. LFM conducts fund raising activities at least once a year. The funds raised are used for several reasons, the main one being to help patients with lung diseases live healthier lives. Besides that, the funds are used:
- to promote public education of lung diseases
- to improve on the care given to patients with lung diseases by providing training for medical and paramedical personnel
- to promote research on lung diseases in this country
I have personally met some patients with chronic lung diseases during one of LFM's activities. The ones I met were children because LFM works closely with Kelab Asma Kanak-Kanak Selangor (Selangor Children's Asthma Club). Meeting them made me realise that I take so much for granted. The ability to breathe is in itself a privilege. These children have difficulty breathing; some of them have no choice but to go everywhere with a portable oxygen tank which is pretty much half their size. Most of them cannot get too excited or they will experience an asthma attack. Can you imagine having to contain your emotions all the time so that you can continue breathing easily? Can you imagine going everywhere - to eat, to school, to the bathroom, to the mall - with an oxygen tank? Can you even begin to imagine how much all the medical treatment costs? No? Neither can I. And that is exactly why we should help them; this is exactly why we should support the Lung Foundation of Malaysia.
So please, if you are free, do come to the bazaar and support this cause. We breathe freely, and they should be able to, too. If you have any questions, feel free to call Ms. Ting or the LFM office, or you can just leave me comments and I'll try my best to answer your questions. If you wish to donate, you can call her too :) But I really hope you all can make it to the bazaar. Let's have fun while supporting a good cause, shall we? :)
See you there!
Ad