Hello hello everyone! I know it's been forever since I last wrote a food review, so I'm going to try and go on a review spree. Try being the operative word here haha. Ok, so first up is The Olive Tree located at Plaza Damas, opposite the Hartamas Shopping Centre. It is relatively new; it opened earlier this year. I dined there with Tanvir in mid July (yes, that's how long I've been putting off my food reviews). The Olive Tree serves North Indian food (yummmm!). We purchased discount vouchers from I Love Discounts for RM18 per person so it was definitely a steal! The normal price for the lunch buffet is RM30 per person.
Ok so first, let's talk about the location. I'm not very familiar with the Hartamas area but it wasn't too hard to find. I had called the restaurant beforehand to ask for its exact location and the employee answered "It's right opposite Hartamas Shopping Centre". This was true, I'll give him that, but Hartamas Shopping Centre isn't exactly a small place and I definitely did not know how to get to the other side. We found a connecting bridge that led to Plaza Damas but got lost after we crossed it because believe it or not, there was no way down. There was an elevator which led to the carpark, but it did not lead us to the ground floor where the restaurant was. It was extremely frustrating because we could spot the restaurant from the bridge but had no clue how to get there. So after going up and down repeatedly, and asking a few of the security guards how to get there, we still couldn't find our way there. As you can guess, I was getting impatient. I hated being late. Eventually we decided to go to the lowest floor of the car park and walk out of it via the car park entrance/exit (yes, where cars go in and out). So we made a bigggggg round and then had to walk uphill to reach the restaurant. Nice right? I guess it was a good way to work up an appetite!
We arrived a little later than scheduled (duh) but found that the sign on the entrance of the restaurant still said 'Closed'. We just stood there staring at the sign. Fortunately, one of the waiters came over and greeted us, flipped the sign to 'Open' and led us in. The first thing I noticed was the pleasant aroma of air fresheners. Hahah it smelled fresh and clean - definitely a plus! We were the first and only ones there, and they were still setting up the buffet spread. I didn't mine though, because that meant that we got to dine on freshly-prepared food - YAY! The waiters were courteous and very friendly - service is always really important so I was happy.
I really liked the decor of the restaurant. Almost everything was black and red - super chic! There were metal trees stuck to the walls, olive trees I assume, which doubled as candle holders. There were wooden shelves on the walls which had an edgy design to them; they gave the restaurant a more modern feel. The restaurant was filled with dark brown, wooden tables and chairs. Dark brown leather seats lined the edges of the place. It was simple and elegant.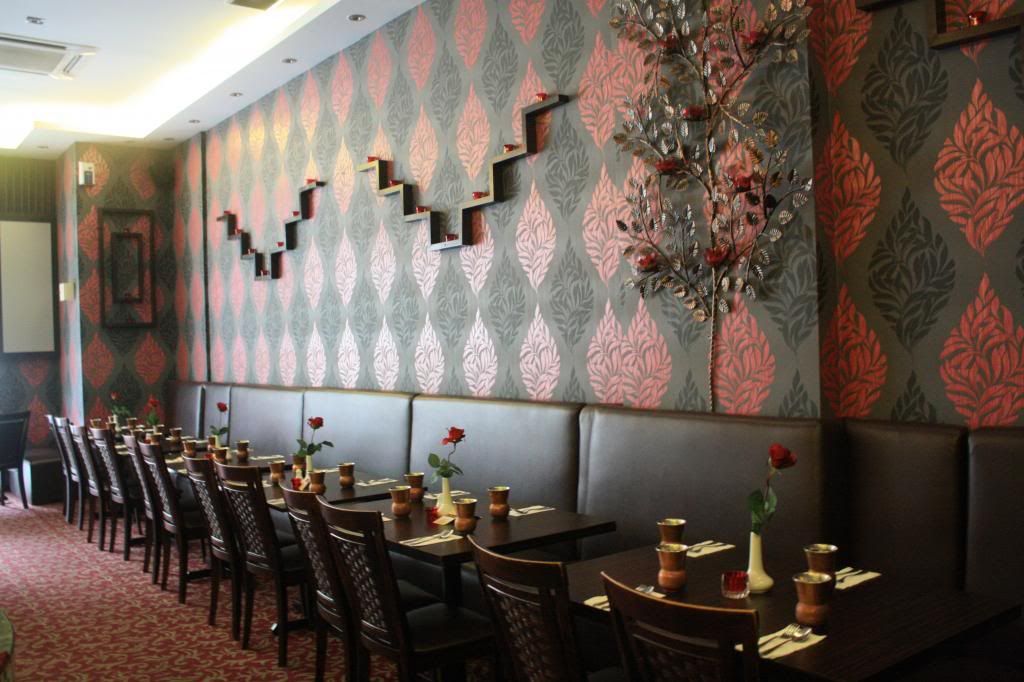 Decor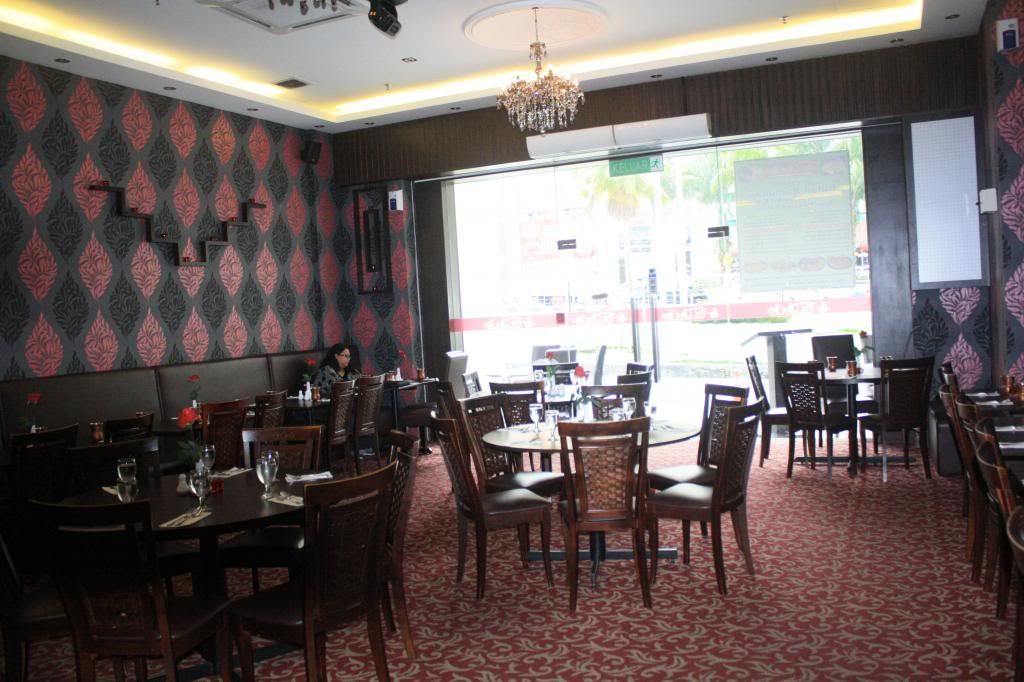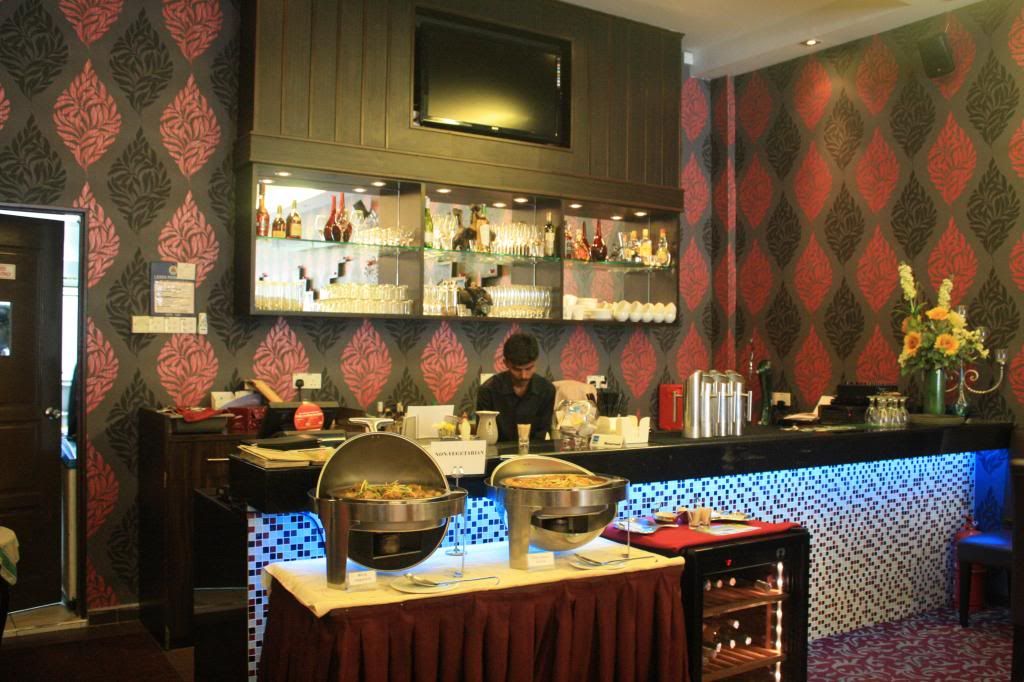 Before long, the buffet was set up and we happily took a look at the buffet selection. There weren't many varieties of dishes but they were definitely sufficient. There were a lot of vegetarian dishes and only two non-vegetarian options. I expected more, honestly, but I guess it made sense since non-vegetarians can dine on the vegetarian dishes too. The buffet spread offered naan bread, steamed rice and vegetarian biryani rice to go with the vegetarian and non-vegetarian dishes. I forgot to take note of the names of the dishes but I'll include what I know! The vegetarian menu for that day was tomato shorba (tomato soup), dal tadka (a lentil dish), vegetable shahi kurma, bigan bharta (I don't know what this is to be honest!), and aloo simla mirch (a dish made of potatoes). There were also some chutney, flattened fried chili, mint sauce, and raw veges in yoghurt. The two non-vegetarian dishes were murg sagwala (a chicken dish) and fish goan curry.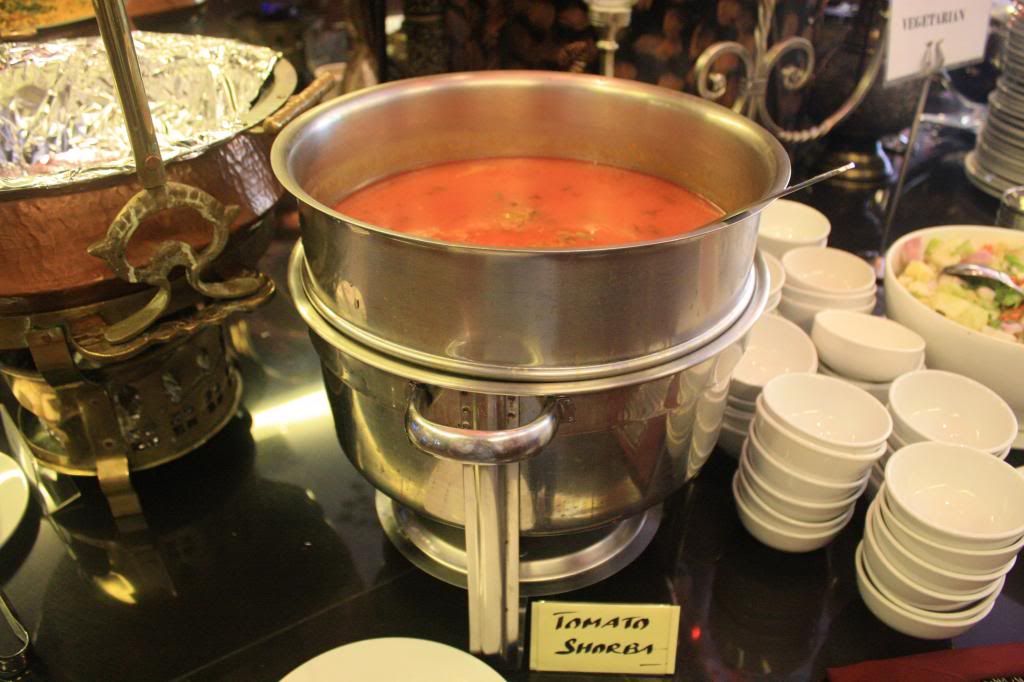 Tomato Shoba (like tomato soup)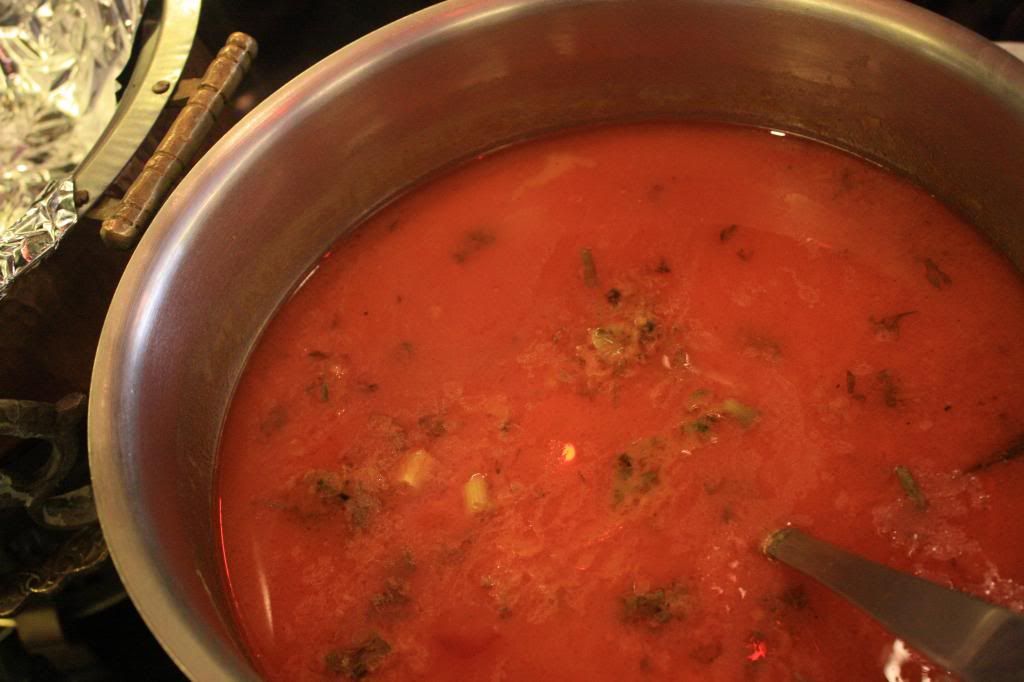 A closer look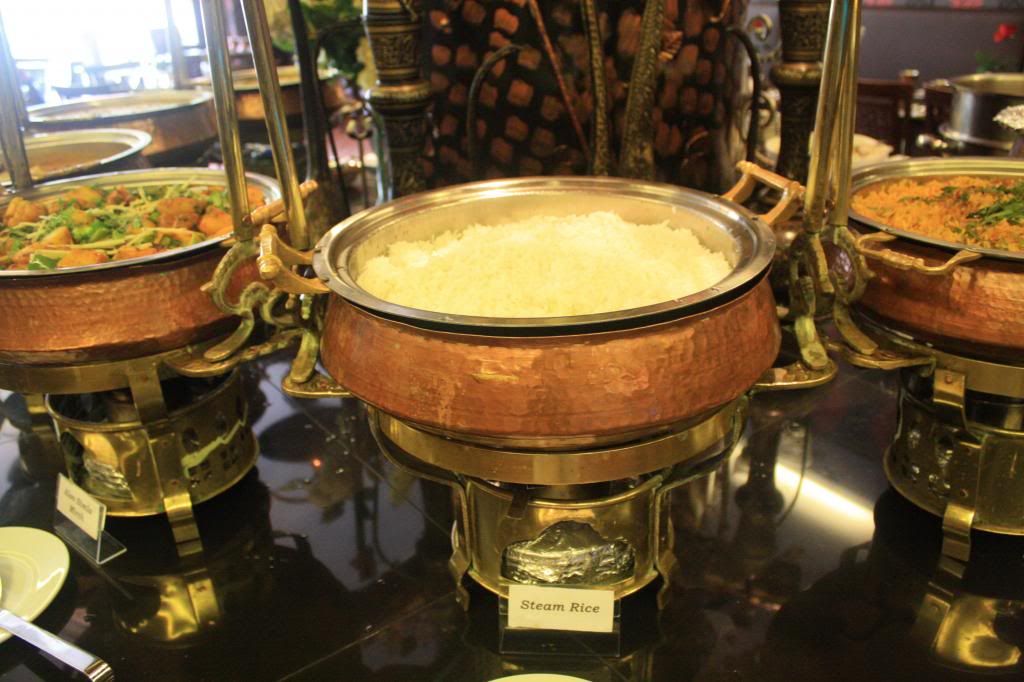 Part of the buffet spread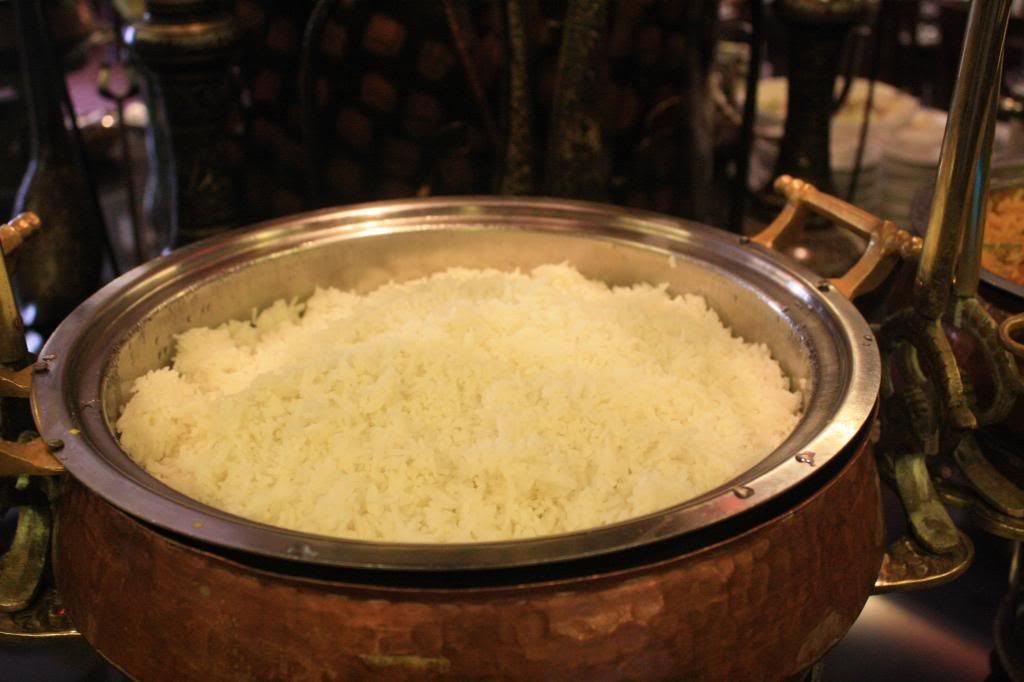 Steamed rice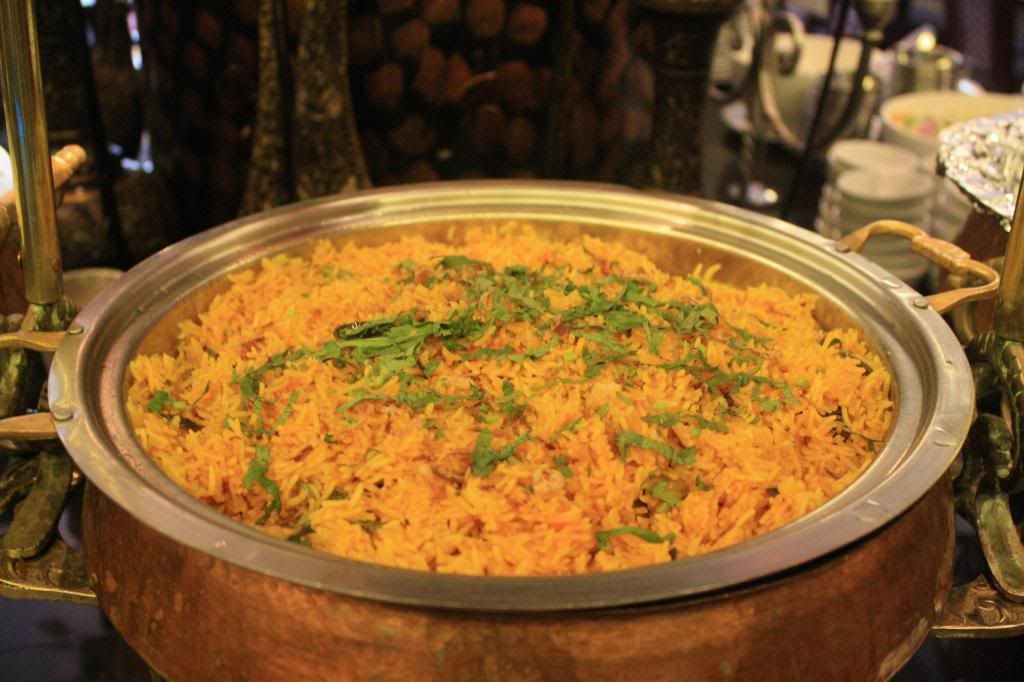 Vegetarian Biryani Rice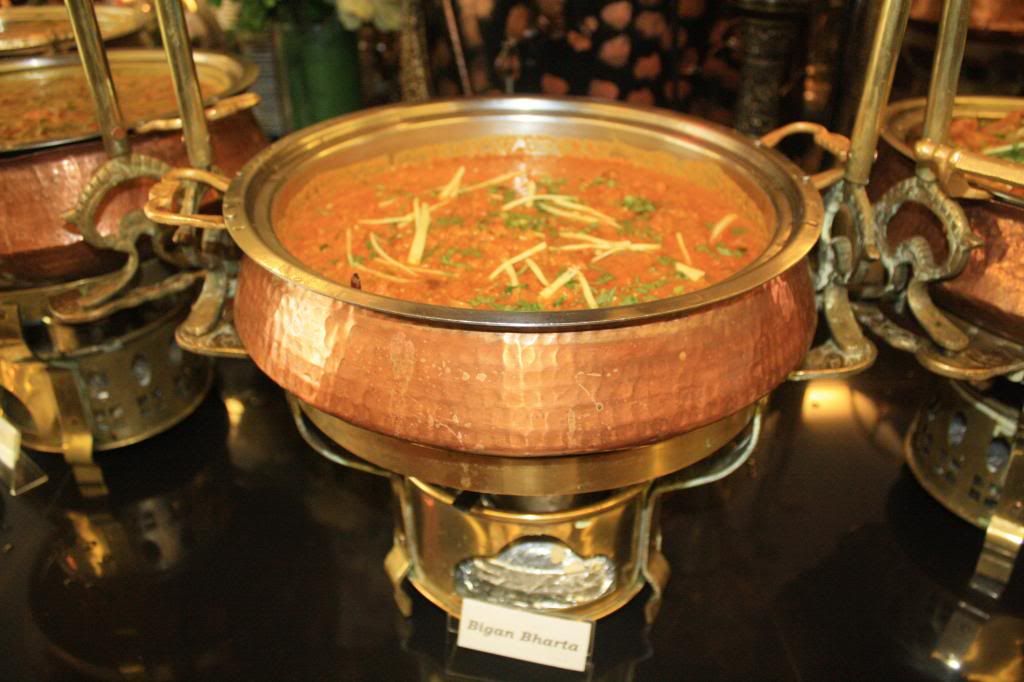 Bigan Bharta - A dish primarily made of eggplants
We had a bit of everything of course. The naan was really yummy as they were just prepared. They were still hot; thus, they were very soft. It went particularly well with the dal tadka, the chicken and fish and potatoes. The mint sauce was pretty good too, tasted similar to the ones they serve at d'Tandoor (my family's fave spot for North Indian cuisine). Let me just say that I don't really know what the names of the dishes mean, but I assume they are simply names of the cooking style. The tomato soup was ok - you could taste the different spices infused into the soup but I suppose it was forgettable lol. The biryani was good too. It went well with most of the dishes. On its own, it wasn't particularly flavourful and it was rather bland, but it complemented the other dishes well. I loved most of the vegetarian dishes, particularly the dal tadka (one of the BEST dals I had ever had!) and the bigan bharta. Ok, I just googled this dish and found out that it is made up of eggplants. I usually don't like eggplants, but since I liked it, it must've been really good! hahahhha! I really liked its texture and taste. Who knew vegetables could taste so good right? hahah kudos to this place for making veges yummy! The chicken was alright, but I don't remember going crazy about it, so I guess it wasn't great either. The fish was ok too, but again, not great. I remembered that I liked the vegetarian dishes better than the non-vegetarian ones (for once in my life). I can't complain, but I suppose I've had better so it was hard for some of the dishes to live up to my standards. As for the drinks, well I have no clue what we had, but I'm guessing plain water! Oh and we were served freshly fried poppadoms too to go with our meal :) I've always loved the crispy texture of the poppadom against the soft texture of rice and the other dishes. And some places don't serve them fresh, so they tend to be stale and not crispy - this usually irritates me lol. There was only one type of dessert served. I don't remember what it was called, but if I'm not mistaken it was made of sugee (also known as semolina). It was hot and sweet, but pleasant. I think we would've probably enjoyed it more if we weren't already full by then!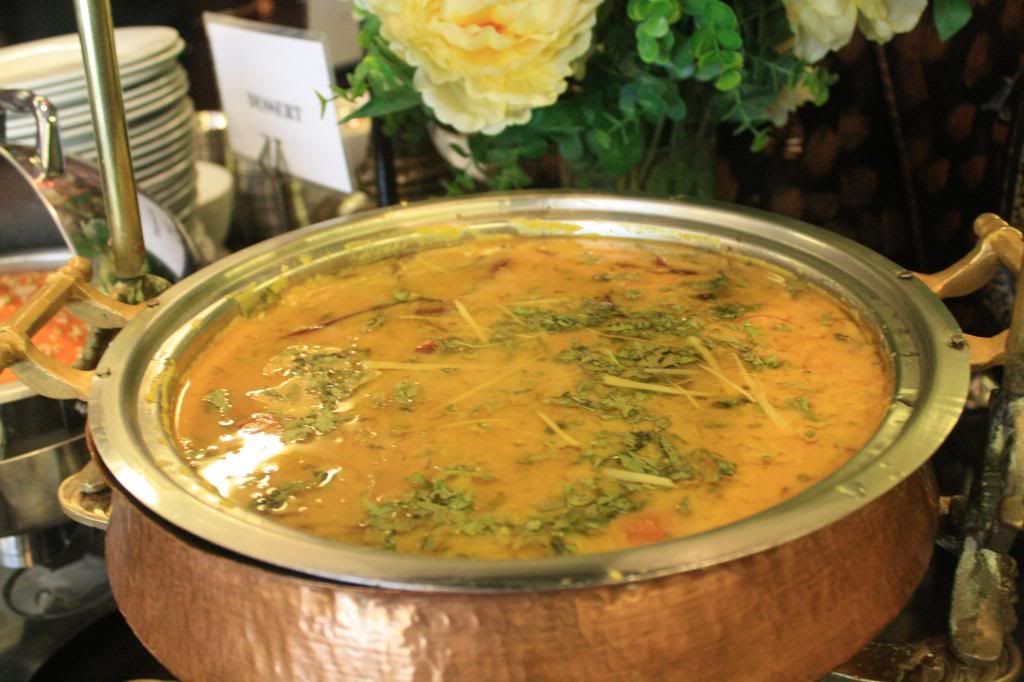 Dal Tadka (Lentils) - Mouth-watering!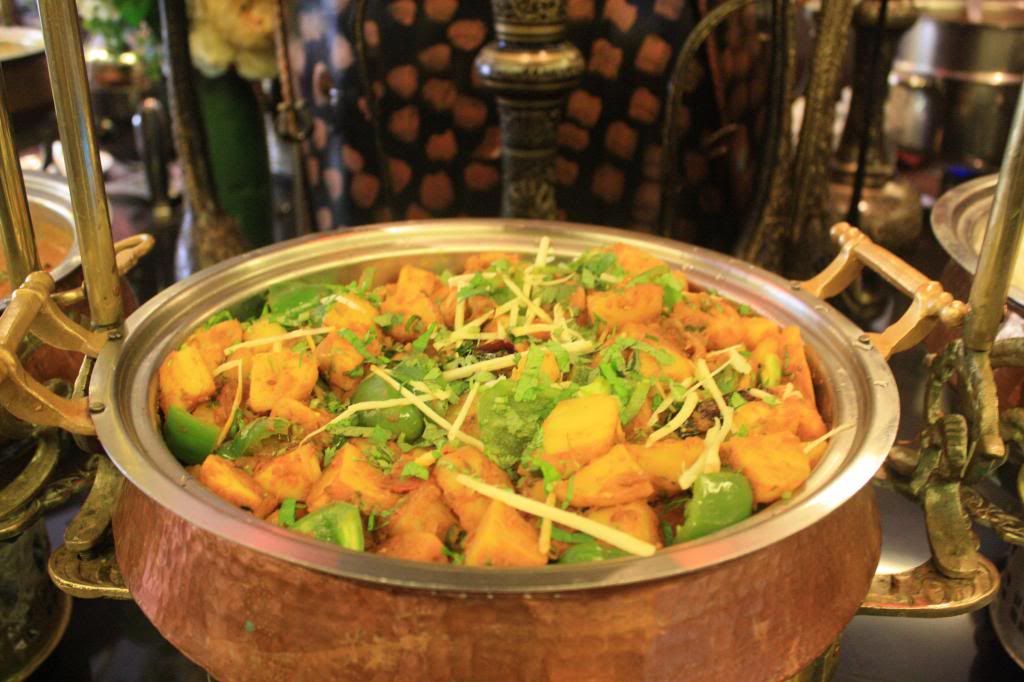 Aloo Simla Mirch (Potatoes)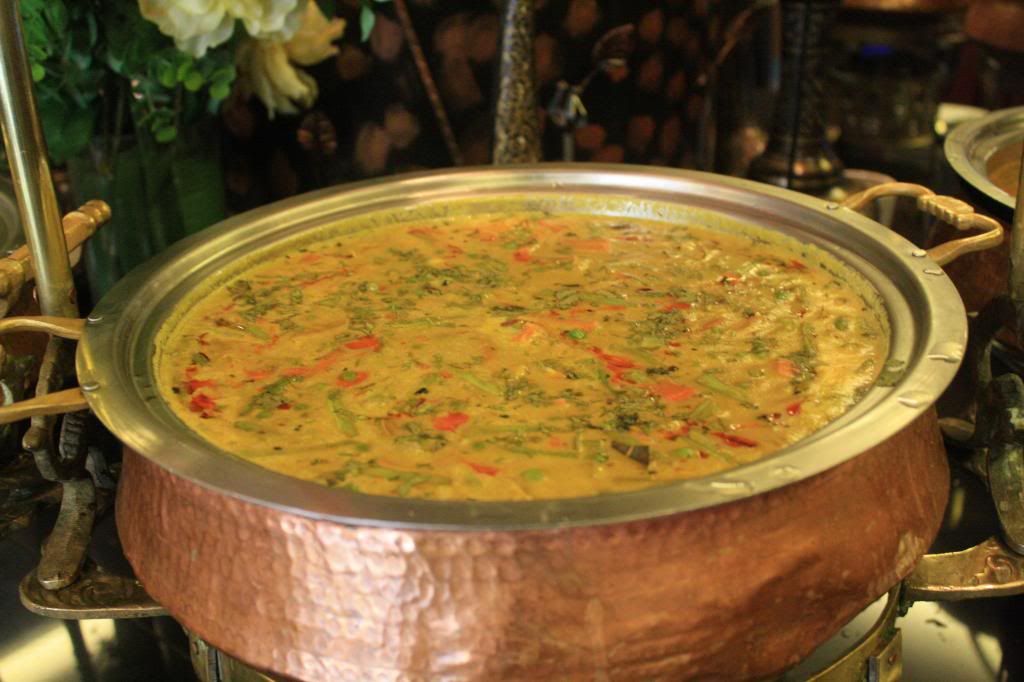 Vegetable Shahi Kurma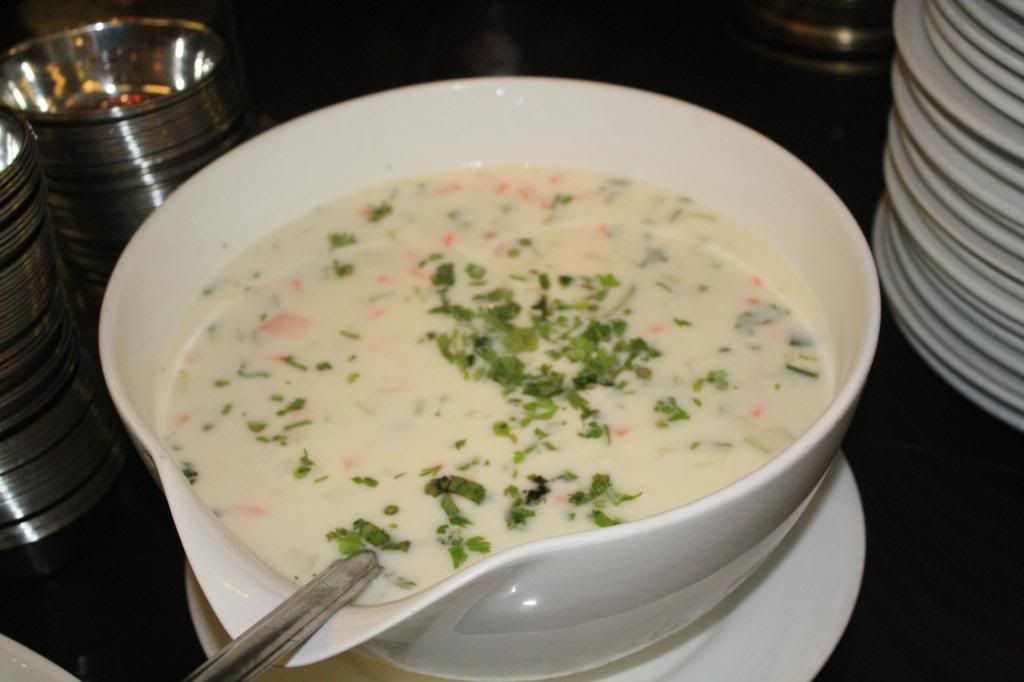 The yoghurt that accompanied the raw vegetables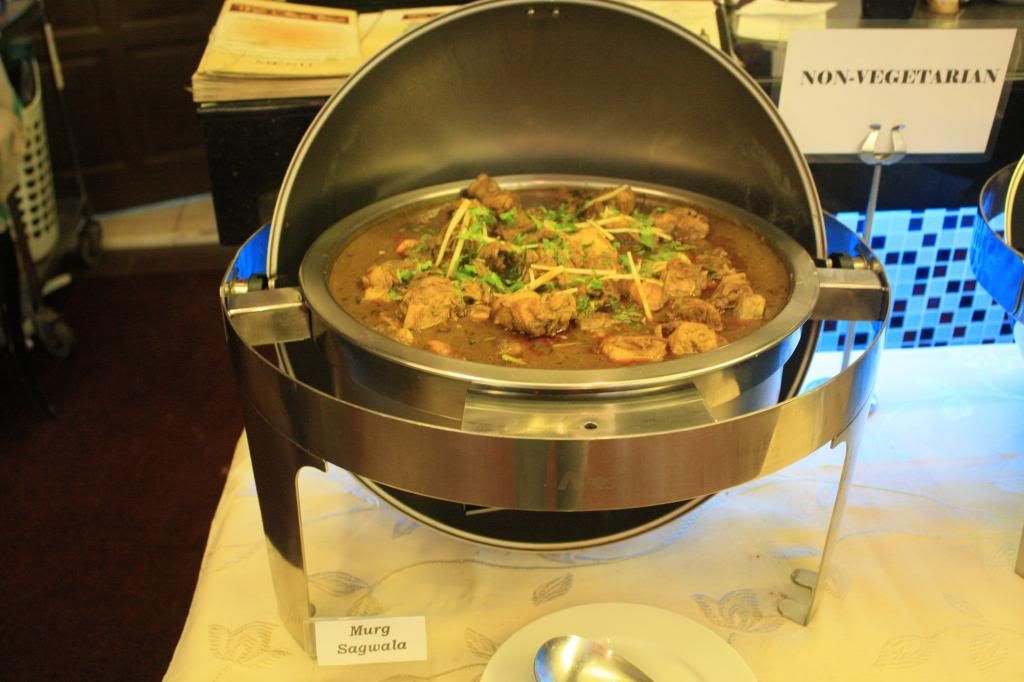 Murg Sagwala (Chicken)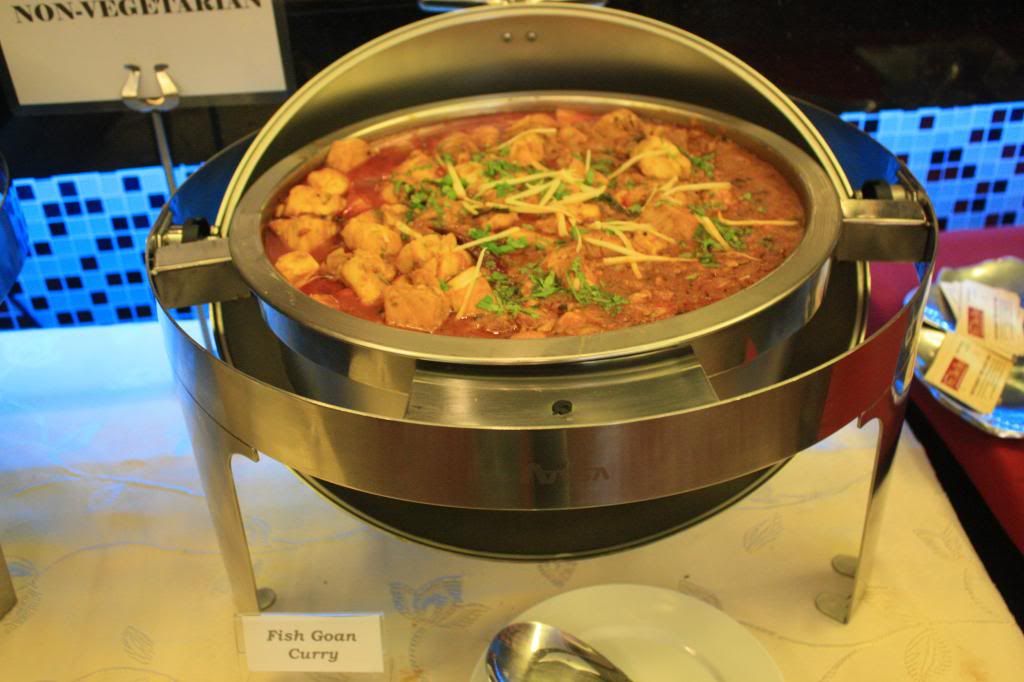 Fish Goan Curry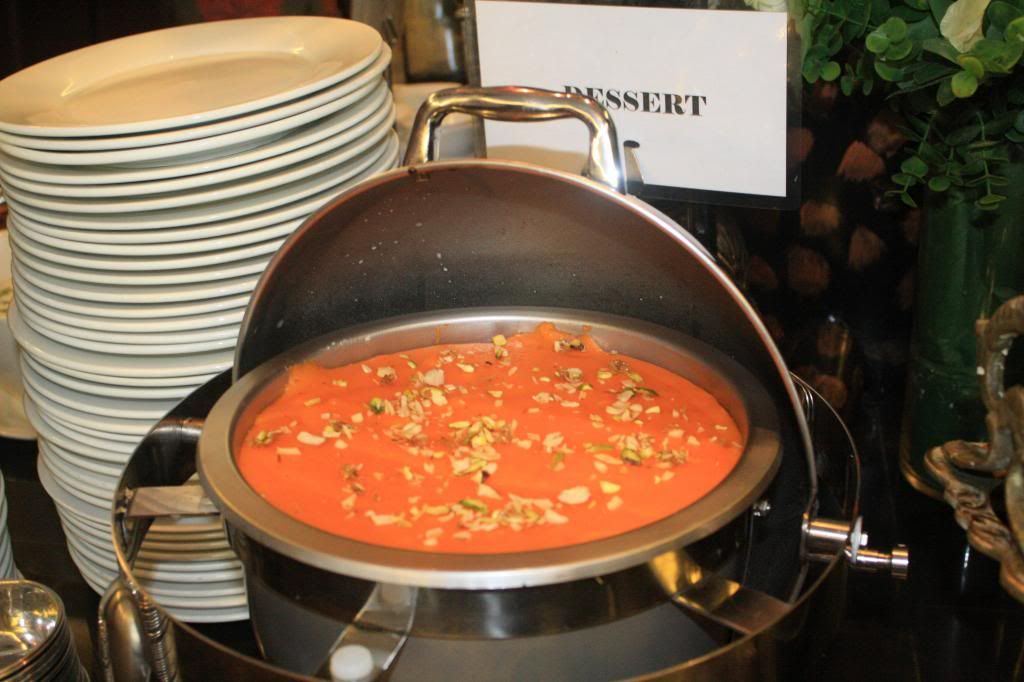 Dessert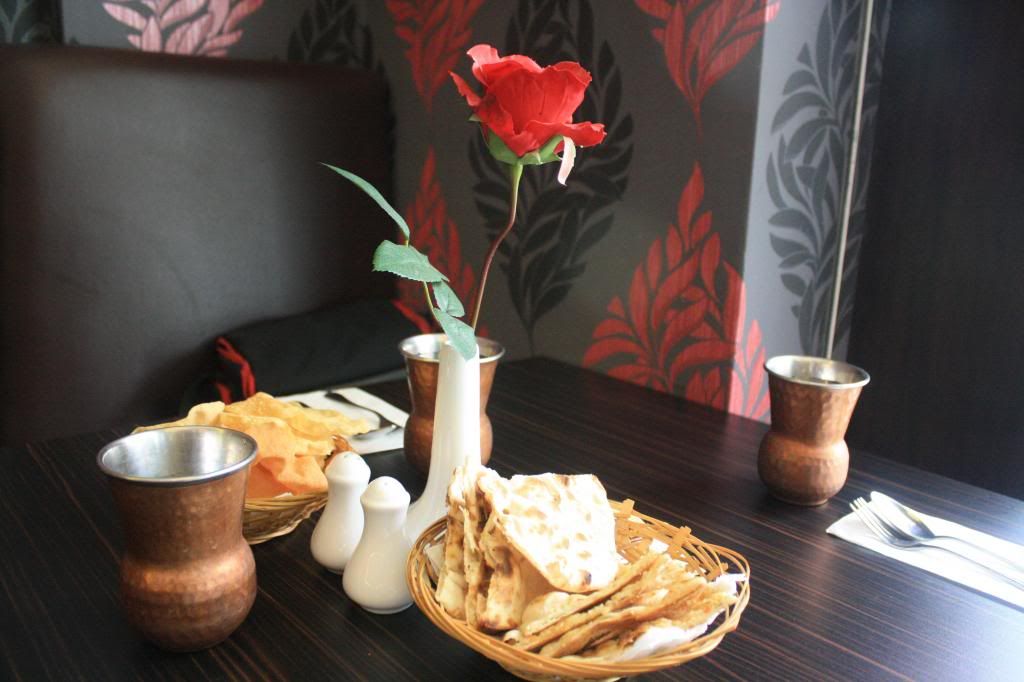 Our table setting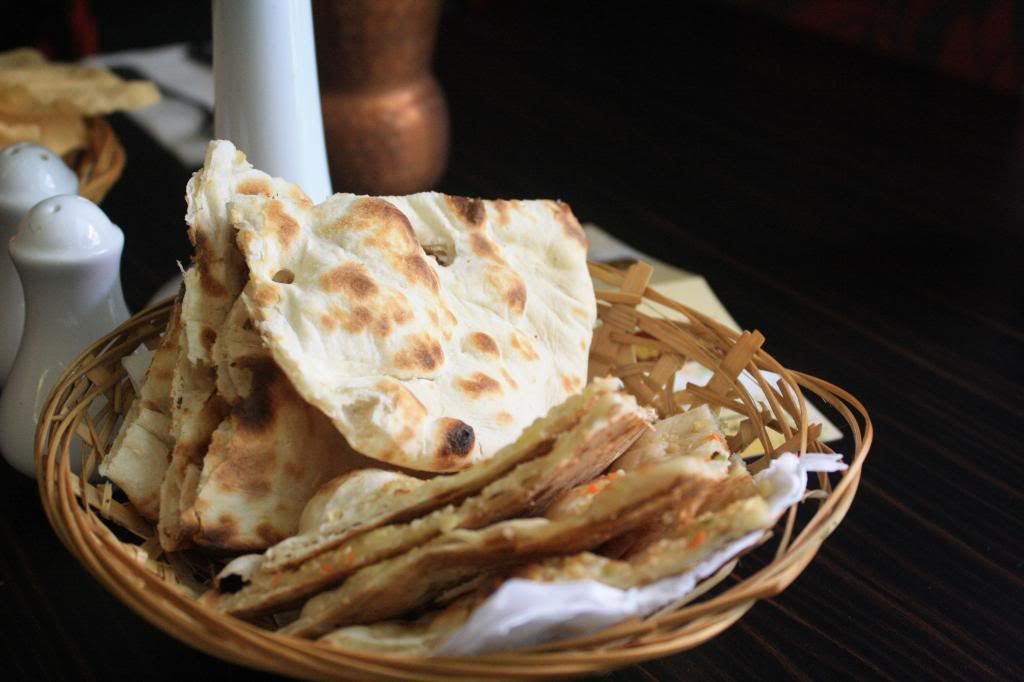 There are fewer things better than freshly-made naan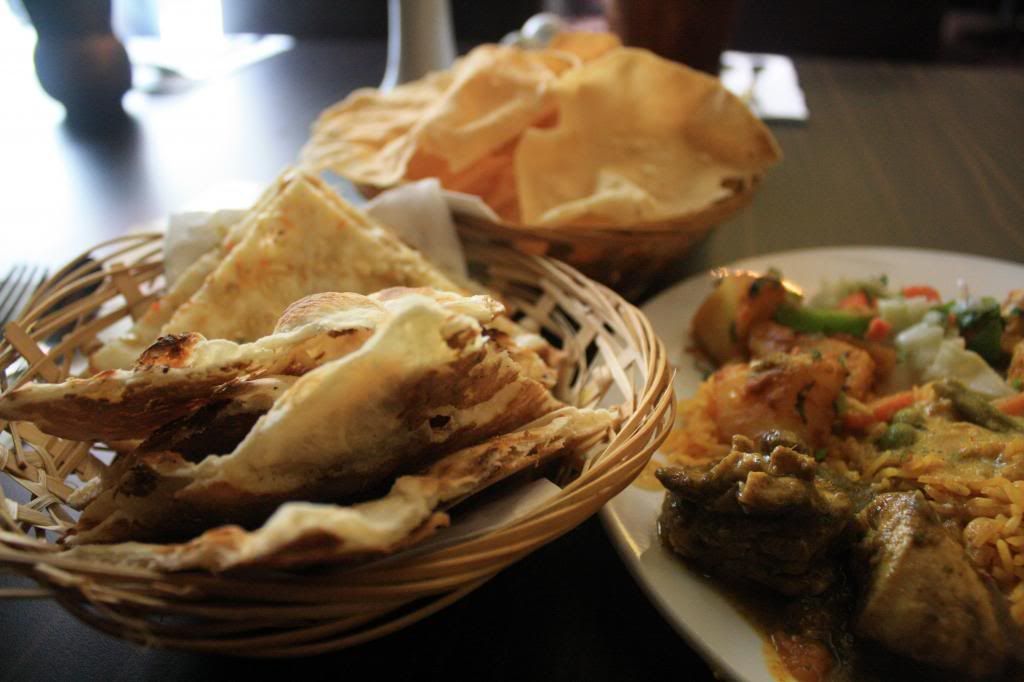 Doesn't this look good?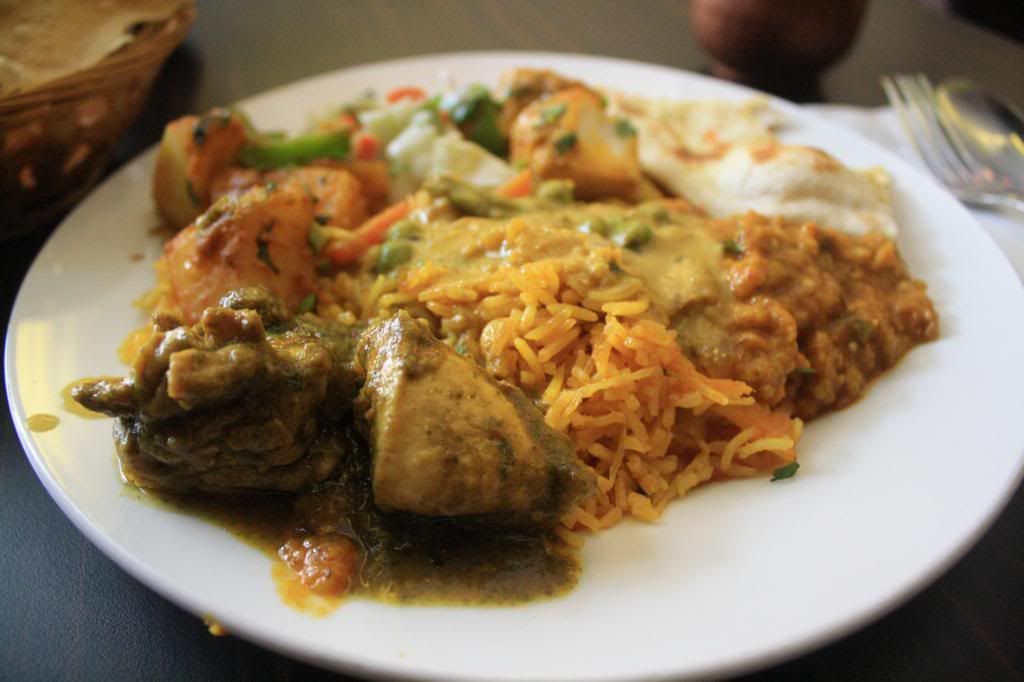 My Plate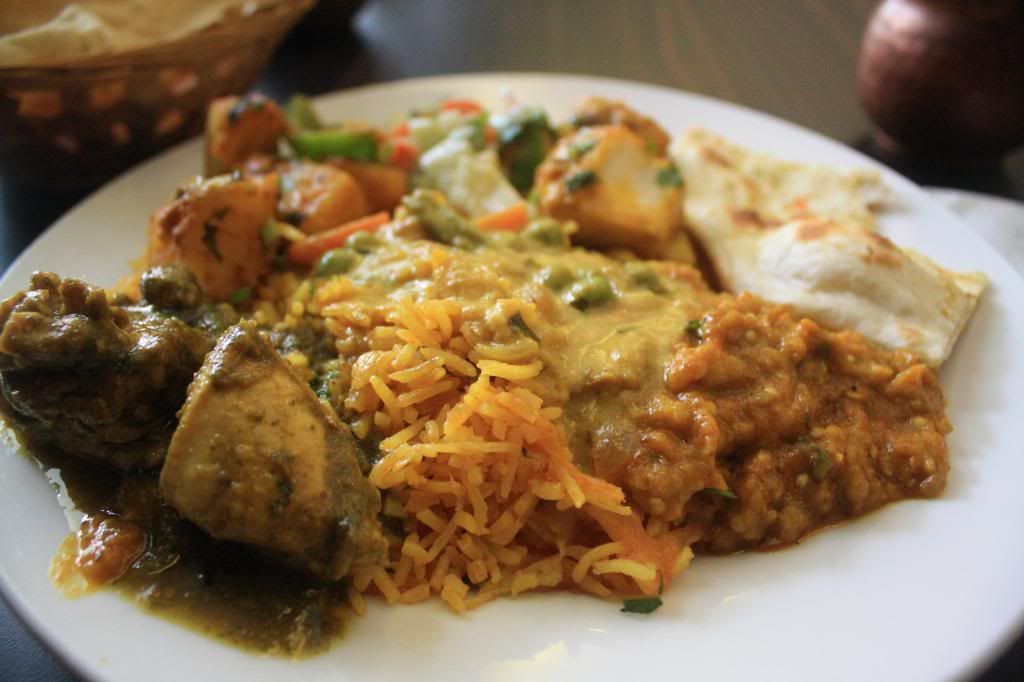 Another look at my plate
Anyway, I think we arrived at 11ish in the morning, and by 12 people started to arrive. Tourists from India came by the busloads (two, specifically) and office workers filled the place up, too. Fortunately the two groups of tourists arrived at different times so it wasn't too crowded. All in all, our dining experience was pretty good. Some of the dishes were not as delicious as we expected them to be, but the prompt service and lovely ambiance made up for it. I wouldn't say that it was the best North Indian food that I had had, but I wouldn't mind going back there, especially for the vegetarian dishes! :)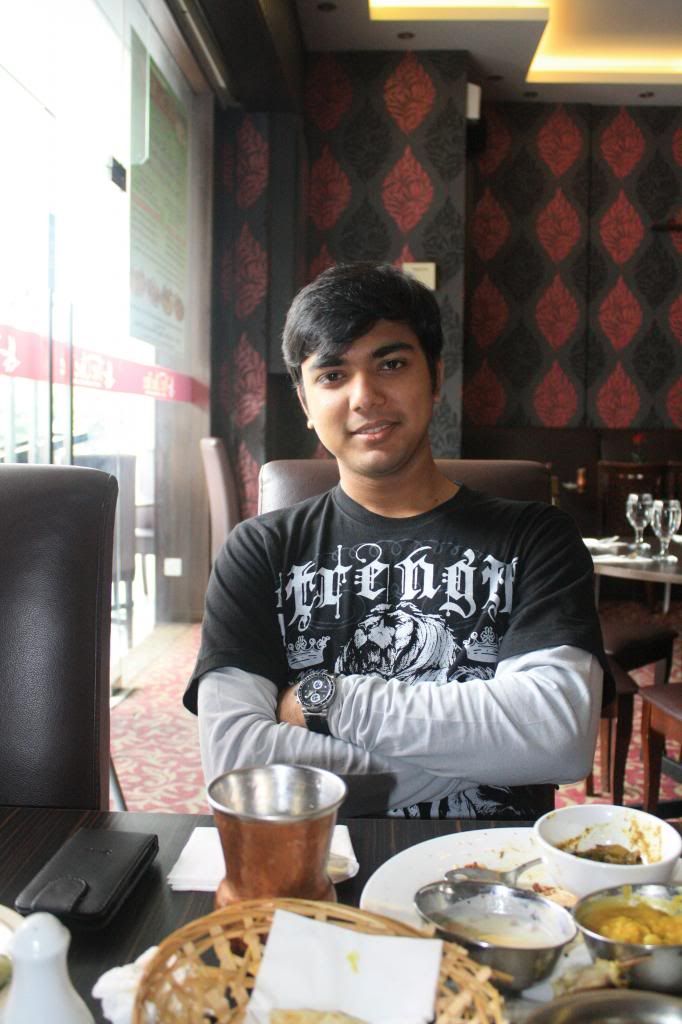 Happy with a full-stomach :D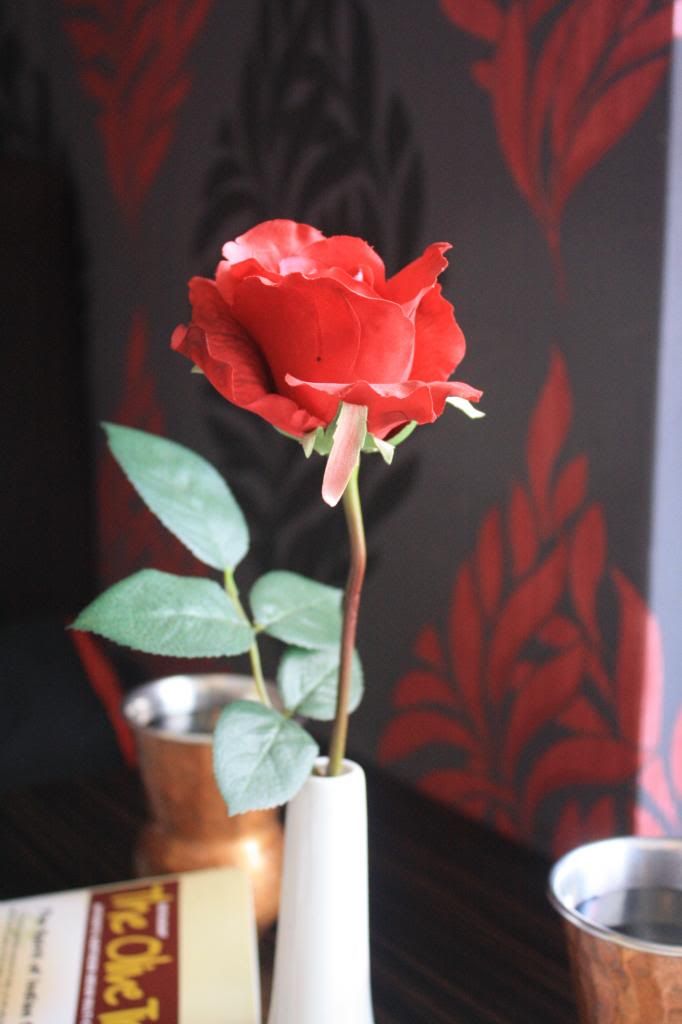 A rose before we end this post
Verdict: 3.5 out of 5
Til next time, take care and happy dining! Don't forget to comment and follow our blog!
Love,
Ad
** All photos belong to me. Please do not use them without permission **